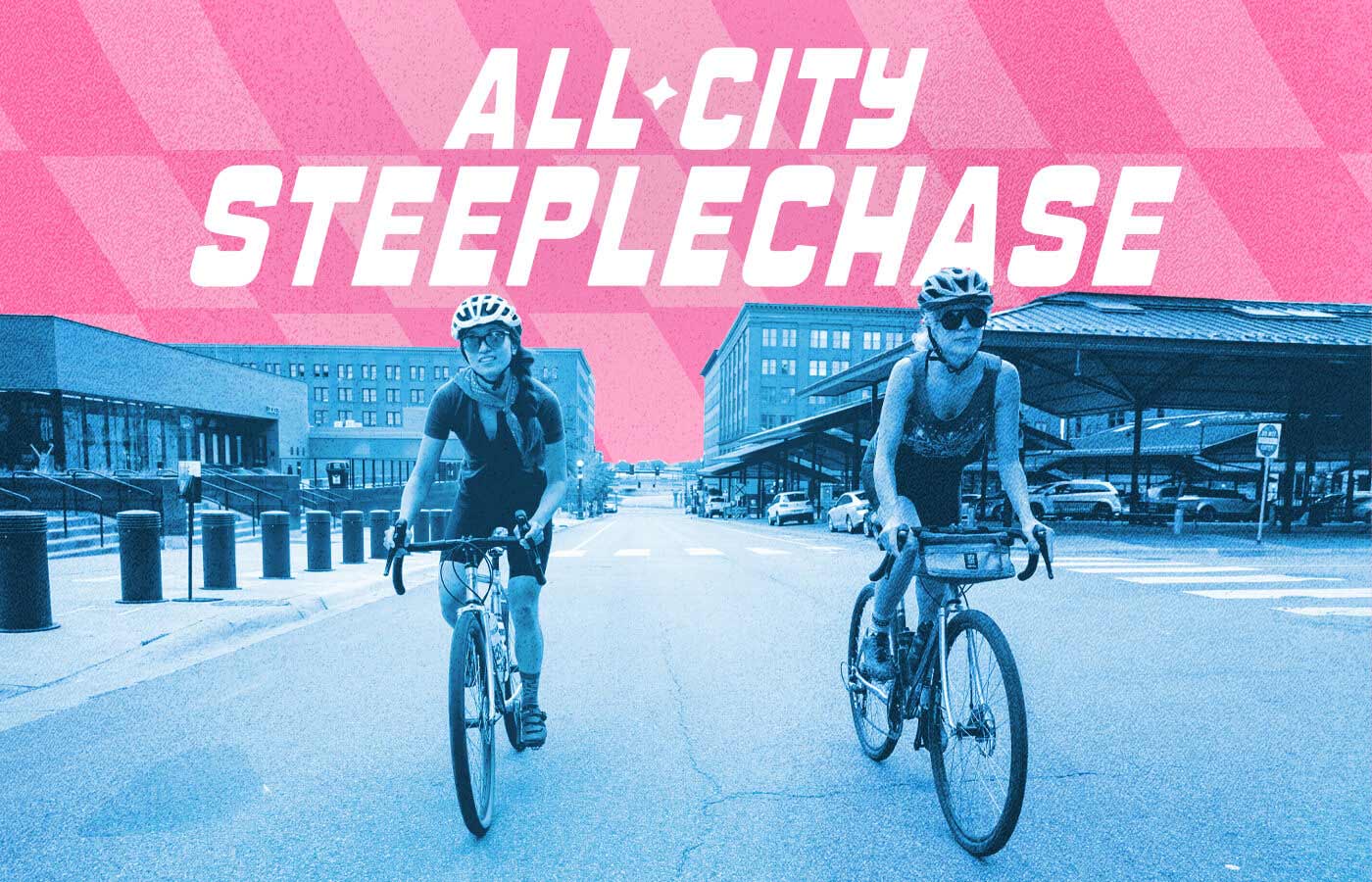 The All-City Steeplechase
August 5–7, 2022
One Weekend. A Bunch of Cities. All the Fun.
What Is It?
The All-City Steeplechase is an all-weekend bike bash where solo explorers or teams of 2-4 riders complete a list of 10 party-pace challenges on their bike.
Part scavenger hunt and part photo/video contest, we've partnered up with our friends at bike shops across the U.S. and Canada to create personalized challenges for the bike folks in their respective cities. Competitors who complete the challenges and post the proof to their Instagram will be officially entered to win goodies and swag, including an All-City Space Horse microShift, MET Helmet and Five Ten kicks for the grand-prize winner.
Explore your town's hottest food spots and views, spend time with your besties, compete for prizes — whatever your motivation, hop on your bike and chase some good times!
How to Participate
Clear off your calendar for August 5-7, 2022. Sign up for our Handup email list (below) ahead of time to get all the latest info in your inbox, and you'll be entered into a drawing to win an exclusive #AllCitySteeplechase swag pack.
Tell your friends to check out the official list of challenges. Participating shops have put together custom-tailored lists for their respective cities, and we've created a collection of general escapades for folks who don't live near one of the shops below.
Once the games begin, all you gotta do is:
Get out there on your bike
Have some fun
And capture photos and videos of at least five completed challenges

Your official entry isn't complete until you post your goodies to your Instagram grid in a single carousel-style post (not Stories, FYI). Remember to use the hashtag #AllCitySteeplechase, too. Get wild, get creative — we'll be picking the grand-prize winner based on how many challenges you complete and how rad your post is.
PLEASE DO...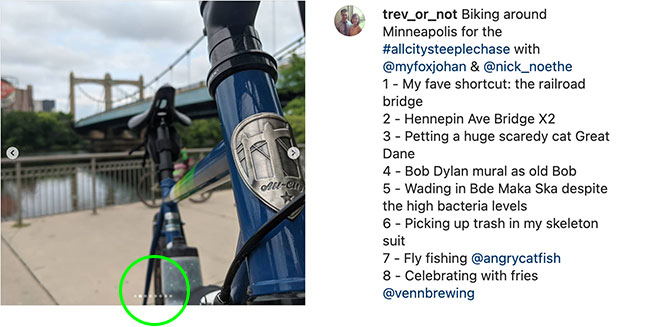 Post a single carousel, including all of your images/vids into a single entry. Label each capture in your comment as they correlate to the challenges. Include #AllCitySteeplechase.
PLEASE DO NOT...

Post separate, individual images/vids to your account grid or stories.
If you can't find some fun, make your own!
Sign up for the Handup email list for your chance to win a Steeplechase swag pack!
*
indicates a required field
Participating Shops — USA
Conway, AR

The Ride

San Francisco, CA

Big Swinging Cycles

San Francisco, CA

Huckleberry Bicycles

Denver, CO

SloHi Bike and Coffee

Tampa, FL

City Bike Tampa

Chicago, IL

Comrade Cycles

Indianapolis, IN

Indy Cycle Specialist

New Orleans, LA

Bicycle Michael's

Minneapolis, MN

Angry Catfish

Minneapolis, MN

The Hub Bike Co-Op

Saint Louis, MO

Big Shark Bicycle Company

Raleigh, NC

Oak City Cycling

Albuquerque, NM

Two Wheel Drive

Buffalo, NY

Campus WheelWorks

Brooklyn, NY

King Kog

Cleveland, OH

Joy Machines Bike Shop

Stillwater, OK

District Bicycles

Salt Lake City, UT

Saturday Cycles

Nashville, TN

Cumberland Transit

Austin, TX

Cycleast

Houston, TX

EaDo Bike Co

San Marcos, TX

Galaxy Bicycles

Falls Church, VA

Bikenetic

Seattle, WA

Ride Bicycles

Bayfield, WI

Howl

River Falls, WI

The Garage Bikes + Brews
Participating Shops — Canada
Kelowna, BC

The Lions Cyclery

Vancouver, BC

Kissing Crows Cyclery

Victoria, BC

Broad Street Cycles

Toronto, ON

Brockton Cyclery

Toronto, ON

Dismount
Steeplechase Kickoff Parties
Three select All-City retailers will host official Steeplechase Kickoff Parties. Details below!
Brockton Cyclery — Toronto, Ontario
Big Shark Bicycle Company — Saint Louis, Missouri

Friday, August 5, 5 pm at Urban Chestnut Midtown Brewery and Biergarten (3229 Washington Ave, St. Louis MO 63103)
Balkan Treatbox Food Truck on-site, Balkan Treatbox Lager and Big Shark Grapefruit Radler on draft, plus, a specialty Big Shark Cocktail!
Live jazz from Drew Weiss and Josiah Joyce in the Biergarten
Big Shark and UCBC prize raffle
Dog treat bags with a free Bar K entry pass for Steeplechase participants

EaDo Bike Co — Houston, Texas

Saturday, August 6, 7 pm - midnight at Equal Parts Brewing (3118 Harrisburg Blvd, Houston, TX 77003)
Karaoke Party with Live Music, Foot Down Contest and Always-a-Kid's Bike Drag Race
Frame and Swag Giveaway Raffles
Local artist vendors; food & drink available for purchase
Don't live near a participating shop? Don't sweat it. Complete These Challenges Wherever Ya Like!
1) Shop Talk Challenge
Ride to your local bike shop and take a photo.
2) Munchies Challenge
Ride to your favorite spot for food and/or bevvies and order your go-to item.
3) Shortcut Challenge
Show us your favorite shortcut! Whether it's singletrack, double track, paved, or pulverized, we want to see your secret spot.
4) Donate & Deliver Challenge
Prepare a donation of food, clothing, books, or other useful items and deliver your package by bike.
5) Pet a Pup Challenge
Find a good dog and give it some good scritches. It could be yours, a friend's, or a complete stranger's — as long as you get permission. Remember to snap a pic or video of your fur-friend!
6) Talent Show Challenge
Grab your fellow Steeplechasers and bust out in song! Lip-sync, sing out loud, play an instrument — let the music move you.
7) Bob Ross Challenge
Draw, sketch, color, or paint someone or something you saw on your ride.
8) Chill Out Challenge
Ride to your favorite outdoor chill spot and take a break. In a hammock, on a blanket, at the beach — whatever it takes to take five.
9) Get Lit Challenge
Ride to a bright and colorful neon sign and get a creative photo or video — think restaurants, hotels, motels, bars, gas stations, whatever.
10) Show Us Your City Challenge
Ride to a local landmark, quirky roadside attraction, or public art installation that identifies and celebrates your city. This could be a mural, sculpture, sign, billboard, graffiti, etc.
Official Rules
For all the details on eligibility and how to enter, check out the Official Rules!
All-City Steeplechase
August 5-7, 2022
One Weekend. A Bunch of Cities. All the Fun.