UCI-Certified Track Racer
We built the Thunderdome to celebrate the urban cycling and track-racing communities — the very heartbeat of All-City. Crafted from our proprietary blend of race-ready Alumisonic aluminum tubes and drilled for front and rear brakes, this lightweight and responsive racer has proven itself on the boards of velodromes across the globe.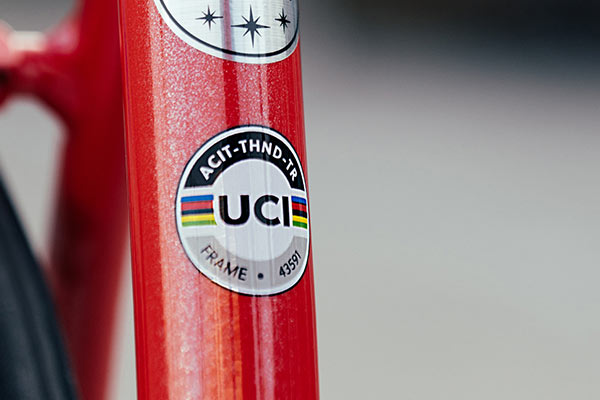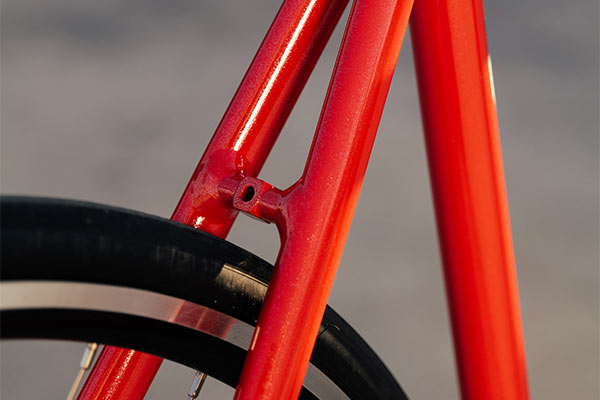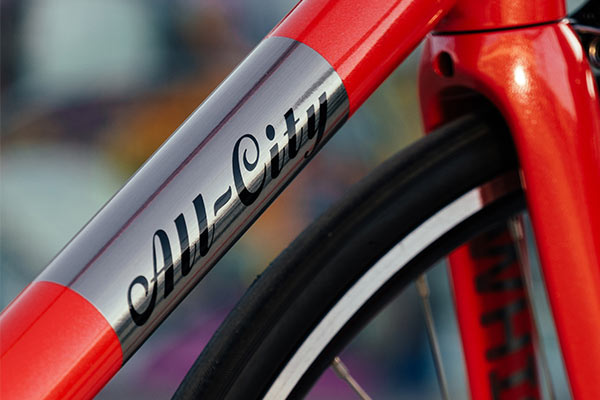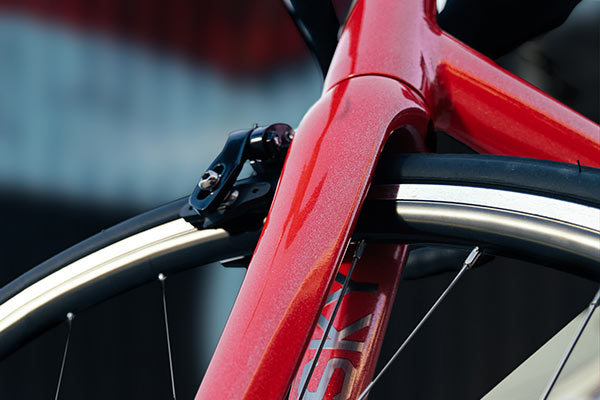 Signature Details
Our mission is to bring beauty back to production bicycles. This means investing in custom touches that elevate the whole. We devote time and resources to signature details that turn heads and signify high-quality craftsmanship. These elements tell a cohesive visual story and form a distinct silhouette so that even if your unique bike were stripped down to bare metal, it would still be instantly identifiable as an All-City bicycle.
Learn more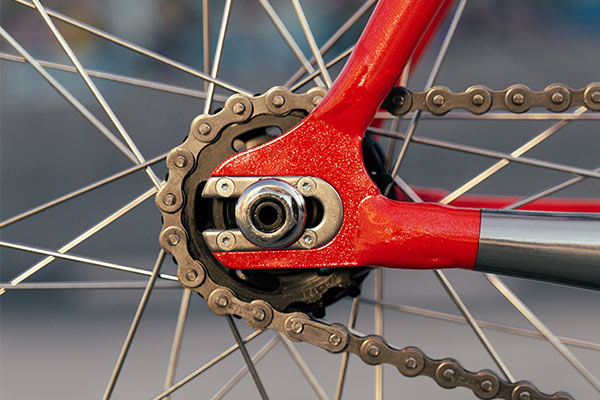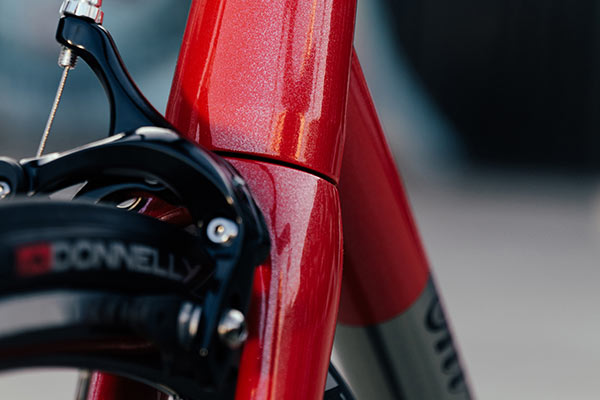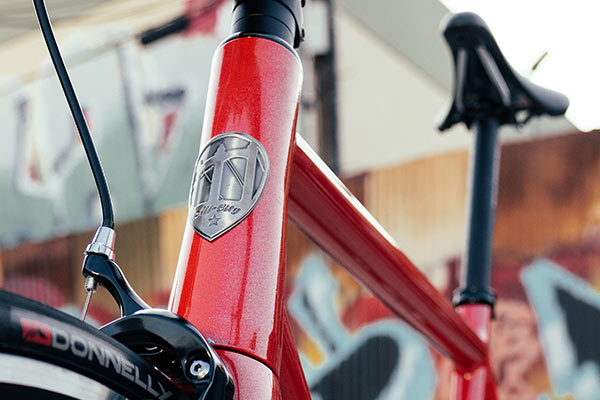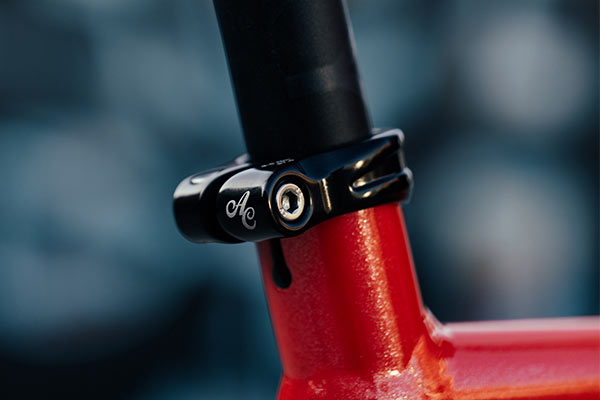 Accolades
"Aluminum frame with a carbon fork is the best combo for this purpose-built machine. And that purpose is frickin speed!!! I LOVE MY THUNDERDOME!!!"
"I've ridden a 2015 model for several years of track racing, as well as about 1K miles on the street. Also have gloriously crashed on the velodrome and the thing just bounced. An instant modern classic, can't recommend enough."
"A masterpiece…"
Audio: (upbeat music) Video: "All-City Mpls And Koochella Present:" text overlaid on footage of women cycling on a wooden track. Audio: Man, "The women's field went anywhere from nine or 10 or 11 riders on a somewhat regular basis down to zero." Woman 1, "I didn't really bike much to be honest." Woman 2, "There were women all over town that I could recruit from. I think two of them knew what velodrome track racing was." Video: Man and two women speak in separate locations within a bike shop. Audio: (upbeat music) Video: "Koochella Rising" text overlaid as more racing footage is shown. Audio: Woman 2 (now Anna Schwinn), "It became abundantly clear that I needed to recruit an entire women's field to race with. And by entire women's field, I was quoted six women. Bob said, if I could get six women out racing then we could have a field and he wouldn't cancel our races. And I went, "I'll find 10." Video: "Anna Schwinn, Founder of Team Koochella" shown as Woman 2 speaks. Racing footage interspersed. Audio: Man (now Bob Williams), "At first I was skeptical that she could really do it. And she did. She built the field from zero to a maximum, one night, of 23 riders. The track only hold 24." Video: "Bob Williams, Director of NSC Velodrome" shown as Man speaks. Racing footage interspersed. Audio: Anna, "So I decided that it was probably a pretty good idea for retention to start a women's team. If we could start a women's team, we could make it fun and cool, and color our kits whatever color we wanted to create the sort of team community we wanted." Video: Anna shown, while footage of the women on the team interacting and having fun at the Velodrome is interspersed. Audio: Woman 1 (now Margeaux Claude), "You know, I knew that first race. I knew that that was it. It was over. You know, that this was something I was gonna pursue as much as possible." Video: Margeaux is shown. Audio: Anna, "We could define what the women's racing experience was at the track. And then use that to recruit more women to track racing." Video: Anna shown again. Velodrome racing footage interspersed. Audio: Margeaux, "I guess, it almost seems a little bit emotional. We have this opportunity to really work as a collaborative group and try to do something special for our local track and kind of create a movement." Video: Margeaux shown again. Racing footage interspersed. Audio: Anna, "There shouldn't be just one women's team in town. There should be a lot of women supporting women and a community that supports women. Having a women's team is just the best thing ever." Video: Anna shown again. Audio: (upbeat music) Video: All City Mpls logo overlaid on racing footage, followed by credits over blank background sharing "Thanks: Sunrise Cyclery, L'Assassins".
SPECS & GEO
Frame

+

All-City Alumasonic, TIG Welded

Fork

+

Whisky No.7 RD Tapered

Seatpost Clamp

+

All-City Shot Collar, 31.8mm

Crankset

+

All-City 612 Track Crank, 165mm, 49t ring

Bottom Bracket

+

Square Taper, 68 x 110mm steel cups, sealed bearings

Front Derailleur

+

N/A

Rear Derailleur

+

N/A

Cog

+

All-City standard, 17t

Chain

+

KMC B1H-Wide

Headset

+

Cane Creek 40 Series

Brakes

+

Tektro R326

Brake Levers

+

Tektro RL340

Rotors

+

N/A

Shifters

+

N/A

Stem

+

Whisky No.7

Handlebar

+

Whisky No.7

Grip/Tape

+

All-City Super-Cush w/ Locking Alloy All-City End Plugs

Seatpost

+

Whisky No.7

Saddle

+

Black Saddle

Front Hub

+

JoyTech A565, 32h

Rear Hub

+

JoyTech A566, 32h

Rims

+

Alex AT505, 32h, with CNC Brake Track

Tires

+

Donnelly Strada LGG, 700x25, 60tpi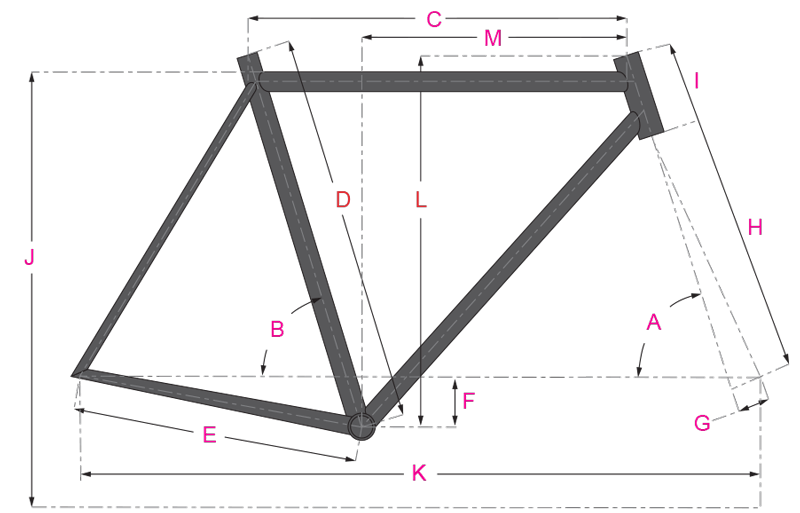 | Size | 46cm | 49cm | 52cm | 55cm | 58cm | 61cm |
| --- | --- | --- | --- | --- | --- | --- |
| Head Tube Angle | 72.0 | 72.5 | 72.5 | 72.5 | 72.5 | 72.5 |
| Seat Tube Angle) | 75.0 | 75.0 | 74.5 | 74.5 | 74.5 | 74.5 |
| Top Tube Length) | 510 | 520 | 540 | 555 | 575 | 595 |
| Seat Tube Length | 460 | 490 | 520 | 550 | 580 | 610 |
| Chainstay Length | 396 | 396 | 396 | 396 | 396 | 396 |
| Bottom Bracket Drop | 53 | 53 | 53 | 53 | 53 | 53 |
| Fork Offset | 45 | 45 | 45 | 45 | 45 | 45 |
| Total Fork Length | 367 | 367 | 367 | 367 | 367 | 367 |
| Head Tube Length | 113 | 128 | 148 | 168 | 193 | 218 |
| Standover | 742 | 766 | 791 | 816 | 843 | 870 |
| Wheelbase | 961 | 967 | 983 | 999 | 1020 | 1041 |
| Stack | 493 | 509 | 528 | 547 | 571 | 595 |
| Reach | 378 | 384 | 394 | 403 | 417 | 430 |
| Handlebar Width | 380 | 400 | 420 | 420 | 440 | 440 |
| Stem Length | 90 | 100 | 110 | 120 | 110 | 120 |
| Crank Arm Length | 165 | 165 | 165 | 165 | 165 | 165 |
Frame Construction

+

All-City Alumasonic, TIG Welded

Fork Construction

+

Whisky Custom Carbon Fiber

Rear Dropout Configuration

+

Rear-Facing Horizontal Dropouts with Replaceable Steel Plates

Rear Hub Spacing

+

120mm OLD

Front Hub Spacing

+

100mm OLD

Rear Brake

+

Rim - Short Reach Caliper

Front Brake

+

Rim - Short Reach Caliper

Headtube

+

Tapered - Ø41/Ø52mm

Steerer Tube

+

Tapered - Ø28.6mm (1-1/8") to Ø40.0mm (1-1/5")

Crown Race

+

Ø40.0mm (1-1/5")

Stock Headset Upper (S.H.I.S)

+

IS41/28.6

Stock Headset Lower (S.H.I.S)

+

IS52/40

Seat Collar

+

Ø31.8mm

Seatpost

+

Ø27.2mm

Front Derailleur (Clamp)

+

N/A

Max Chainring

+

1x: 60t max

Bottom Bracket

+

English Threaded, BSA 68 shell

Tire Clearance Frame

+

700c x 25mm

Tire Clearance Fork

+

700c x 28mm

Rigid Fork Spec

+

367mm Axle to Crown with 45mm Offset

Design Suspension Fork Length

+

N/A

Max Suspension Fork Length

+

N/A

Bottle Mounts Frame

+

N/A

Bottle Mounts Fork

+

N/A

Rack Mounts Frame

+

N/A

Rack Mounts Fork

+

N/A

Fender Mounts Frame

+

N/A

Fender Mounts Fork

+

N/A

Other Features

+

UCI certification

Download(s) »
Back to top
Thunderdome Gallery