Street Cred
While inspired by speed-hungry track stars, Big Block's nimble geometry and urban prowess is what makes this fixie queen of the road.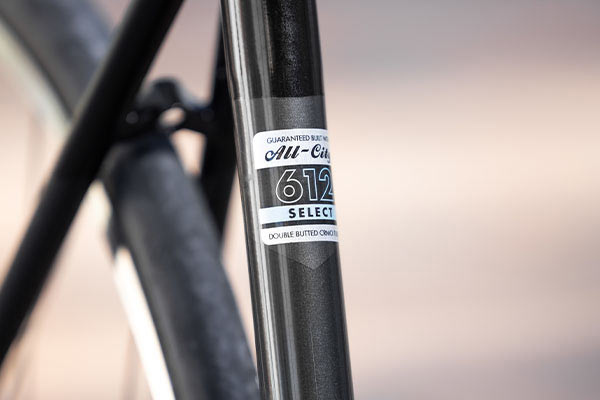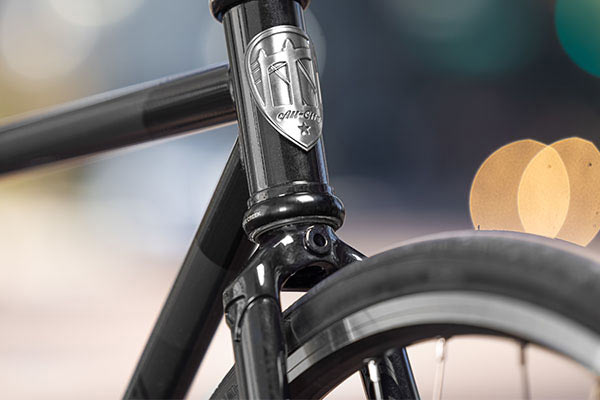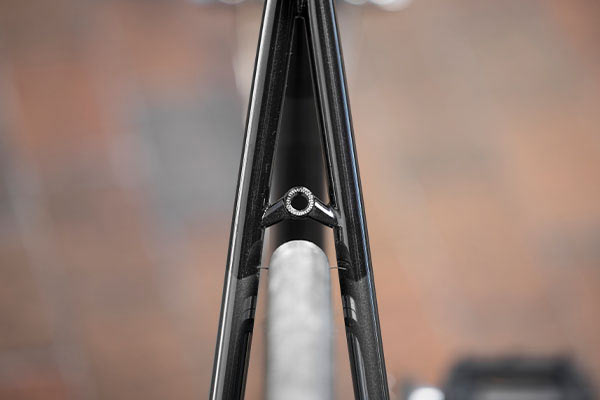 Signature Details
Our mission is to bring beauty back to production bicycles. This means investing in custom touches that elevate the whole. We devote time and resources to signature details that turn heads and signify high-quality craftsmanship. These elements tell a cohesive visual story and form a distinct silhouette so that even if your unique bike were stripped down to bare metal, it would still be instantly identifiable as an All-City bicycle.
Learn more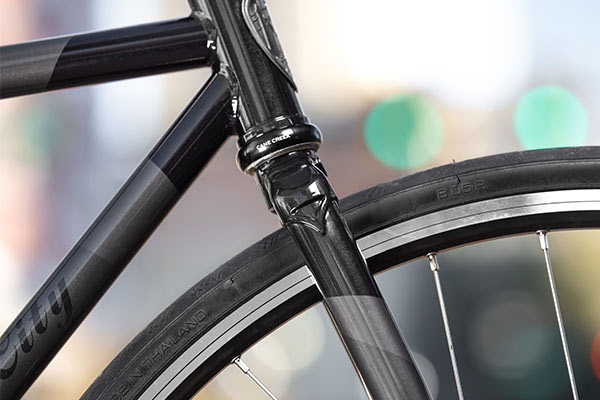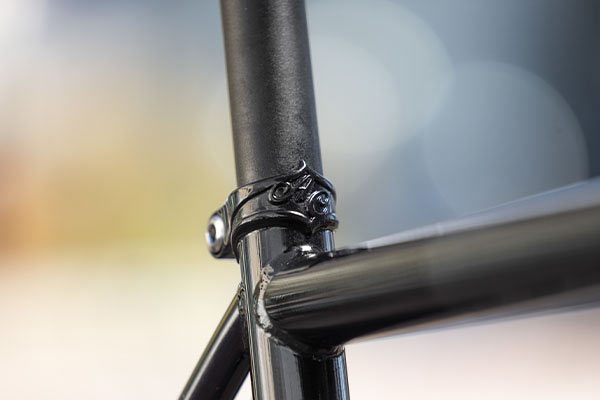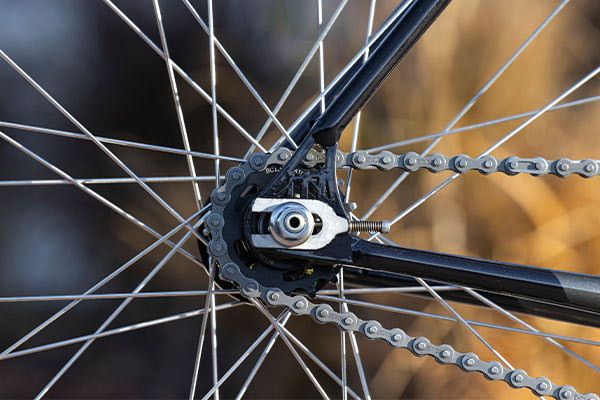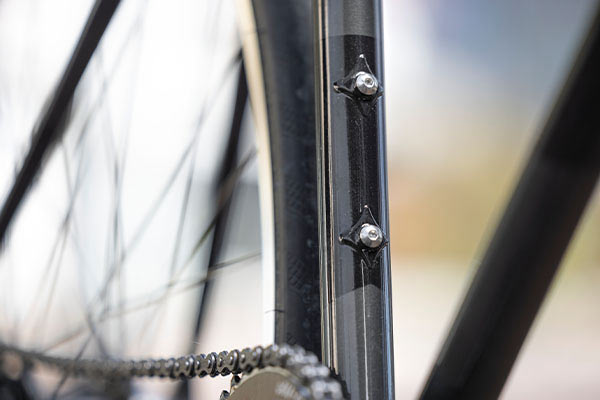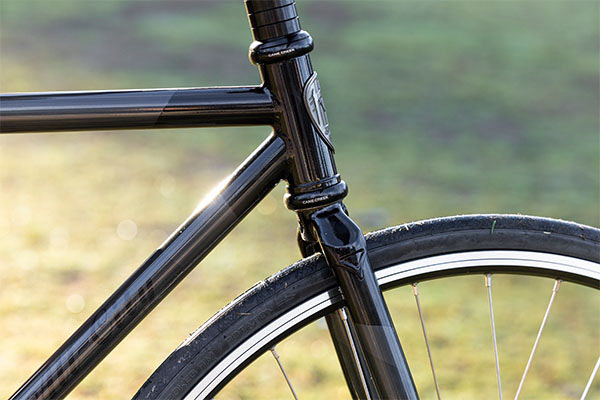 Accolades
"Good for all things fixed gear with no limitations, my Big Block has been my trusty work bike, a velodrome racing bike, and a winter fixed gear. Three for one."
"Most versatile bike I own. If the zombie apocalypse hit tomorrow, I'd grab this bike and get to work defending the world."
Named One of 13 Awesome Fixies for Racing or Riding Around Town by Bicycling.com, May 2019
"All-City" text appears on footage of city bridge, followed by a closeup shot of feet pedaling a bike. Then, the screen shows a quick montage of bike maintenance and locking systems which is followed by Kierstyn holding her bike over her shoulder and city noises evolving to music. Kierstyn is laughing and riding through Tampa streets with scenes of various landscapes. Kierstyn carries her bike down a flight of stairs followed by more scenes of city riding. A quick snapshot and zoom of her standing next to a tall person are followed by film-toned montages of birds flying through the sky. Kierstyn is back on the bike with another rider as they diverge paths. "Go Fast" appears on the screen. Kierstyn is riding under a bridge and then standing over her bike in a field. More scenes of riding on paved streets are followed by a mirrored shot of Kierstyn riding towards herself. Clips of trees and skies are sequenced between Kierstyn riding. A clip of Kierstyn balancing on her bike is followed by her jumping over a wall and being handed her bike. She is riding atop a parking lot with special effects overlaying her riding as it fades to a city skyline. Scenes of nighttime riding with a group of people include Kierstyn chatting and hugging another person. A series of shots include people smiling at the camera with their bikes and group riding at night. A dog in a basket can be seen in the next scene. Riders are smiling as they cheer on each other and Kierstyn smiles at the camera. The video ends with Kierstyn atop a higher surface holding her bike over her shoulder and smiling at the camera. "All-City" with dramatic overlay appears onscreen. Music wraps up.
SPECS & GEO
Frame

+

612 Select Chromoly Steel

Fork

+

All-City Big Block Signature Fork

Seatpost Clamp

+

All-City Signature Brazed-on Seat Collar

Crankset

+

All-City 612 Track Crank, 165mm, 46t ring

Bottom Bracket

+

Square Taper, 68x110mm steel cups, sealed bearings

Front Derailleur

+

N/A

Rear Derailleur

+

N/A

Cog

+

All-City standard, 17t

Chain

+

KMC, silver, 1/8"

Headset

+

Cane Creek 40 Series

Brakes

+

Tektro R539

Brake Lever

+

Tektro FL750

Rotors

+

N/A

Shifters

+

N/A

Stem

+

JD Components, AL6061, 3D forged, 4-bolt stem, 31.8mm, ±7°

Handlebar

+

JD Components, AL6061, 720mm wide, 20mm rise

Grip/Tape

+

Velo single lock-on

Seatpost

+

JD Components, AL6061, 27.2, 12mm Offset

Saddle

+

All-City Gonzo

Front Hub

+

JoyTech A565, 32h

Rear Hub

+

JoyTech A566, 32h

Rims

+

Alex DH19, 32h, with CNC Brake Track

Tires

+

Vittoria Zaffiros IV, 700c x 28mm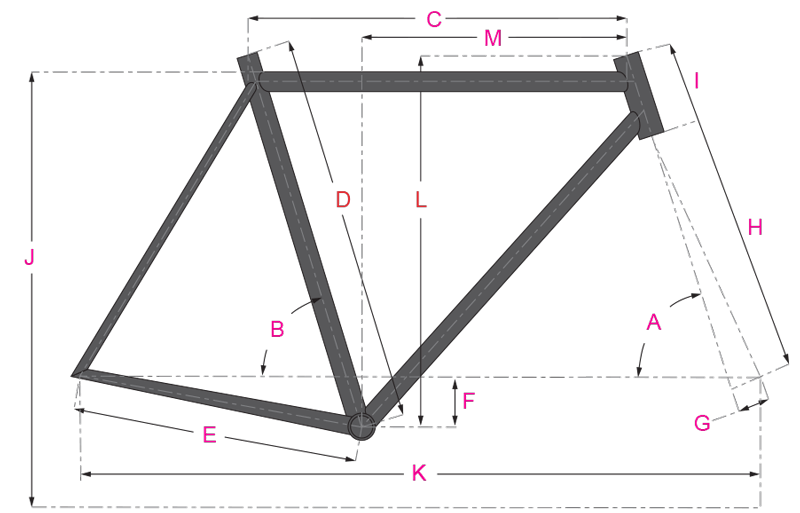 | Size | 46cm | 49cm | 52cm | 55cm | 58cm | 61cm |
| --- | --- | --- | --- | --- | --- | --- |
| Head Tube Angle | 73.0 | 73.5 | 74 | 74.5 | 74.5 | 75 |
| Seat Tube Angle) | 75.0 | 75 | 74.5 | 74.5 | 74.5 | 74.5 |
| Top Tube Length) | 520 | 535 | 550 | 565 | 585 | 605 |
| Seat Tube Length | 460 | 490 | 520 | 550 | 580 | 610 |
| Chainstay Length | 396 | 396 | 396 | 396 | 396 | 396 |
| Bottom Bracket Drop | 58 | 58 | 58 | 58 | 58 | 58 |
| Fork Offset | 32 | 32 | 32 | 32 | 32 | 32 |
| Total Fork Length | 375 | 375 | 375 | 375 | 375 | 375 |
| Head Tube Length | 95 | 110 | 130 | 150 | 175 | 200 |
| Standover | 743 | 767 | 793 | 821 | 846 | 874 |
| Wheelbase | 945 | 957 | 963 | 974 | 994 | 1009 |
| Stack | 509 | 525 | 546 | 567 | 591 | 616 |
| Reach | 382 | 393 | 398 | 408 | 421 | 434 |
| Handlebar Width | 720 | 720 | 720 | 720 | 720 | 720 |
| Stem Length | 80 | 90 | 100 | 100 | 110 | 110 |
| Crank Arm Length | 165 | 165 | 165 | 165 | 165 | 165 |
Frame Construction

+

612 Select Chromoly Steel, Tig Welded and Brazed, E.D. Coated

Fork Construction

+

612 Select Chromoly Steel, Tig Welded and Brazed, E.D. Coated

Rear Dropout Configuration

+

All-City Signature Hennepin Bridge Track Drop Out, Stainless Steel

Rear Hub Spacing

+

120mm

Front Hub Spacing

+

100mm

Rear Brake

+

Rim - Short Reach Caliper

Front Brake

+

Rim - Short Reach Caliper

Headtube

+

Ø34mm

Steerer Tube

+

Ø28.6mm (1-1/8")

Crown Race

+

Ø30mm (1-1/8")

Stock Headset Upper (S.H.I.S)

+

EC34/28.6

Stock Headset Lower (S.H.I.S)

+

EC34/30

Seat Collar

+

All-City Signature Brazed-On

Seatpost

+

Ø27.2mm

Front Derailleur (Clamp)

+

N/A

Max Chainring (CL)

+

1x: 60t max

Bottom Bracket

+

English Threaded, BSA 68 shell

Tire Clearance Frame

+

700c x32mm, 700c x 28mm with fenders

Tire Clearance Fork

+

700c x32mm, 700c x 28mm with fenders

Rigid Fork Spec

+

375mm Axle to Crown with 32mm Offset

Design Suspension Fork Length

+

N/A

Max Suspension Fork Length

+

N/A

Bottle Mounts Frame

+

One, located on Seat Tube

Bottle Mounts Fork

+

N/A

Rack Mounts Frame

+

N/A

Rack Mounts Fork

+

N/A

Fender Mounts Frame

+

N/A

Fender Mounts Fork

+

N/A

Other Features

+

N/A

Download(s) »
Back to top
Big Block Gallery