All-Road Endurance Thoroughbred
The ultimate bike for quickly covering gravel, conquering busted-up fire roads, and powering through the most ambitious centuries.

Superior Quality and Elegance
Drawing on everything we've learned from producing A.C.E. steel, Oberon Titanium is our proprietary blend of 3/2.5 titanium tubes -- and 3/4 lb. lighter than an A.C.E. steel frame. Named for the immortal king of the fairies in medieval literature, Oberon Ti promises premium ride quality, irresistible fun, and forever durability.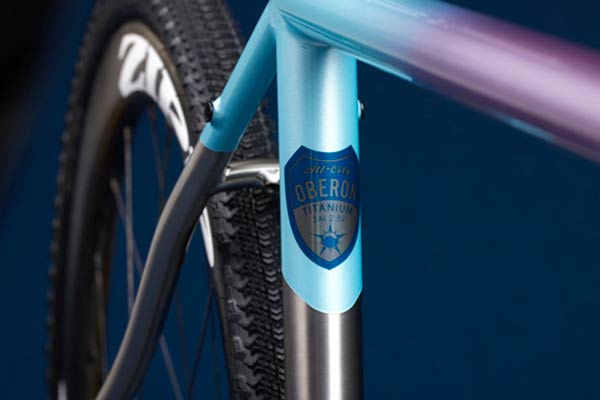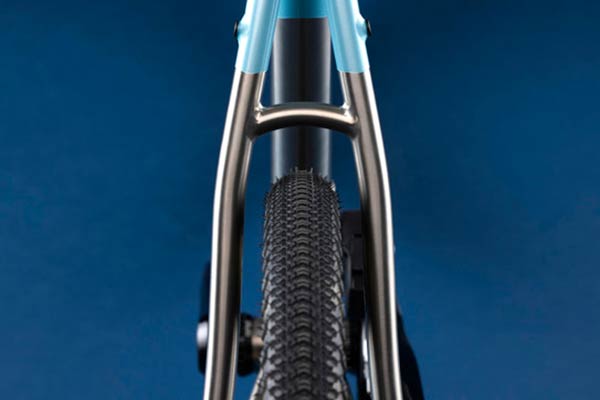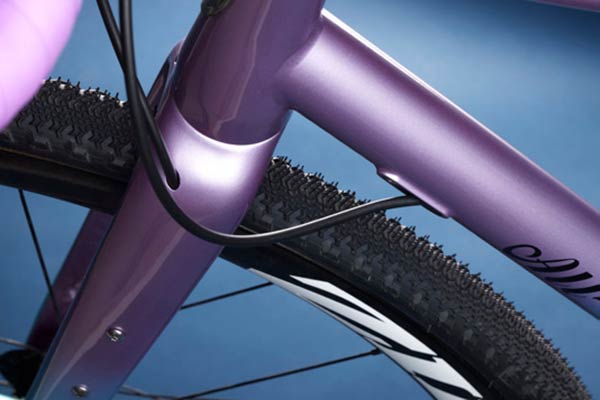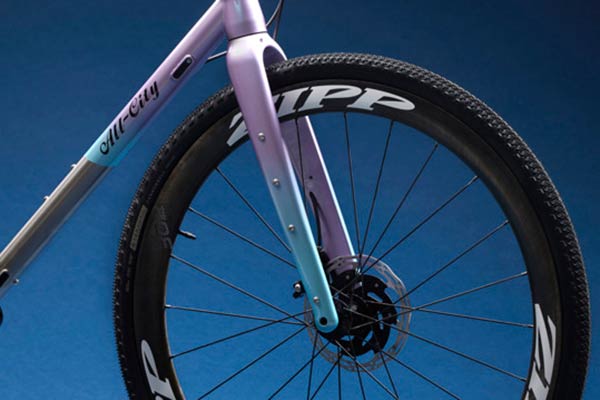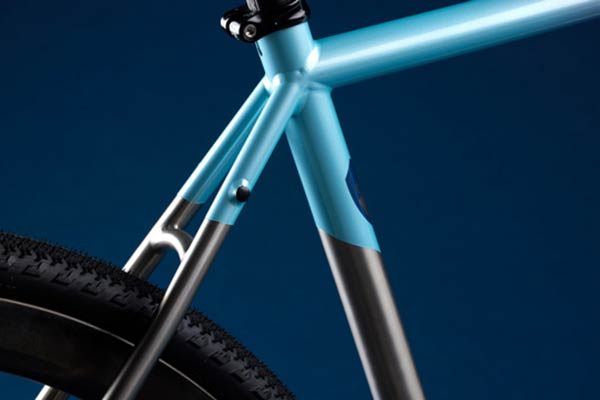 Signature Details
Our mission is to bring beauty back to production bicycles. This means investing in custom touches that elevate the whole. We devote time and resources to signature details that turn heads and signify high-quality craftsmanship. These elements tell a cohesive visual story and form a distinct silhouette so that even if your unique bike were stripped down to bare metal, it would still be instantly identifiable as an All-City bicycle.
Learn more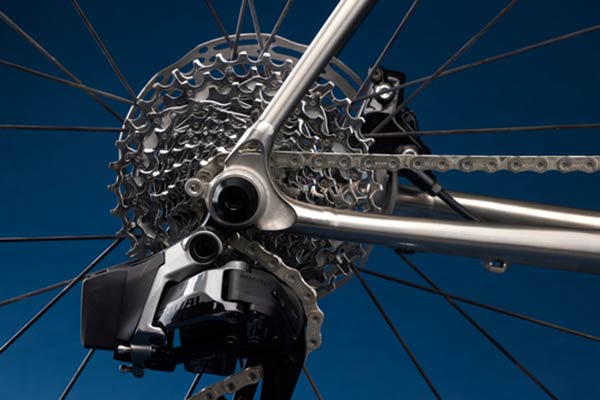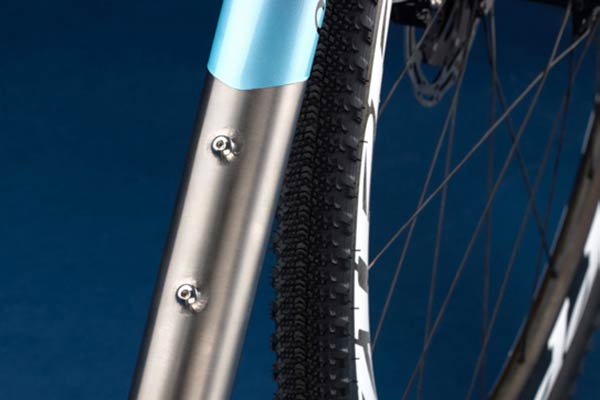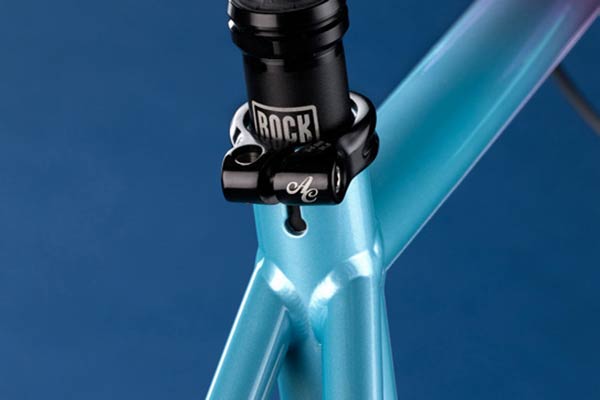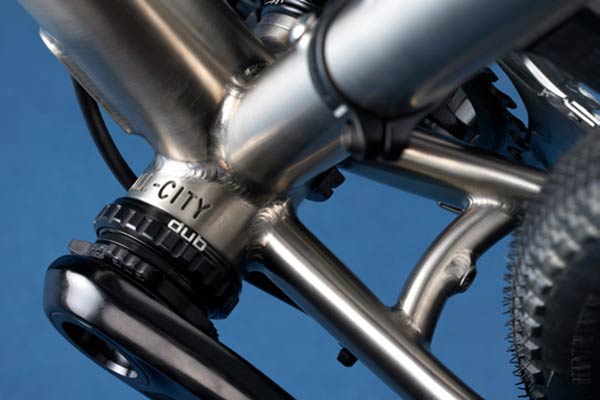 FIND A RETAILER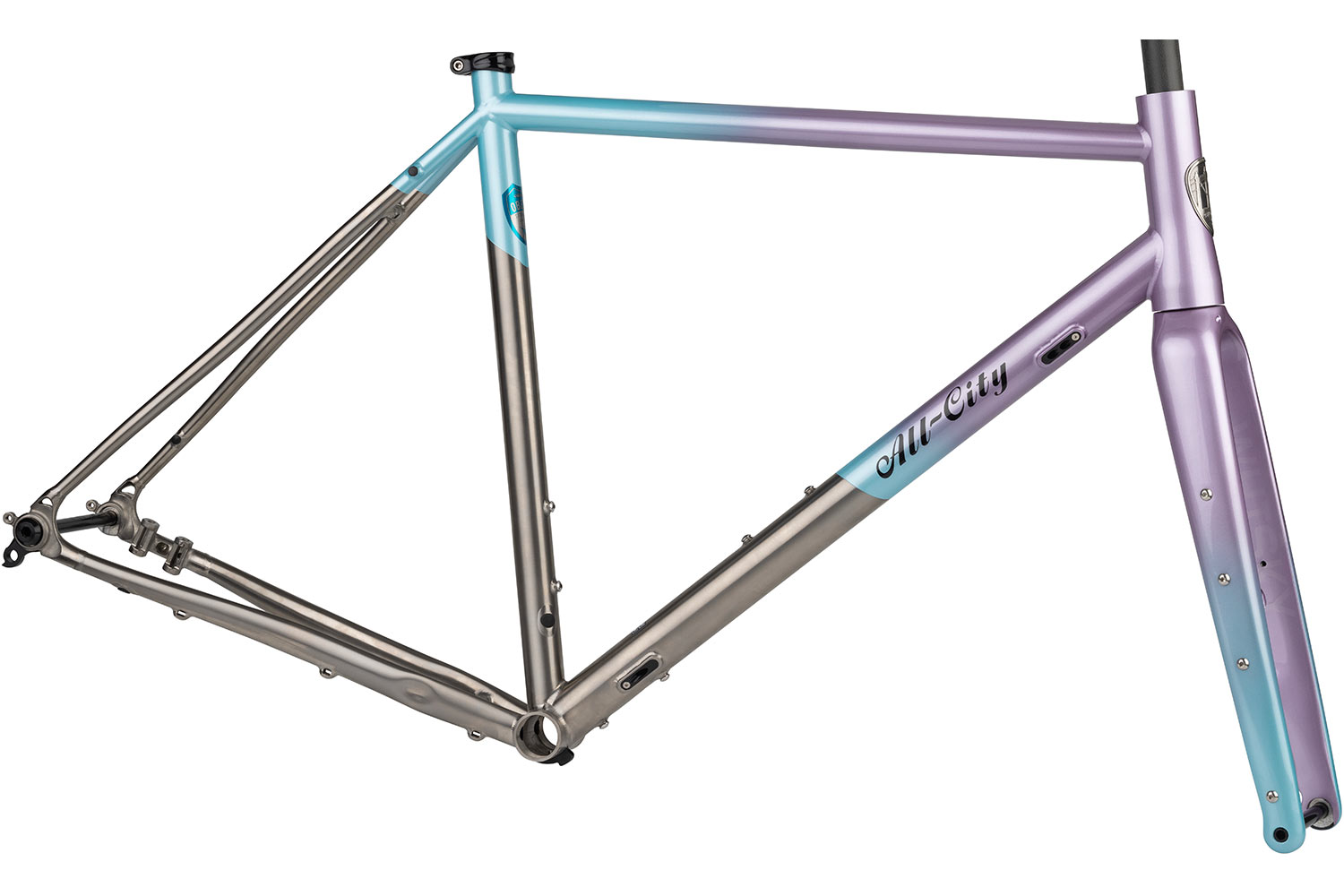 * Manufacturer's suggested retail price may not include additional shipping or preparation charges. Please contact your local dealer for a quote. FRAMESET MSRP $3,299 USD | $4,399 CAD *
SPECS & GEO
Frame

+

All-City Oberon Titanium

Fork

+

WHISKY No.9 CXLR Fork - 12mm Thru-Axle, 1.5" Tapered Carbon Steerer, Flat-Mount Disc Brakes

Seatpost Clamp

+

All-City Shot Collar, 31.8, Black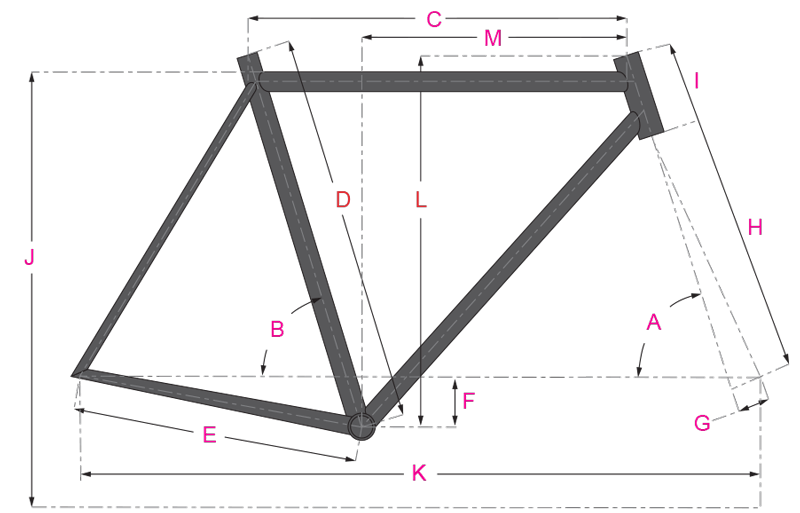 | Size | 46cm | 49cm | 52cm | 55cm | 58cm | 61cm |
| --- | --- | --- | --- | --- | --- | --- |
| Head Tube Angle | 70.0 | 71.0 | 71.5 | 72.0 | 72.0 | 72.0 |
| Seat Tube Angle) | 75.0 | 74.5 | 74.0 | 73.5 | 73.0 | 72.5 |
| Top Tube Length) | 510.0 | 530.0 | 545.0 | 560.0 | 580.0 | 610.0 |
| Seat Tube Length | 450.0 | 480.0 | 510.0 | 540.0 | 570.0 | 600.0 |
| Chainstay Length | 436.2 | 441.1 | 446.0 | 446.0 | 446.0 | 446.0 |
| Bottom Bracket Drop | 73.0 | 73.0 | 73.0 | 73.0 | 73.0 | 73.0 |
| Fork Offset | 47.0 | 47.0 | 47.0 | 47.0 | 47.0 | 47.0 |
| Total Fork Length | 395.0 | 395.0 | 395.0 | 395.0 | 395.0 | 395.0 |
| Head Tube Length | 108.0 | 123.0 | 137.0 | 163.0 | 187.0 | 212.0 |
| Standover | 719.0 | 745.0 | 769.0 | 797.0 | 823.0 | 850.0 |
| Wheelbase | 1008.0 | 1020.1 | 1031.0 | 1036.5 | 1051.3 | 1075.7 |
| Stack | 529.6 | 547.5 | 562.6 | 589.2 | 612.0 | 635.8 |
| Reach | 368.1 | 378.2 | 383.7 | 385.5 | 392.9 | 409.5 |
| Handlebar Width | | | | | | |
| Stem Length | | | | | | |
| Crank Arm Length | | | | | | |
Frame Construction

+

All-City Oberon Titanium

Fork Construction

+

Carbon with Carbon Steerer

Rear Hub Spacing

+

142 x 12mm; thru-axle

Front Hub Spacing

+

100 x 12mm; thru-axle

Rear Brake

+

Flat Mount, 140–160mm

Front Brake

+

Flat Mount, 140–160mm

Headtube

+

Tapered

Steerer Tube

+

Ø28.6mm

Crown Race

+

Ø40mm

Stock Headset Upper (S.H.I.S)

+

IS41

Stock Headset Lower (S.H.I.S)

+

IS52

Seat Collar

+

31.8mm

Seatpost

+

27.2mm

Front Derailleur (Clamp)

+

31.8mm Band Clamp

Max Chainring (CL)

+

1x: 48t max // 2x: 53/39t max // 52/36t max

Bottom Bracket

+

68mm English

Derailleur Hanger

+

Salsa Hanger 465, Part # FS2322

Tire Clearance Frame

+

700c x 45mm; 650b x 42mm (both with or without fenders)

Tire Clearance Fork

+

700c x 47mm w/o fenders (700c x 43mm w/ fenders); 650b x 47mm

Rigid Fork Spec

+

395mm axle to crown x 47mm offset

Bottle Mounts Frame

+

Two inside frame, one under down tube, all sizes

Rack Mounts Frame

+

Yes

Rack Mounts Fork

+

Yes

Fender Mounts Frame

+

Yes, via seatstay bosses

Fender Mounts Fork

+

Yes

Download(s) »
Back to top
Cosmic Stallion Titanium Frameset Gallery