A Versatile Light-Touring Rig
The agile and stable Space Horse is our most versatile and popular model, and it's ready to take you and your gear wherever adventure leads — from road riding to randonneuring to full-fledged touring.

Sizing for Small & Tall
Available in seven frame sizes, the Space Horse capably and comfortably accommodates our smallest and tallest riders for long days in the saddle. To ensure toe clearance and proper fit and handling for our smaller riders, we build around 650b x 45mm tires on our 43–46cm frame sizes.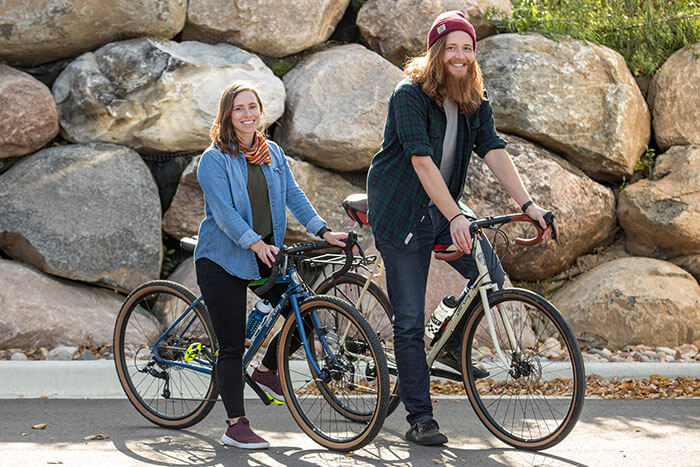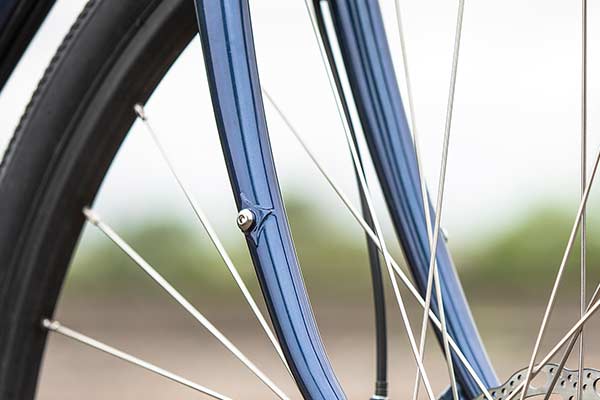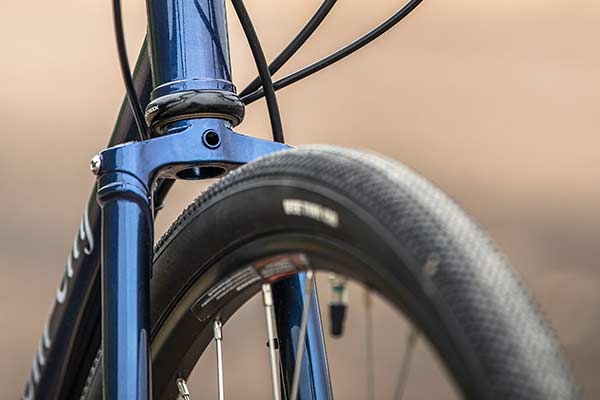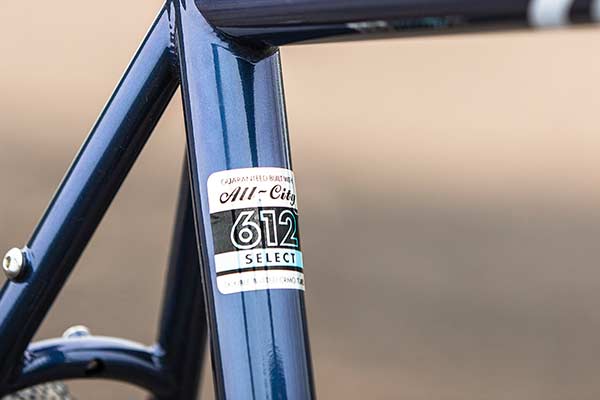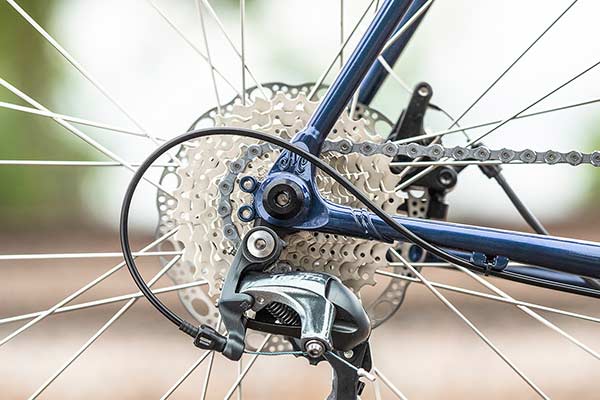 Signature Details
Our mission is to bring beauty back to production bicycles. This means investing in custom touches that elevate the whole. We devote time and resources to signature details that turn heads and signify high-quality craftsmanship. These elements tell a cohesive visual story and form a distinct silhouette so that even if your unique bike were stripped down to bare metal, it would still be instantly identifiable as an All-City bicycle.
Learn more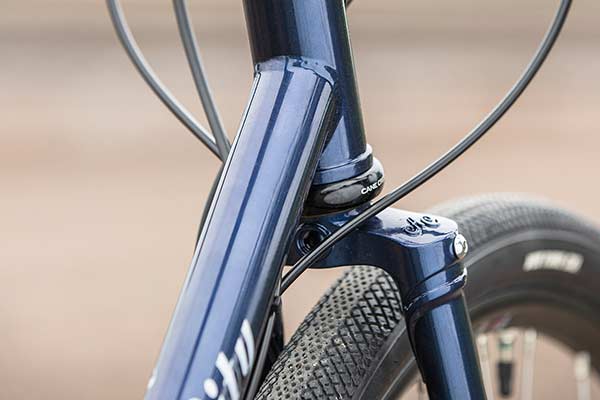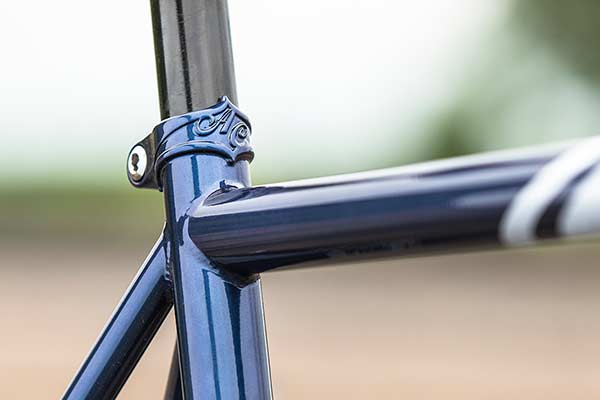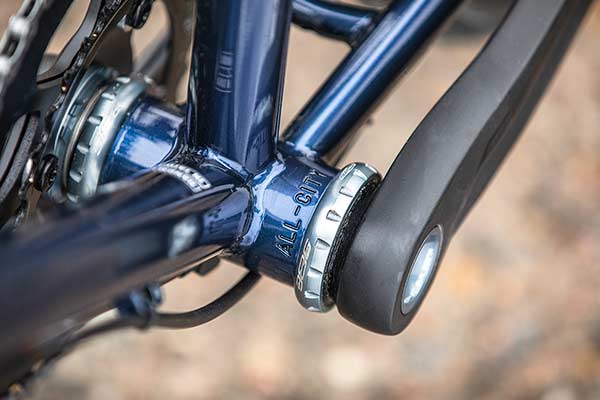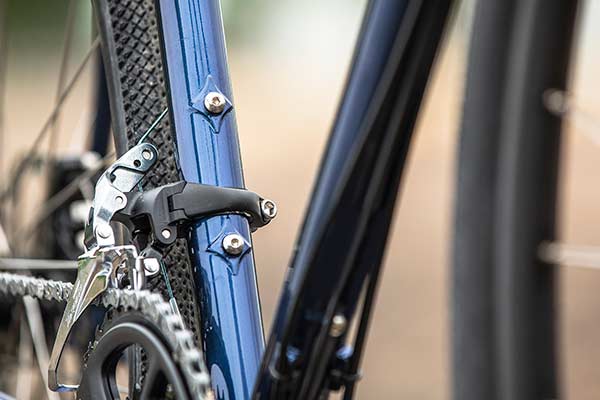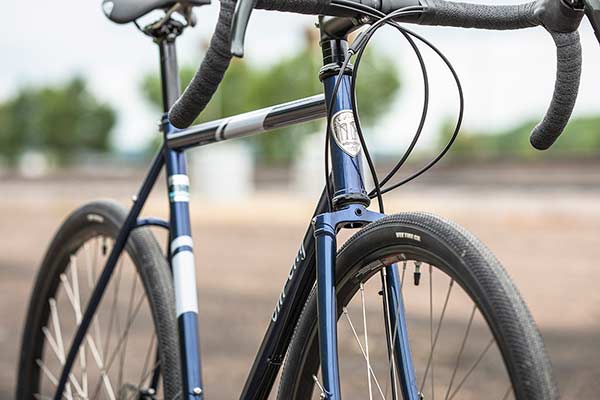 Accolades
"This gorgeous thing has gone everywhere I've asked it to go, navigating Minneapolis traffic, road repair, hills, unexpected possum, on wet, dry, sand, gravel and road. I fully expect to ride it until it breaks down into its component atoms, or I do."
"Thanks to the 650B wheels on the smaller-sized frames, there's no toe overlap. I love being able to put beefy tires on it, it just makes for a super comfy ride regardless of road conditions. Highly recommend this bike in the 43cm or 46cm for little people."
"My All-City Space Horse Disc is my one bike to rule them all. A bike that manages to fulfill all roles from everyday super-commuter to indefinite all-road touring rig, and everything in between."
Audio: (dreamy music) Video: Various parts of a bike are zoomed in on, creating suspense. Audio: Attention, Team Space Horse. Video: "Space Horse" text illuminates a bike from behind. Audio: It's time to hit the city streets, wide open for the taking. Video: A cityscape is shown from the side and then from above. Audio: Time to blaze a trail from the boulevards of busted concrete, to the bumpy back country gravel, to the secret scenic route along the river. Video: A rough-textured neighborhood street, a dirt road in the countryside, and a backroad alongside a river are shown. Audio: It's time to discover the empty spaces, and the fill them with thrills, with fast sprints, and long memorable miles. Video: Tire tracks through a prairie, sparklers and fireworks, a wooded road, and a single path through a desert landscape are shown. Audio: With epic views and style to match. It's time to find your outer limits and blow past 'em. Video: The camera shows stars through treetops at night before transitioning to a cropped image of a shiny Space Horse head badge and top tube on a blurred background. Then, a pocked street sign with text "End", a field full of galloping, wild horses, and a beautiful Dusty Rose Space Horse bike in a railyard are shown. Audio: From this galaxy to the next. The All-City Space Horse. Take the reins. Video: The scene lifts to a view of earth from space with stars in the distance, and a rocket is seen taking off into the atmosphere.
FIND A RETAILER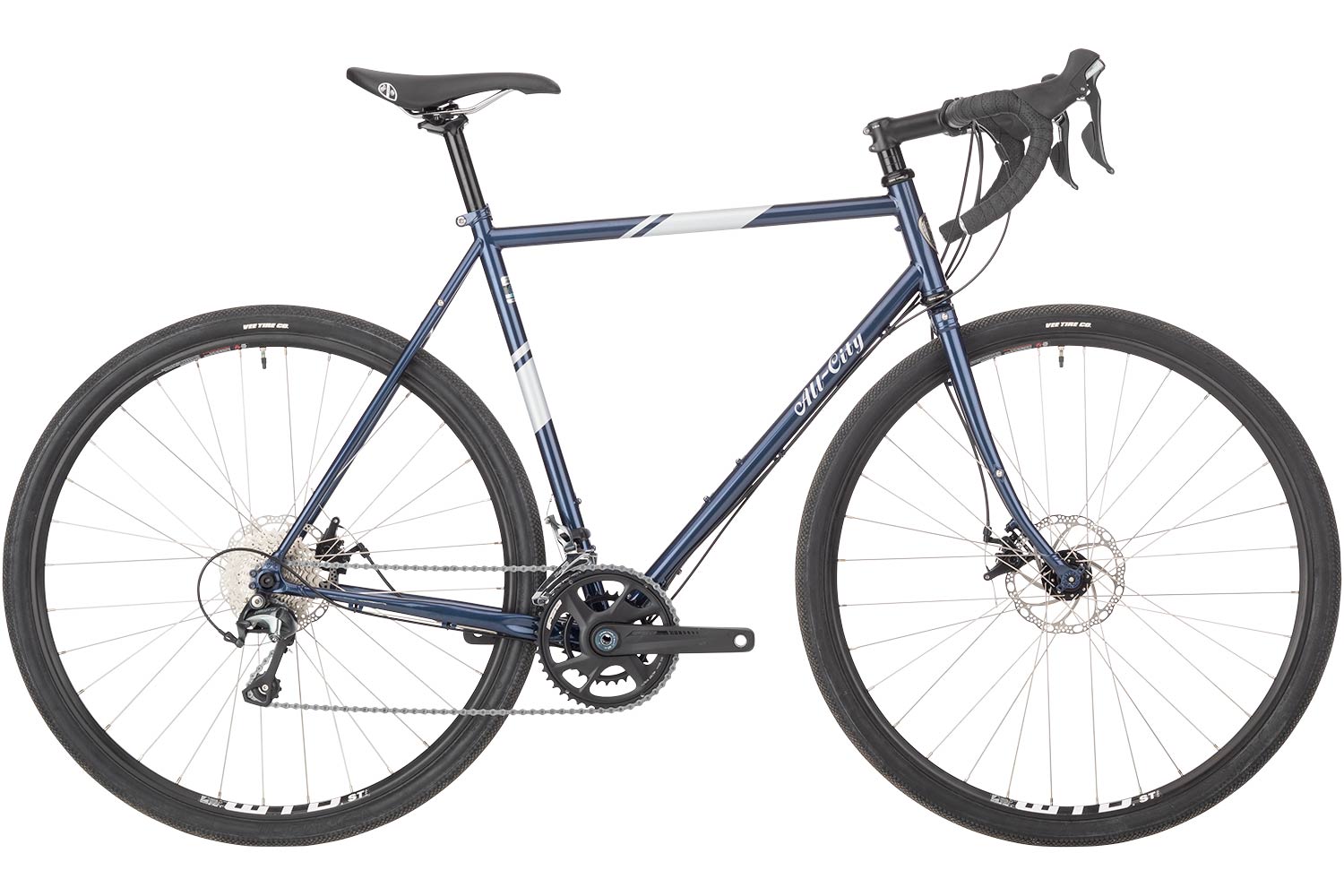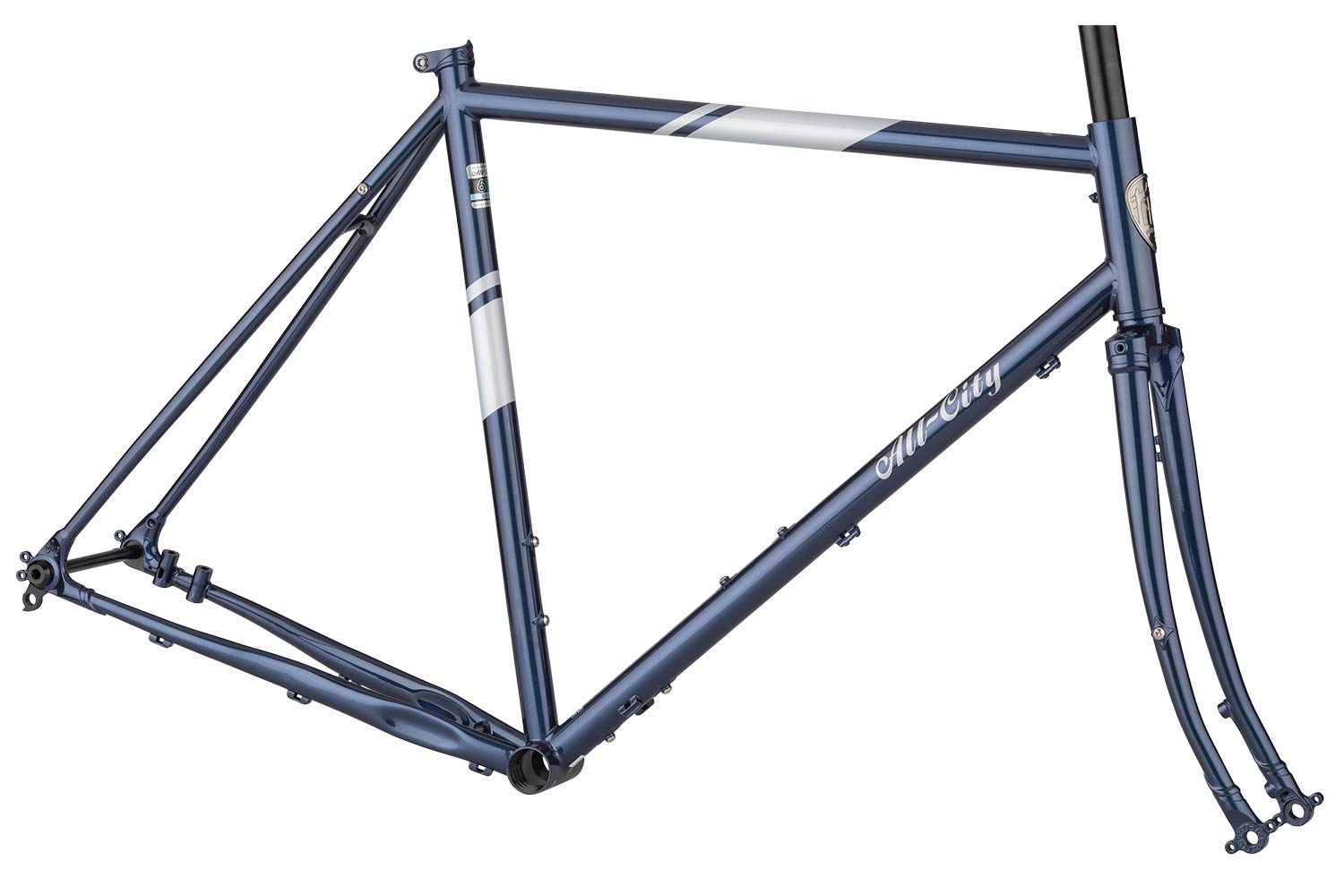 COMPLETE MSRP $1,650 | FRAMESET MSRP $899
With demand at an all-time high, bike inventory can be scarce. If you need help finding an All-City bike, start here.
Suggested retailers for ""
change
SPECS & GEO
Fork

+

All-City Space Horse Fork

Headset

+

Cane Creek 40 Series

Stem

+

AL6061, 3D forged, 4-bolt stem, 31.8mm

Handlebar

+

AL6061, 31.8mm, 6° Flair

Bar Tape

+

All-City Embossed Black Tape

Shifter/Brake Lever

+

Shimano Tiagra 10-speed

Front Derailleur

+

Shimano Tiagra R4700

Rear Derailleur

+

Shimano Tiagra R4700

Brakeset

+

Tektro MD-C550, 160 f/r, 6-Bolt

Crankset

+

FSA Omega Modular BB386EVO, 46-30t, Black

Bottom Bracket

+

FSA BB386 MegaEVO, BSA threaded

Seatpost

+

27.2mm, two-bolt, 350mm length

Saddle

+

All-City Gonzo

Cassette

+

SunRace 10-speed, 11/32t

Chain

+

KMC X10, EPT Anti-Rust

Hubs

+

Novatec 981/982, Sealed Bearing, 32h

Rims

+

WTB ST i19 TCS 2.0, 32h (650b in 43/46cm, 700c in larger sizes)

Spokes

+

Pillar 14g Black Stainless

Nipples

+

Black Brass Nipples

Tires

+

VEE Speedster (650b x 38mm in 43/46cm, 700c x 40mm in larger sizes)

Brake Housing

+

Jagwire KEB-SL Black

Shift Housing

+

Jagwire LEX-SL Black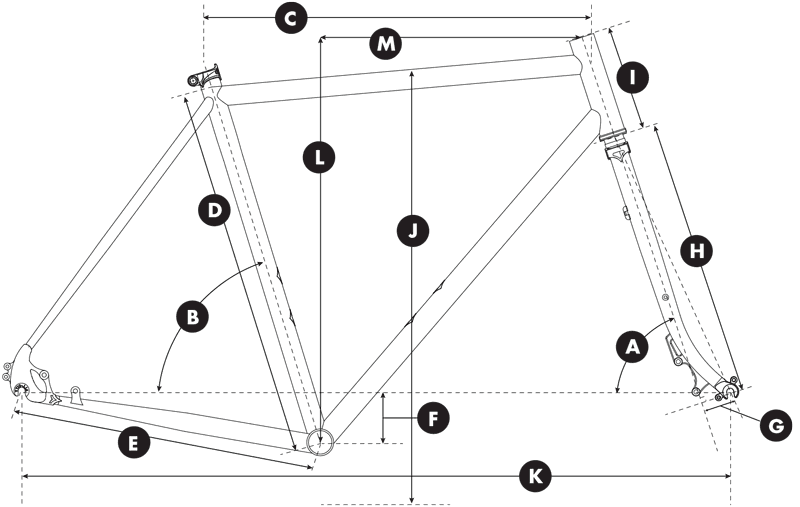 | Size | 43cm (650b) | 46cm (650b) | 49cm | 52cm | 55cm | 58cm | 61cm |
| --- | --- | --- | --- | --- | --- | --- | --- |
| Head Tube Angle | 70 | 70.5 | 71 | 71 | 72 | 72 | 72 |
| Seat Tube Angle) | 75 | 74.5 | 74.2 | 73.5 | 73 | 72.5 | 72 |
| Top Tube Length) | 495 | 515 | 530 | 545 | 560 | 580 | 610 |
| Seat Tube Length | 420 | 450 | 480 | 510 | 540 | 570 | 600 |
| Chainstay Length | 420 | 420 | 435 | 440 | 440 | 445 | 445 |
| Bottom Bracket Drop | 58 | 58 | 75 | 75 | 75 | 75 | 75 |
| Fork Offset | 49 | 49 | 52 | 52 | 47 | 47 | 47 |
| Total Fork Length | 376 | 376 | 395 | 395 | 395 | 395 | 395 |
| Head Tube Length | 95 | 105 | 110 | 125 | 150 | 175 | 200 |
| Standover | 725.3 | 747.2 | 779 | 802 | 831 | 857.3 | 883.1 |
| Wheelbase | 989.4 | 1001.1 | 1021.1 | 1034.6 | 1029.9 | 1049.6 | 1073.7 |
| Stack | 493 | 504 | 545 | 559 | 589 | 612 | 636 |
| Reach | 363 | 375 | 376 | 380 | 380 | 387 | 403 |
| Handlebar Width | 380 | 380 | 400 | 420 | 420 | 440 | 460 |
| Stem Length | 70 | 80 | 90 | 100 | 100 | 110 | 120 |
| Crank Arm Length | 165 | 165 | 170 | 170 | 172.5 | 175 | 175 |
Frame

+

612 Select Chromoly Steel

Fork

+

612 Select Chromoly Steel

Rear Hub Spacing (OLD)

+

142 x 12mm; thru-axle

Thru Axle Size

+

Ø12 x 162mm , TP=1.5, TL=12

Brake Mount Type

+

Flat Mount; 30mm mounting barrels

Rotor Size(s)

+

140mm to 160mm

Headtube Upper (SHIZ)

+

EC34

Headtube Lower (SHIZ)

+

EC34

Seatpost Diameter

+

27.2mm

Seat Collar

+

All-City Signature Brazed-On

Max Tire Size

+

43~46cm: 650b x 47mm, 49~61mm: 700c x 45mm, 49~61cm: 650b x 47mm

Tire Size Range

+

650b x 42~47mm, 700c x 32~45mm

Front Derailleur Mount

+

28.6 Band Clamp

Crankset (Max Ring)

+

1x: 48t, 2x: 52/38t

Bottom Bracket

+

68mm English

Derailleur Hanger

+

Salsa Hanger 465, Part # FS2322

Bottle Mounts

+

Two inside frame, one under downtube, all sizes

Extras

+

Rear rack, Front and Rear fender mounts, E.D. coated for durability and rust prevention

Fork Material

+

612 Select Chromoly Steel

Front Hub Spacing (OLD)

+

100 x 12mm; thru-axle

Thru Axle Size

+

M12 x 125L, TP = 1.5, TL = 12

Brake Mount Type

+

Flat Mount

Rotor Sizes

+

140mm to 160mm

Stem Clamp (SHIZ)

+

Ø28.6mm

Crown Race (SHIZ)

+

Ø30mm

Axle to Crown

+

43~46cm: 376mm, 49~61cm: 395mm

Fork Offset

+

43~46cm: 49mm, 49~52cm: 52mm, 55~61cm: 47mm

Max Tire Size

+

43~46cm: 650b x 47mm, 49~61cm: 700c x 45mm and 650b x 47mm

Tire Size Range

+

650b x 42~47mm, 27.5" x 1.9~2.4", 700c x 32~42mm

Download(s) »
Back to top
Space Horse Tiagra Gallery