Urban Powerhouse
Informed by our famed race geometry to be fast, agile, and capable on mixed terrain, the Super Professional is a full-on everyday destroyer loaded with mounts for racks, fenders, two bottle cages, and all the versatility commuters and daily riders demand.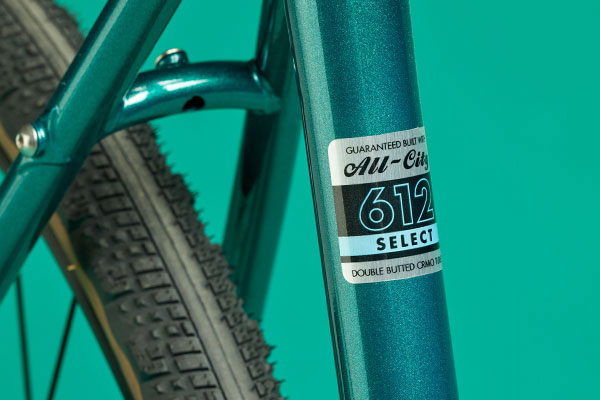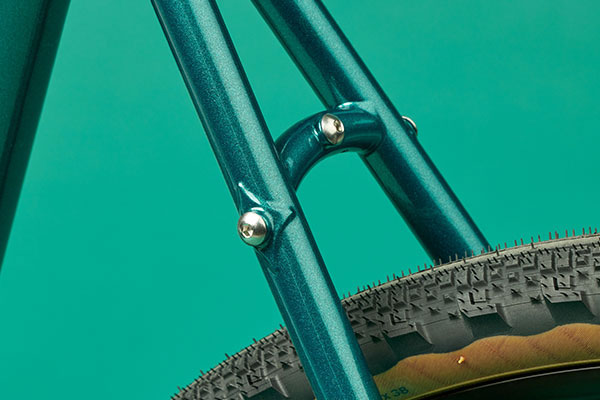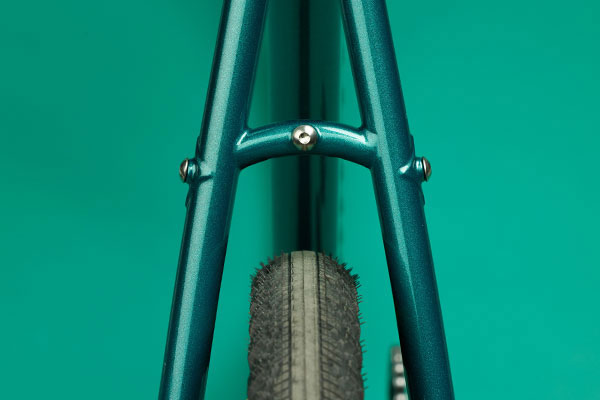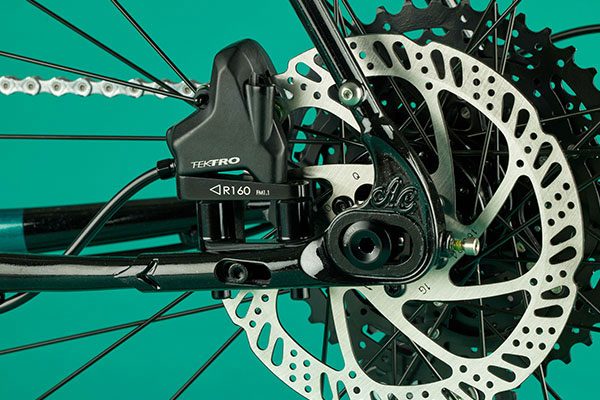 Signature Details
Our mission is to bring beauty back to production bicycles. This means investing in custom touches that elevate the whole. We devote time and resources to signature details that turn heads and signify high-quality craftsmanship. These elements tell a cohesive visual story and form a distinct silhouette so that even if your unique bike were stripped down to bare metal, it would still be instantly identifiable as an All-City bicycle.
Learn more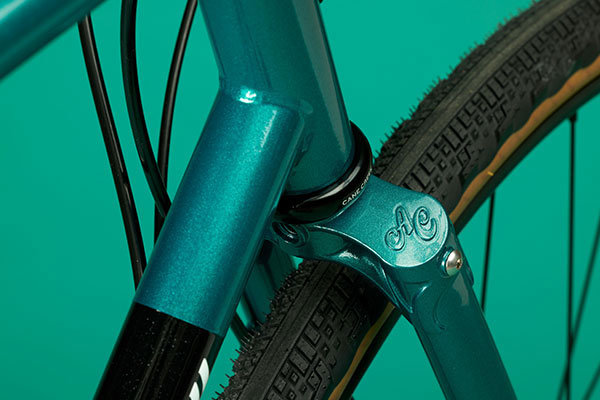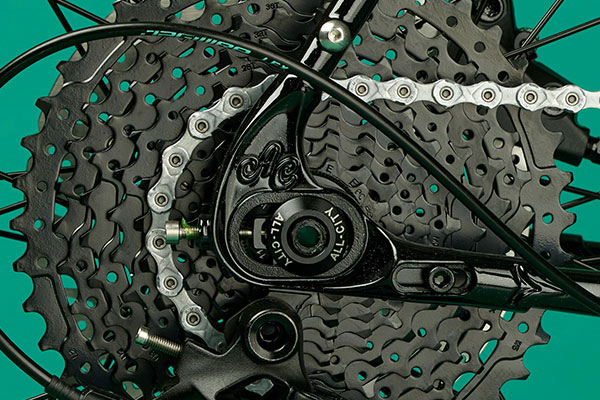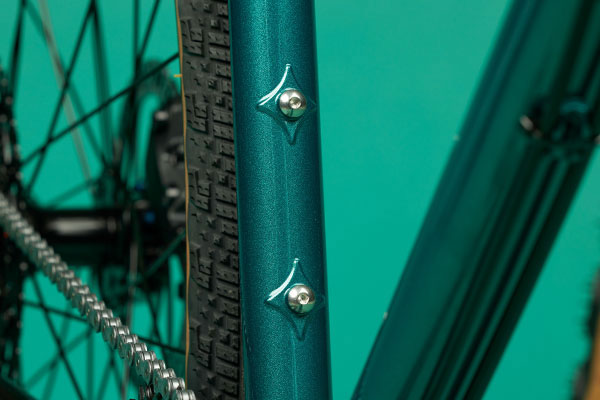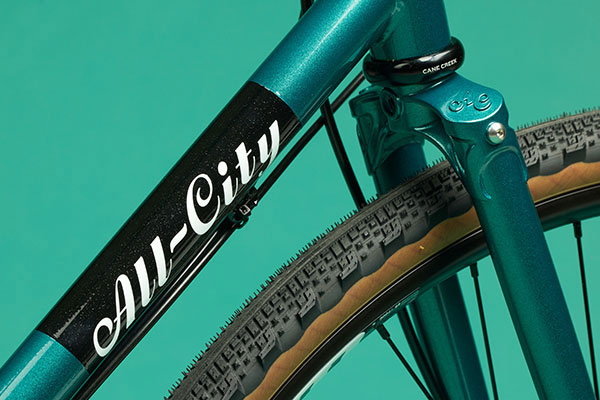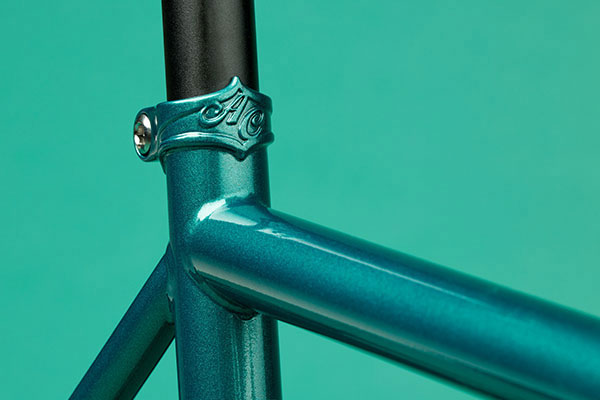 Audio: (upbeat funk music) Video: Large text "All-City Presents Super Professional" appears and quickly fades. In an urban alleyway, a woman disguised as a man in a floral short-sleeve buttoned shirt is running with a briefcase in hand. Another man in farcical business attire rounds a corner, and it becomes clear that he is chasing her. The woman jumps on a bike and leaves the scene, causing the man to steal a bike from a bystander to continue his pursuit. A chase ensues through streets, parks, and other areas of the city. The man is visualized yelling "Stop!!!" but the woman refuses to give up. While biking down another alley, the pursuer is pushed by a bystander (coincidentally, the person he originally stole the bike from) into a pile of boxes, and he shakes his fist as the woman gets away. The woman arrives safely at a Bike Shop, and the screen widens, preparing us for a pivotal scene. She puts the briefcase on the counter in front of the store owner, who is smoking a cigarette. When the store owner opens the briefcase, we see a bright glow illuminate his face and swirling cigarette smoke. He is amazed by what he sees! Inside the briefcase is a bike part called "The Master Dropout" (renamed the "2 in 1 Dropout"). Just as this happens, the pursuing man arrives, out of breath, at the shop. Audio: (goofy music) Video: The music removes the tension of the previous scene, and we see "The All New, All-City Super Professional" in text on a solid-color backdrop. Next, we see the two models of the bike shown side by side. One is labeled "Singlespeed" and the other "Apex 1", and both differ in color. The rear hub is shown with the part from the briefcase, which "With The Master Dropout" text confirms. Additional "Run It Singlespeed or Geared" text is shown as each model is transitioned in and out of view, and the All-City logo ends the scene.
SPECS & GEO
Frame

+

612 Select Chromoly Steel

Fork

+

All-City Super Professional Signature Fork

Seatpost Clamp

+

All-City Signature Brazed-on Seat Collar

Crankset

+

FSA Omega MegaExo 44t

Bottom Bracket

+

FSA MegaExo

Front Derailleur

+

N/A

Rear Derailleur

+

SRAM APEX 11-spd Long Cage

Cog or cogset

+

SunRace 11-42t

Chain

+

KMC X11 EPT AntiRust

Headset

+

Cane Creek 40 Series

Brakes

+

Tektro HD-R280, Hydro Flat Mount

Brake Levers

+

Tektro HD-R280, Hydro Flat Bar

Rotors

+

160mm Front and Rear

Shifters

+

SRAM APEX 11-spd Flat Bar

Stem

+

AL6061, 3D forged, 4-bolt stem, 31.8mm, ±7°

Handlebar

+

AL6061, 31.8mm, 20mm Rise

Grip/Tape

+

Velo single lock-on

Saddle

+

All-City Gonzo

Seatpost

+

27.2mm, two-bolt, 350mm length

Front Hub

+

All-City Go Devil, 32h

Rear Hub

+

All-City Go Devil, 32h

Rims

+

WTB ST i23, TCS 2.0, 700c, 32h

Tires

+

Teravail Washburn, 700c x 38mm, Light and Supple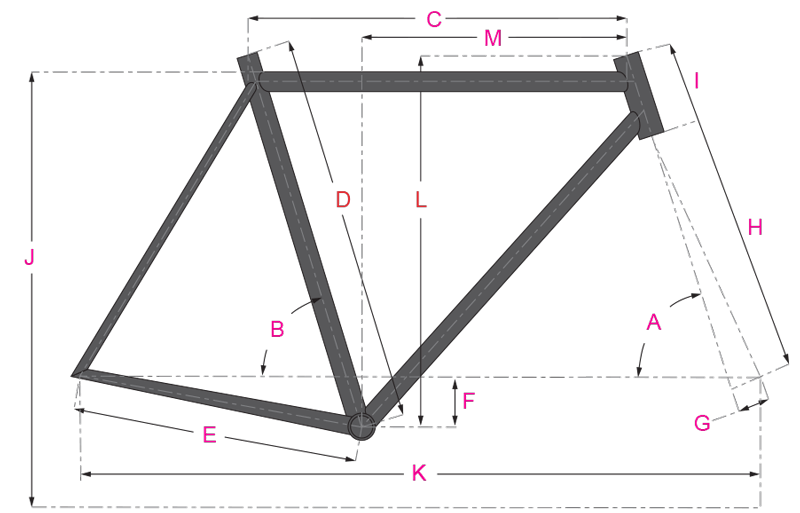 | Size | 43cm | 46cm | 49cm | 52cm | 55cm | 58cm | 61cm |
| --- | --- | --- | --- | --- | --- | --- | --- |
| Head Tube Angle | 70 | 71 | 71 | 71.5 | 72 | 72.5 | 72.5 |
| Seat Tube Angle) | 75 | 74 | 73.5 | 73 | 73 | 72.5 | 72.5 |
| Top Tube Length) | 495 | 520 | 535 | 550 | 565 | 585 | 605 |
| Seat Tube Length | 430 | 460 | 490 | 520 | 550 | 580 | 610 |
| Chainstay Length | 420 | 420 | 420 | 420 | 420 | 420 | 420 |
| Bottom Bracket Drop | 60 | 60 | 60 | 60 | 60 | 60 | 60 |
| Fork Offset | 45 | 45 | 45 | 45 | 45 | 45 | 45 |
| Total Fork Length | 395 | 395 | 395 | 395 | 395 | 395 | 395 |
| Head Tube Length | 90 | 100 | 125 | 140 | 160 | 185 | 210 |
| Standover | 726.6 | 749.4 | 776.5 | 800.3 | 826.1 | 853.2 | 879.9 |
| Wheelbase | 986 | 992.8 | 1004 | 1009 | 1020 | 1029 | 1049 |
| Stack | 510 | 523 | 547 | 563 | 584 | 610 | 633 |
| Reach | 358 | 370 | 373 | 378 | 386 | 393 | 405 |
| Handlebar Width | 700 | 700 | 700 | 750 | 750 | 800 | 800 |
| Stem Length | 70 | 80 | 90 | 100 | 100 | 110 | 120 |
| Crank Arm Length | 165 | 165 | 170 | 172.5 | 172.5 | 175 | 175 |
Frame Construction

+

612 Select Chromoly Steel, Tig Welded and Brazed, E.D. Coated

Fork Construction

+

612 Select Chromoly Steel, All-City Signature Bi-Wing Crown, Tig Welded and Brazed, E.D. Coated

Rear Dropout Configuration

+

All-City Signature Sliding 2-For-1 Dropout

Rear Hub Spacing

+

142mm OLD

Front Hub Spacing

+

100mm OLD

Rear Brake

+

Disc - Flat Mount (140mm or 160mm rotor)

Front Brake

+

Disc - Flat Mount (140mm or 160mm rotor)

Headtube

+

Ø34mm

Steerer Tube

+

Ø28.6mm (1-1/8")

Crown Race

+

Ø30mm (1-1/8")

Stock Headset Upper (S.H.I.S)

+

EC34/28.6

Stock Headset Lower (S.H.I.S)

+

EC34/30

Seat Collar

+

All-City Signature Brazed-On

Seatpost

+

Ø27.2mm

Front Derailleur (Clamp)

+

Ø28.6mm

Max Chainring (CL)

+

1x: 50t max; 2x: 50/34

Bottom Bracket

+

English Threaded, BSA 68 shell

Tire Clearance Frame

+

700c x 45mm (700c x 40mm with fenders) or 650b x 47mm (650b x 42mm with fenders)

Tire Clearance Fork

+

700c x 45mm (700c x 40mm with fenders) or 650b x 47mm (650b x 42mm with fenders)

Rigid Fork Spec

+

395mm Axle to Crown with 45mm Offset

Design Suspension Fork Length

+

N/A

Max Suspension Fork Length

+

N/A

Bottle Mounts Frame

+

Two inside frame, all sizes

Bottle Mounts Fork

+

N/A

Rack Mounts Frame

+

Yes (upper and lower threaded)

Rack Mounts Fork

+

Yes (upper, lower, and mid-blade threaded)

Fender Mounts Frame

+

Yes

Fender Mounts Fork

+

Yes

Other Features

+

Internal dropper post routing compatible

Download(s) »
Back to top
Super Professional Apex 1 Gallery