Here at All-City, our mission is to bring beauty back to production bicycles. From classically inspired frames with hand-built touches to the latest advancements in equipment and technology, these elegant machines move us, literally and figuratively, and we're immensely proud of the opportunity we have to help move them forward. To that end, we aim to build exceptionally fast and fun bicycles that are elegant in design, flawless in performance, and beautiful as all hell out in the world.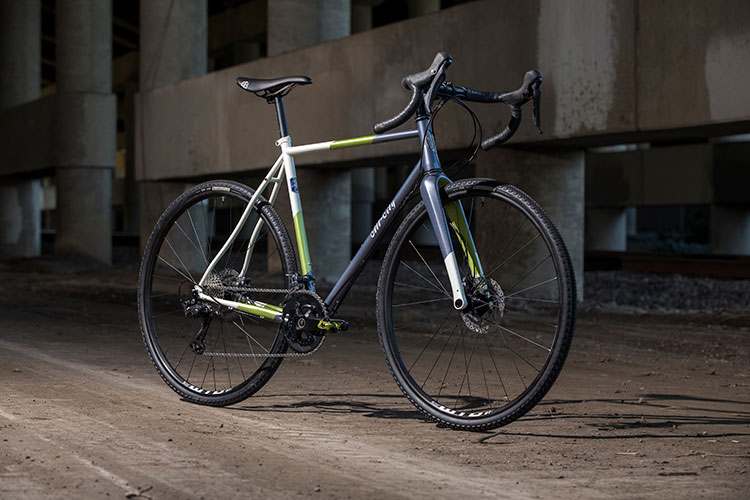 Beauty, of course, means different things to different people. For us, it means investing in custom touches that elevate the whole, enhance your riding experience, and pull on your friggin' heartstrings. It means devoting time and resources to signature details that turn heads and signify high-quality craftsmanship. These elements tell a cohesive visual story and form a distinct silhouette so that even if your unique bike were stripped down to bare metal, it would still be instantly identifiable as an All-City bicycle.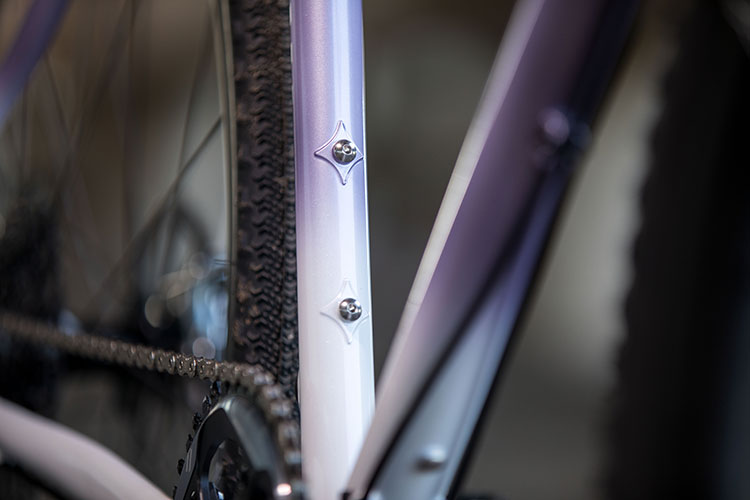 Braze-Ons
Get up close to an All-City frame and you'll notice thoughtful details such as internal cable routing, hidden fender mounts, integrated seat collars, reinforcement stars on the bottle bosses, and more. Permanently fixed to the frame via the process of brazing — a precise, time-consuming, and costly metal-joining process — these are the kinds of features we admire in classic steel frames.
Once something of a lost art in the production frame world, braze-ons differentiate an All-City from other bikes because most other companies just aren't doing it. Some get around the cost of brazing by simply welding on things like cable guides, but we prefer brazing despite the added cost because it's tightly controlled, it allows us to join dissimilar metals, and the end result looks satisfyingly clean. It's also done at a lower temperature than welding; in key areas of stress, lower heat leads to a stronger frame.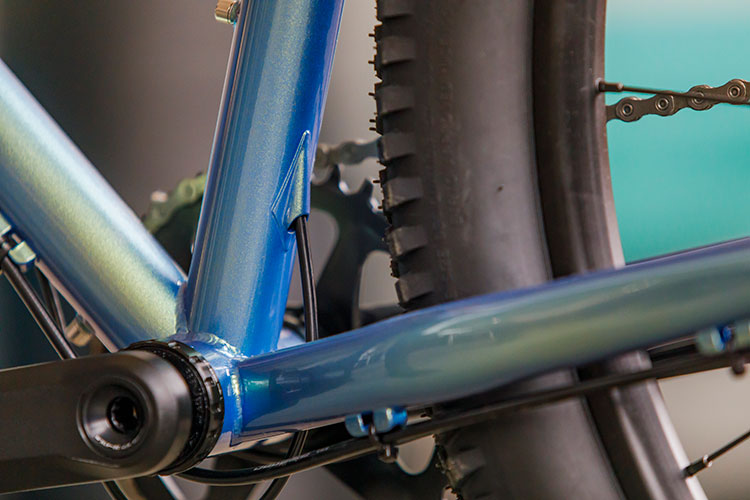 Braze-ons offer additional value that's invisible to the naked eye. Some of our disc models, for example, feature more expensive silver soldering on select cable guides along the downtube because silver soldering uses even lower heat than brass soldering. We do this because we believe it is ultimately in the best interest of the rider.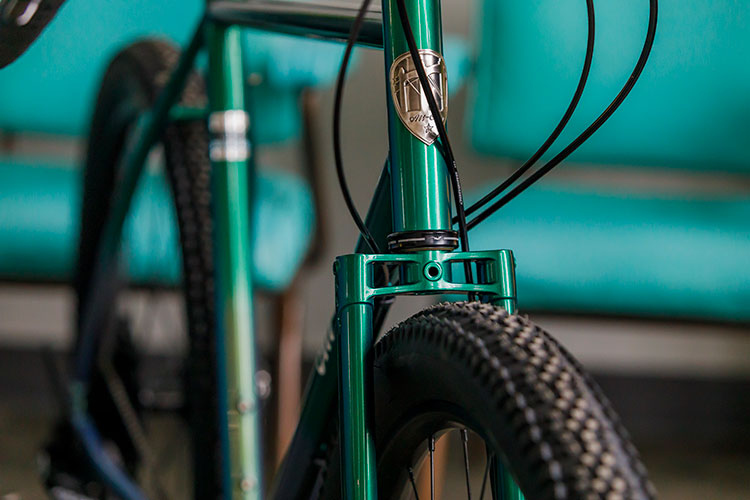 Lugged Fork Crowns
Throughout bicycle history and until the 1970s and '80s, lugged steel construction was the norm. Essentially socket-like sleeves where tube ends are joined and brazed into place for a tight fit, lugs serve as external reinforcement and increase strength at the joint. When used to join fork blades at the crown, lugging also provides a classic, clean aesthetic you just can't get from welding.
Inspired by the traditional lugged fork crowns found on vintage bicycles, we use investment-cast lugged fork crowns to optimize tire and fender clearance and to create another point of visual interest and distinction on our bikes.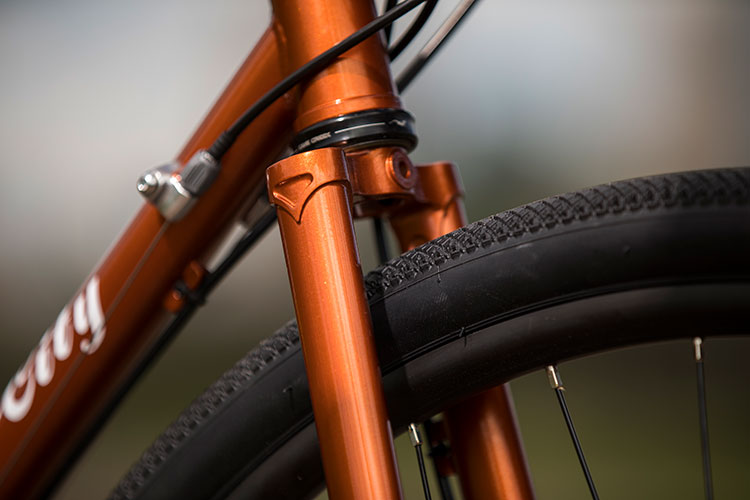 Although it would be simpler and far less expensive to use unicrown forks — a common solution where the two fork blades are bent toward one another and then welded together at the steerer tube — we're not here to do what's cheap and easy. Unicrown forks may get the job done from a practical standpoint, but elegantly shaped lugs and gorgeous fork crowns elevate All-City bicycle frames above mere functionality.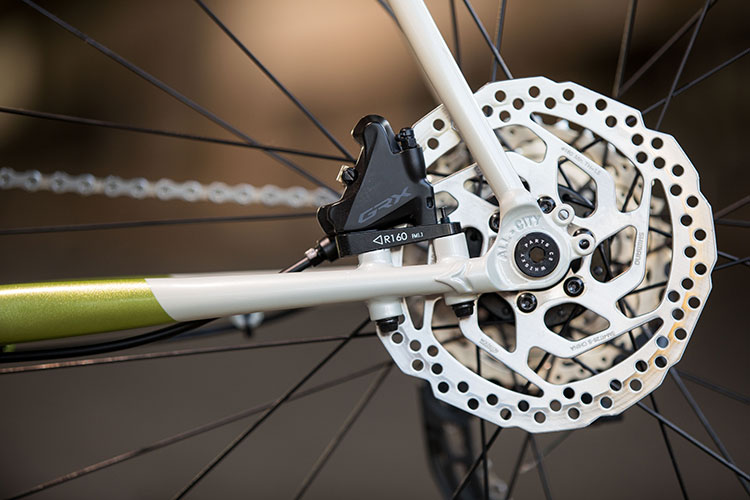 Dropouts
Since the very beginning, we've invested in the best materials and finest touches to make our bikes beautiful, unique, and memorable. Nowhere is this care more evident than in the completely custom, investment-cast dropouts we make unique for each bike.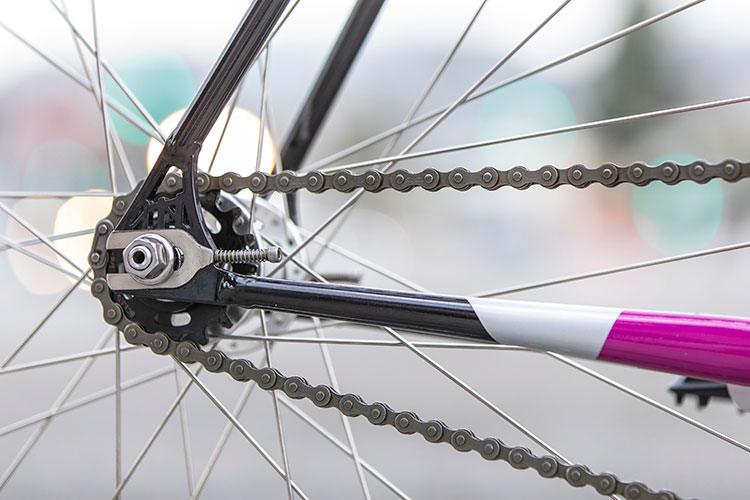 It all started with the iconic Hennepin Bridge horizontal dropout, inspired by the stunning suspension bridge that crosses the Mississippi River here in Minneapolis, Minnesota. Designed for use on our single-speed models like the Big Block and earlier iterations of the Nature Boy, the Hennepin Bridge dropout marries form to function, and it helped our young brand chart the course we remain dedicated to today.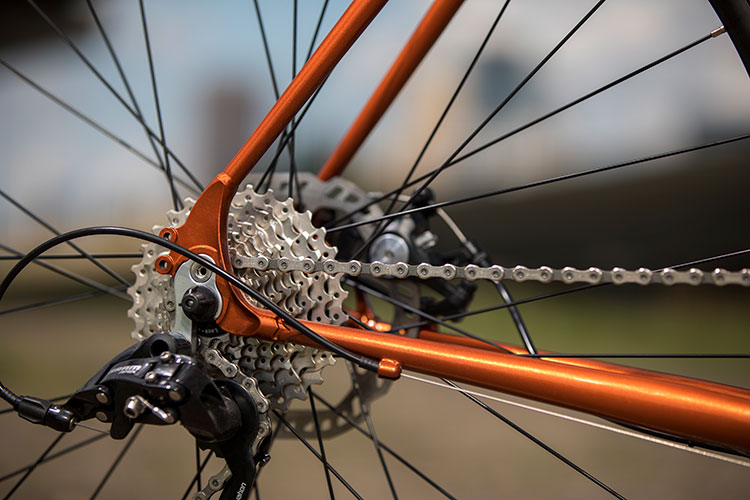 As we've grown and expanded beyond those first single-speed dropouts, we've executed striking custom geared dropouts, semi-horizontal dropouts, disc dropouts, and more — and they exist nowhere else. We've put fast, head-turning bikes on the track, on gravel, on cross courses and singletrack, on fire roads, and on roads leading in all directions all across the globe. We've even introduced our first combination geared or single-speed sliding dropout — the 2-For-1 Dropout — custom designed by All-City with versatility and style at the forefront.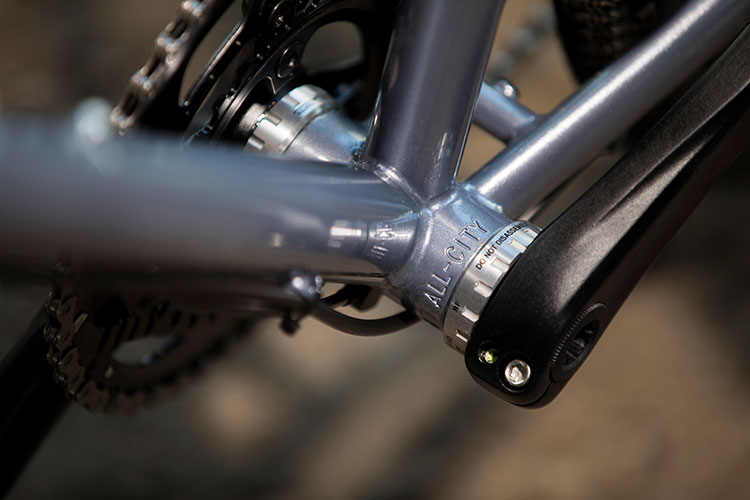 And, Folks, we ain't done. Get on top of an All-City bike and we hope you'll notice these details and more — including fully custom gussets and pantographed bottom brackets — all carefully designed and executed to ensure the sum of all these parts equals something you can enjoy and appreciate for a long, long time.