Last modified: February 8, 2021
One Final Lap at the NSC Velodrome - Part 1
We asked former track racer and QBP copywriter, Renee Hoffmann, to shed some light on the uniqueness of the NSC Velodrome, and what our local cycling community is doing now that it's gone. These are her words:
You know when you're reading a really good book and realize that the pages in your left hand are suddenly thicker than the ones in your right? And despite knowing the end will inevitably come, you still can't resist plowing ahead to find out what happens?
That's how the final night of racing at the National Sports Center Velodrome in Blaine, Minnesota felt last August. I didn't want track racing to be over, yet here I was, eagerly waiting for the evening's events to start, crammed shoulder-to-shoulder among spectators who were experiencing the same contradictory emotions.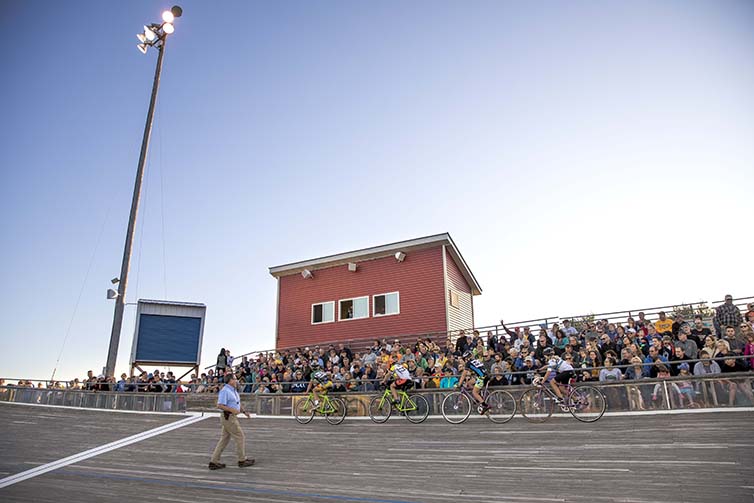 Down on the infield, racers clad in Koochella neon, Zubaz zebra, and more rode slow circles on the bumpy asphalt lining the inside of the track. It was here that many racers, myself included, first rode a fixed-gear bike and experienced that instant jolt of adrenaline you get from the bike bucking forward when you accidentally try to coast.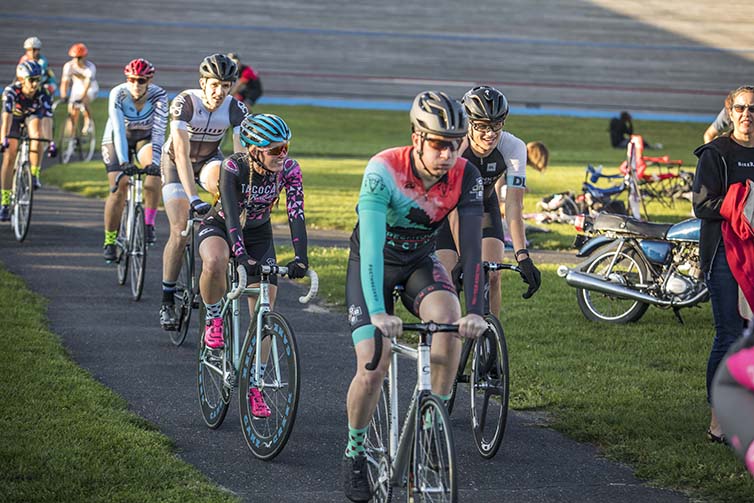 Up on the tired wooden boards of the velodrome, riders spun quick warmup laps. Their heads swiveled back and forth as they simultaneously looked for a paceline to latch on to and, knowing this would be a night of "lasts," committed each sensation to memory. Ordinarily, the last track night of any season is bittersweet—it signals the end of summer in Minnesota, the end of racing for several months, and a period of time where you won't see 50 of your closest friends every Thursday anymore. The difference tonight was that we didn't have another season to look forward to.
Chapter I: The History of Track Cycling
With origins in England dating back to the late 1800s, track cycling had its heyday in the United States in the 1920s. In that time, tens of thousands of fans used to flock to velodromes in Madison Square Garden, Chicago, Minneapolis, and Detroit to watch six-day races where riders went without food or sleep until their bodies gave out. Race nights had a nightclub vibe—regularly attracting noteworthy individuals from the upper echelons of society. Cigar smoke was so thick, it often obscured riders' views and crashes involving broken collarbones and head injuries were frequent. Allegedly, Al Capone liked to bet on sprints.
In modern-day track cycling, lycra-clad riders, mounted on lightweight, brakeless, fixed gear bikes reach speeds upwards of 40mph as they vie for a spot on the podium. The focus today is on community, competition, and growing the sport by attracting new and diverse riders.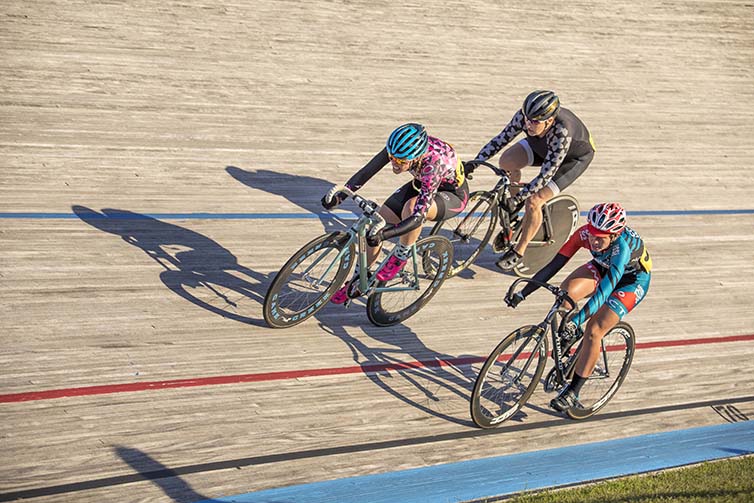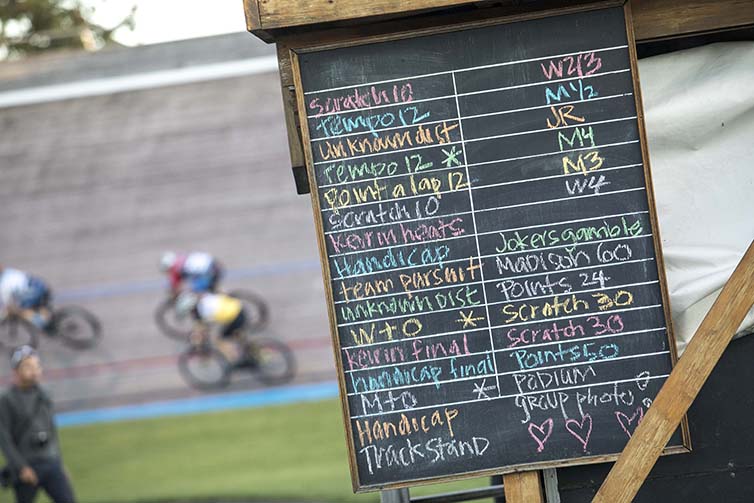 Races have evolved over time and vary widely from 100-lap Madisons where riders take turns holding hands then "throwing" their partner into the race, to Keirins, where a motorcycle quickly brings riders up to speed and moves out of the way as they sprint to the finish. Riders compete in a medley of races each night and results are tallied at the end to determine who wins the "omnium."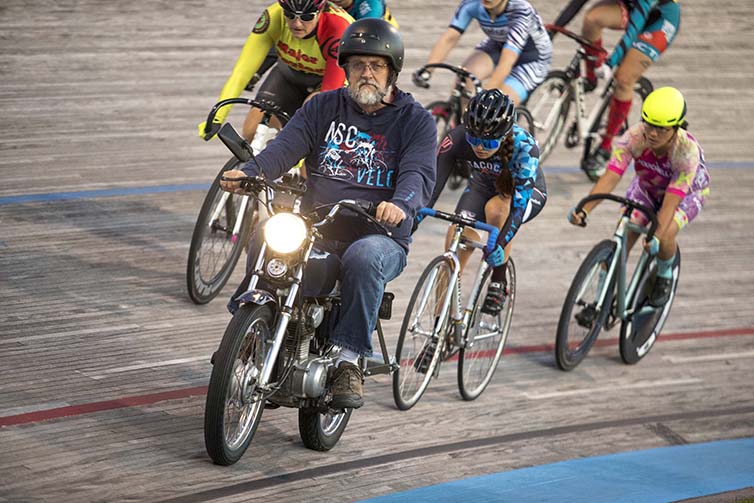 Most velodromes range in length from 138 meters to 500 meters. For reference, a typical running track (like from gym class) is 400 meters long. Banking in the turns can get as steep as 50 degrees. For steeper tracks, that means you're constantly fighting gravity and need to maintain a high speed to stay upright.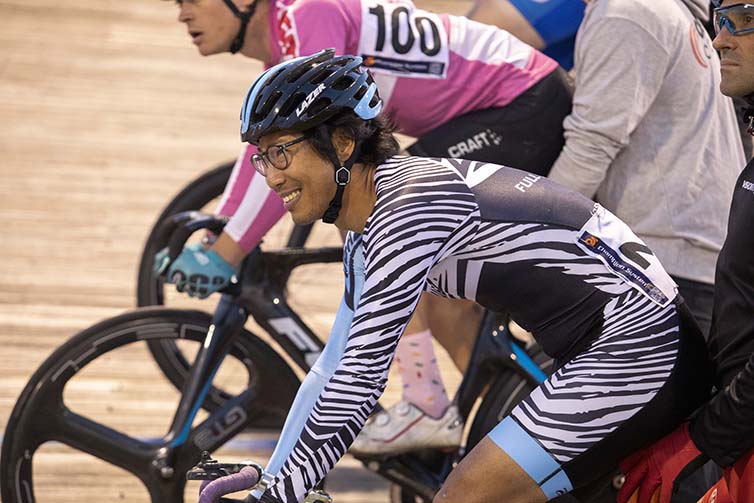 "Riding in traffic is one thing but trusting people who are sprinting around you at 40mph is a whole different deal." – Ben Hovland, local track racer (pictured above)
Chapter II: The NSC Velodrome
These days, you can find Bob Williams hanging out at his local bike shop, sorting through piles of cycling equipment in his basement, and traveling to Ghent, Belgium to watch the famed 6-day races at the Kuipke Velodrome. From 1996–2019, however, he was the Director at the NSC Velodrome. During his 23-year tenure, Bob wrangled volunteers, ran programming for both youth and adults, coordinated ongoing track maintenance, and directed racing.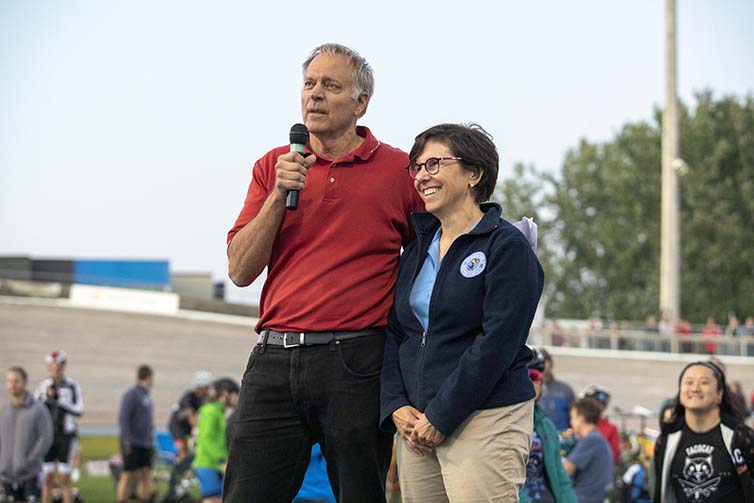 Bob's love affair with track racing started back in the '70s. The way he describes it, there were two cycling disciplines back then: road and track. He and about 30 other guys would race fixed gear bikes once a year for the state championship at an auto track—just for the hell of it. Later on, a velodrome was built just south of the Twin Cities that was 200 meters long and had especially steep banking. After a handful of bad crashes including one where certain rider, "put his forehead through the railing," (Bob's words) everyone got spooked and the velodrome was eventually shuttered.
After a couple stints, "taking a hammering," in European road races and at the velodrome in Ghent, Bob returned to the states and was approached with the idea of building a velodrome/sports complex.
"I at least wanted to put my nickel in on what kind of track I wanted them to build. I thought they ought to build something spectacular," Bob said. "We got a contract and lobbied the legislature a few times. I told them I thought the track could make a go of it."
With the goal of hosting the 1990 Olympic trials driving efforts, the NSC Velodrome was built and a group of dedicated volunteers launched the first season of racing.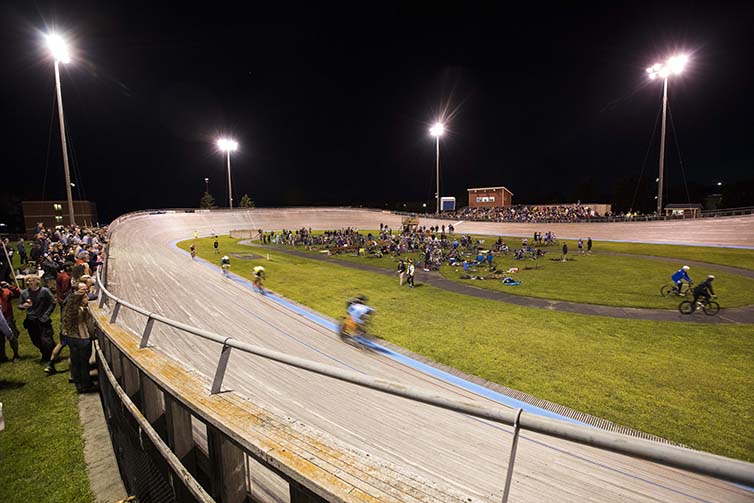 "The first year there were 12 riders. For a few years after that, there still weren't enough people to have categories. Part of the reason for low attendance was we were competing with weekend road races due to limited hours of daylight. Once we got lights a few years later, we started having races on Thursdays and that was more palatable for riders," Bob said.
Another upgrade that made a huge difference was putting big banners advertising race nights up in front of the velodrome. The city of Blaine had just built a shopping center across the street and, slowly but surely, intrigued shoppers started stopping by to watch races. Bob estimates that from 1985–1990 spectator attendance ranged from 85–100 people on any given Thursday.
Over the decades, big events like the U.S. Olympic Trials, U.S. National Track Cycling Championships, Master's Track Championships, and the Fixed Gear Classic put the NSC Velodrome on the map as the place to go if you wanted to race against an experienced field on a fast, steep track. However, regardless of success, accolades, or participation, the unfortunate reality was that the outdoor wooden track had taken a beating after years of repeated freezing and thawing, and funding for costly repairs just wasn't available. In 2019, the NSC Velodrome had reached its final chapter.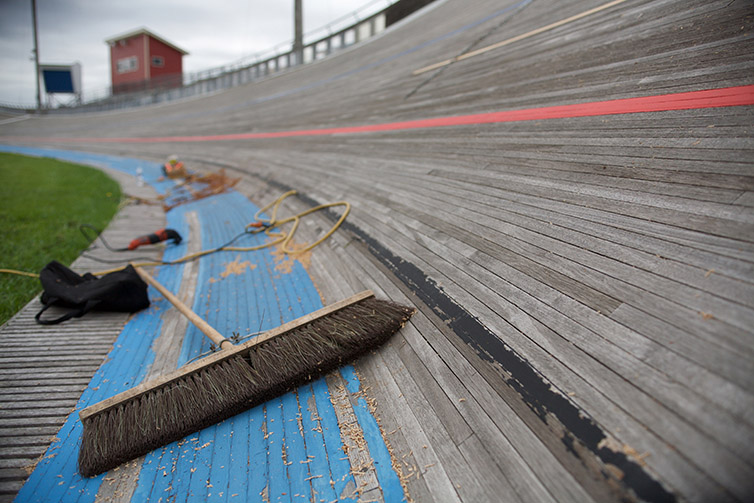 "What I point to with pride is that we developed a program out of nothing," said Bob.
See the energy in motion on the last night of the final season, filmed and edited by Zenoscope Productions.
Velodrome from Adam Zuehlke on Vimeo.
Check back next week for part 2. To learn more about current efforts to bring track racing back to Minnesota and show your support, visit https://www.mncyclingcenter.org
About Renee
Renee started racing at the NSC Velodrome in 2015 when she joined Koochella Racing. She immediately jumped in headfirst, competing in regional races across the Midwest. Looking back, she considers track racing to be the spring board that helped her grow into the racer she is today. Nowadays she works at QBP as a copywriter, volunteers with Little Bellas, serves on the Executive Committee of the Minnesota Mountain Bike Series, and competes in as many mountain bike and cyclocross races as she can fit into her schedule.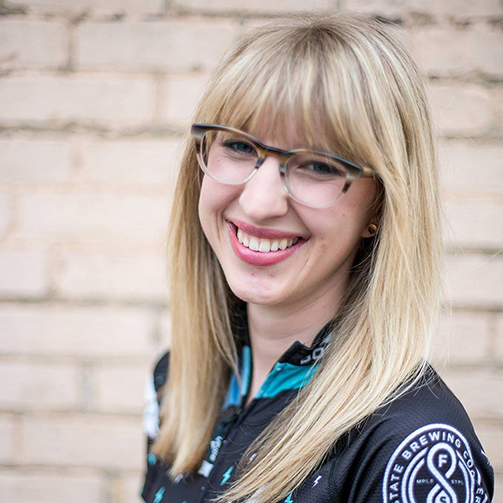 Koochella Rising from All-City Cycles on Vimeo.