Last modified: June 26, 2023
A Sweet and Savory Century Aboard the All-City Zig Zag
Hey friends!
We're stoked to share this piece by Bennett Shane on his experience with Zig Zag – our modern endurance steel road bike. In search of roadside delicacies that'll fuel his fun, Bennett tours the streets of Portland, OR on our ripping-fast road machine designed to take you far and fill your cup.
SOME PRE-RIDE PASTRIES
I swore off gels and bars recently. Racing and training require lab-generated fuel, but the way I see it, recreational riding should only involve real food that tastes good. If you point your bike in any direction across Portland, OR, you will always be close to a quick and delicious snack or a decadent feast, but could I ride a metric century around this beautiful city without any fake food stuffed in my pockets? A bit risky, perhaps, but a fun challenge.
The tradition of starting bike rides at coffee shops is a bit fraught. Even in a bike-crazy town like Portland, it can feel like a take-over by a posse of lycra-clad weekend warriors who waddle around on noisy cleats before trying to squeeze out the door at once. Nevertheless, I am not immune to the charms of a pre-ride espresso, especially when that ride is aboard such a seductive metal machine as the All-City Zig Zag.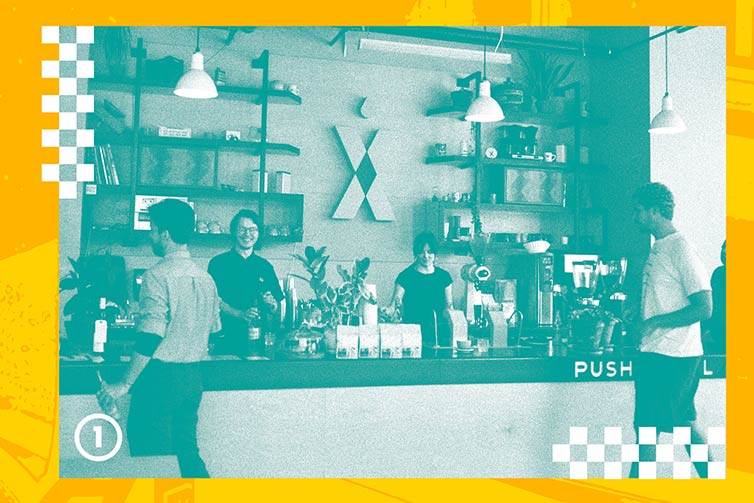 THE ADVENTURE BEGINS
Push Pull, located in the central east side, shuns the "coffee shop" label, and instead aims to be a "feel good, do good place for people to eat, drink, and be." The espresso is divine, and I select a tasty pastry to get me over the first climb of the day. I sip, chew, and think. I breathe and relax. I enjoy being still, as the rest of the day promises plenty of speed.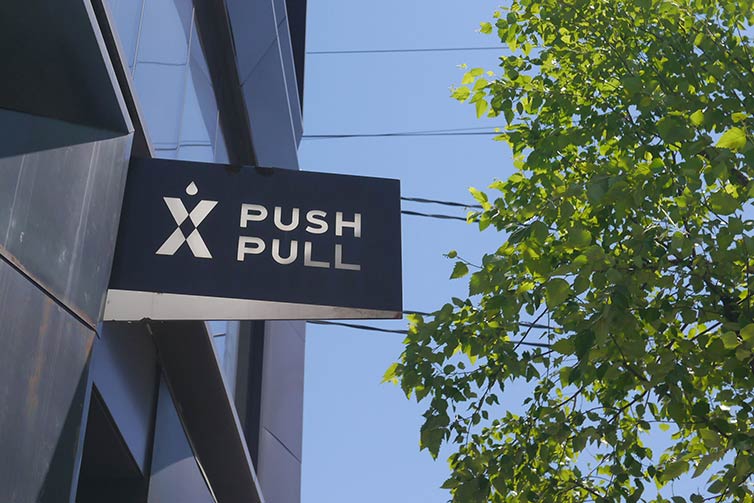 The first climb on the Zig Zag goes up NW Thurman Street to a gate that cuts off car traffic and marks the end of the pavement. Even with relatively small 30c tires, the Zig Zag floats across the bumpy gravel of Leif Eriksen Road and glides confidently through its sweeping turns. Leif Eriksen intersects another lovely gravel road called Saltzman, where I turn left and continue climbing toward the summit of the west hills. The Zig Zag climbs like a champ. The geometry is what makes this bike efficient going uphill. The headtube is tall enough and the seat tube is slack enough to put me in a balanced position where I can breathe easily and use my glutes to power the drivetrain. When I hop out of the saddle, the bike responds eagerly, but the rear wheel stays planted.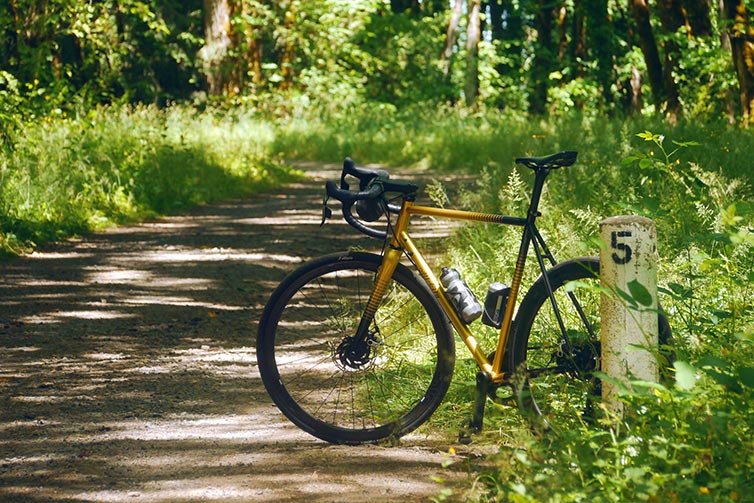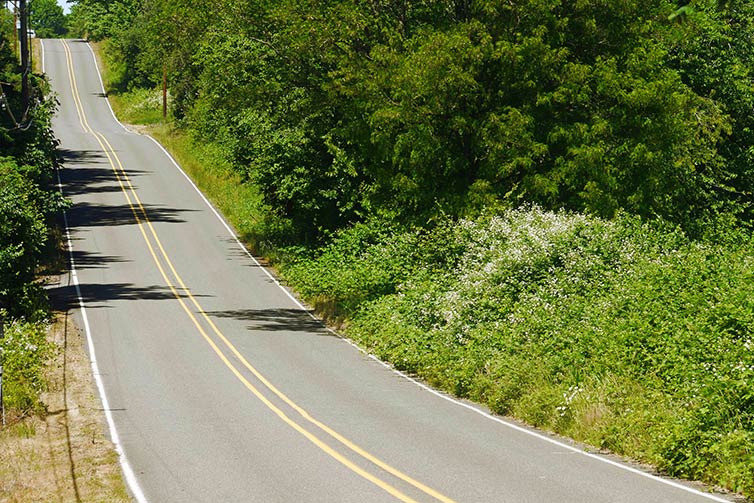 I reach Skyline Blvd and turn north, back on pavement. Yes, the Zig Zag can handle some gravel, but it feels more spirited on the road. Cruising a series of rollers as I traverse the crest of the west hills, The Zig Zag's ride is buttery smooth, carrying speed well across rougher sections of pavement. The ACE tubeset is legit. It reminds me of the classic Italian-made frames of the 90s but with more stiffness in the front end and chainstays.
Descending Germantown Road to the west, the bike stays true to its name, zigging and zagging through twisty and bumpy corners with confidence and precision. Toward the bottom of the descent, the speed is high and the wind is gusty, but even with deep rims, the Zig Zag's handling is resolute.
After another steep and exposed climb, I preempt my fatigue by stopping at McMenamins Rock Creek Tavern, which resides in a well-preserved log cabin at the base of the west hills. Here you'll find a broad selection of McMenamins own beers, and considering the somewhat remote location, decently tasty pub food. I enjoy a small glass of pilsner and a basket of crispy fries. Not fancy, but it hits the spot on a warm day. There's plenty of space and shade here to relax and reset, so I sit outside and take off my shoes for a bit, and just listen to the birds.
Since my son was born, my endurance fitness has faded considerably, so I take any opportunity to stop and recharge during longer riders. I also tend to stay closer to home now, so being this deep in the west hills feels like an adventure, even though all the roads are familiar. It's a nice feeling to rediscover your favorite routes from years gone by.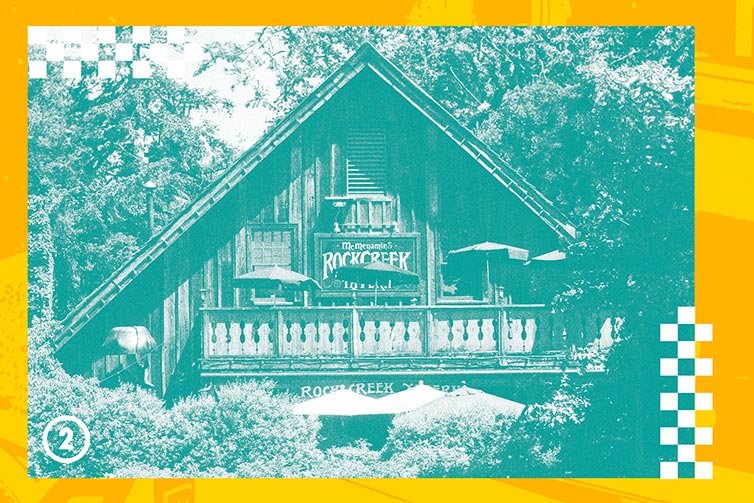 Next up is Rock Creek Road, which is an absolute gem. It's a great stretch to ride because it's a loop that doesn't connect to anything useful to commuter traffic. While it cuts through a narrow canyon, Rock Creek Road is consistently cooler than everywhere else in the area, so it's a nice way to ease back into the ride. Eventually the road swings to the east and begins to climb, a series of steep steps through a tunnel of trees.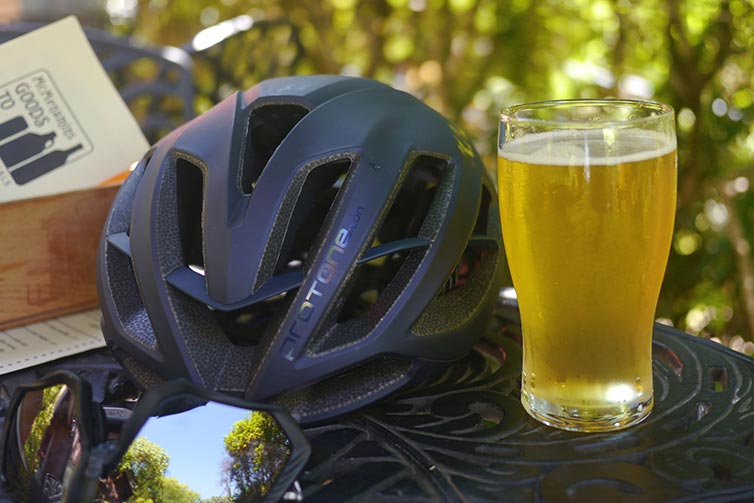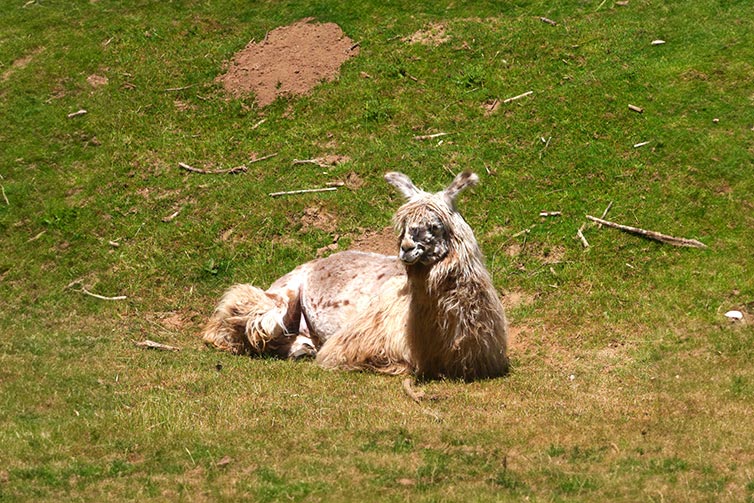 Toward the top of the climb, I begin to feel the inevitable sting of fatigue in my legs. Not surprising, since it's the third climb up to Skyline in just 30 miles of riding. The Zig Zag could keep going all day. It's the kind of bike that becomes an extension of your body as the miles add up. When you're tired and begin to slow down, the Zig Zag adapts, taking on a more mellow personality.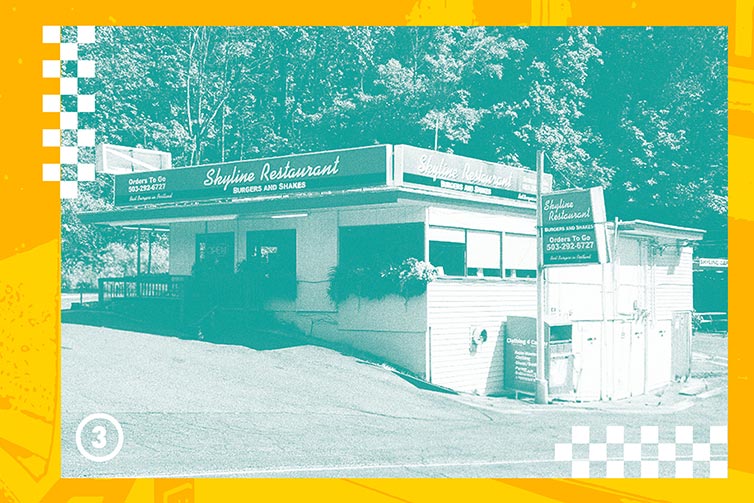 It's time to head back toward Portland, and I decide to stay up in the hills, where it's cooler, for as long as possible. After a few miles of gradual climbing south on Skyline, I come to Skyline Restaurant, a humble diner that is known for serving a broad array of milkshake flavors that cost only $6. Knowing it will be all downhill from here, I indulge in a raspberry shake and reflect on the Zig Zag's performance.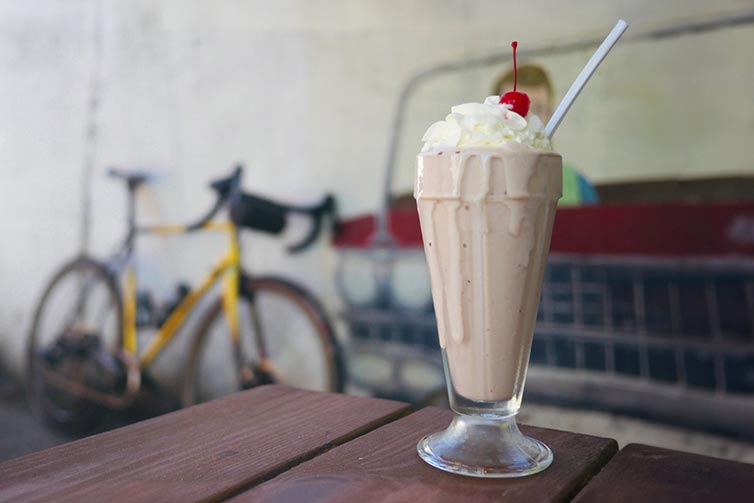 A SPECIAL KIND OF BIKE
After racing road bikes, it's hard to ever imagine not using a dedicated road bike for road riding. Sure, gravel bikes can get it done on the pavement, but they're designed for the roughest gravel out there, verging on endurance mountain bikes with drop handlebars. 10 years ago, if you'd told me about a drop bar bike that cleared a 35c tire and used disc brakes, I'd have called it a gravel bike. But the Zig Zag manages to adopt bigger tires and disc brakes without losing the feel of a classic road bike. How does it achieve this? Simply put, the geometry and ride quality are dialed.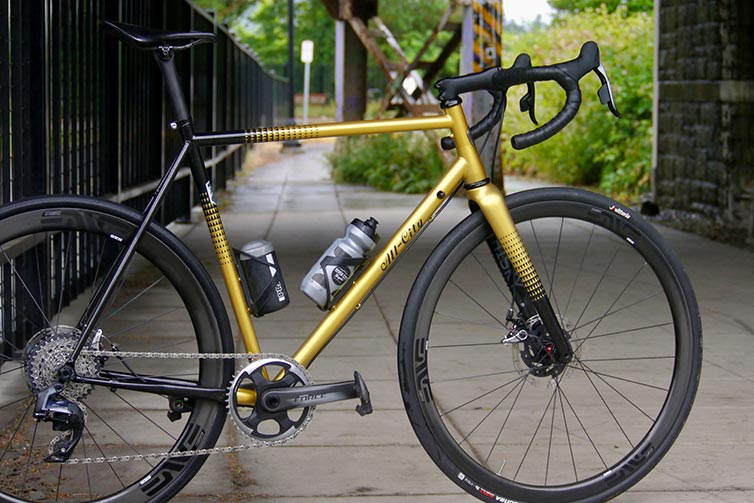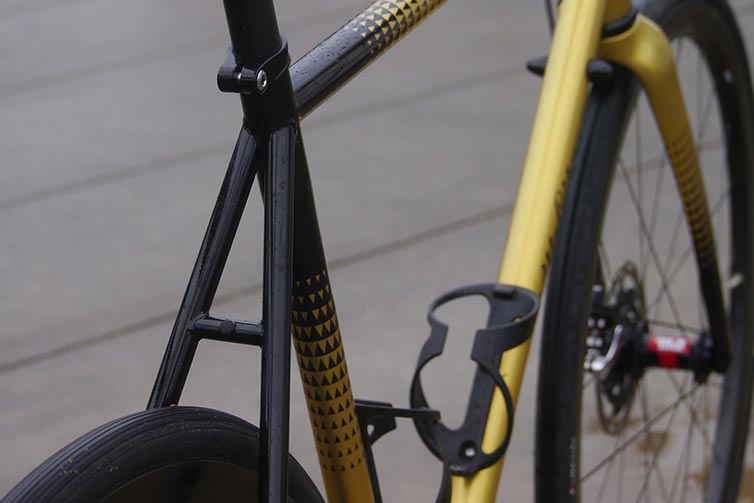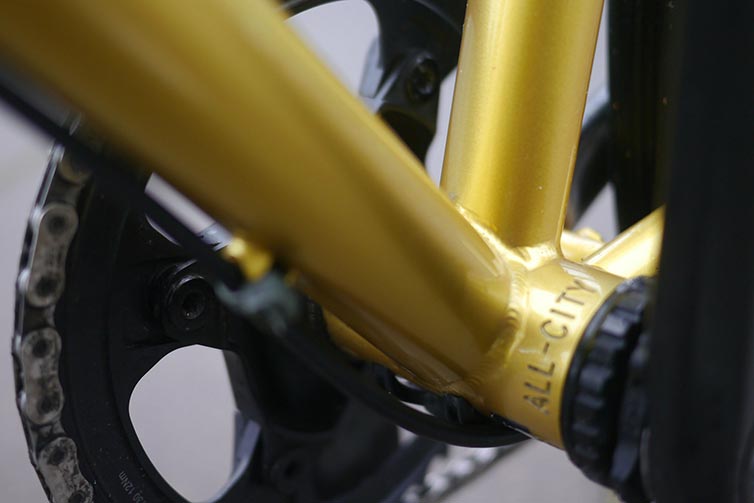 The Zig Zag is stiff enough, but not too stiff, and only stiff where it makes sense to be stiff. The handling is neutral and quick, but not frenetic or twitchy. The chainstays are short enough to get your power to the rear axle immediately. The headtube is stout and allows the fork to maneuver with precision. The bottom bracket sits low enough beneath the axles that you don't feel jacked up off the ground when running bigger tires. The top tube length is reasonable, meaning you can have a comfortable reach to the handlebars and still feel like you are sitting between the wheels. In an age where every bike is claiming to be the fastest ever made and a miracle of technology, many of these fundamental design elements are overlooked or forsaken. Yet, these are the things that make a bike fun. Also, that paint. Looking at a bike should make you pine to ride it, and riding it should turn people's heads.
After ripping down Cornell Road through the west hills, I text my wife and make plans to meet her and my son at Earthlab Libations on SE Belmont St. My good buddy Dan started Earthlab in 2022, converting a decommissioned box truck into a beer garden destination that hosts live music, movie nights, as well as chess and trivia.
Happily reunited with the family, and served a delicious Belgian poured by a friend, I enjoy feeling tired and satisfied from a great day on the All-City Zig Zag.