Last modified: February 8, 2021
Leo Rodgers: On Bike Life, All-City & the New Thunderdome Track Bike
Hey, AC Fam!
Some of y'all may be familiar with Leo Rodgers, an inspiring cyclist and bike mechanic hailing from St. Petersburg, Florida. After losing his left leg in a 2007 motorcycle accident, Leo began racing bicycles to satisfy his need for speed. Currently training for a spot to represent the USA in Cycling — Track & Road at Tokyo's 2020 Paralympic games, Leo, who works for City Bike Tampa, agreed to take our new All-City Thunderdome for a spin or two.
Just before the new year we got him on the phone to chat about life, work, training for competition on the track, and the Thunderdome — our UCI-certified track bike.
ALL-CITY: Hey Leo! Let's start with some background. How long ya been riding?
LEO RODGERS: "I've always been a rider. I used to ride to elementary school and always had a few bikes in middle school — always doing tricks and stuff. Bicycles have always been a passion and love, and it turned really serious as I've gotten into racing since the motorcycle accident."
AC: Can you tell us about your first bike as a kid?
LEO: "My first bike was this orange frickin' — uh, I couldn't even tell you what It was. Like a Huffy or something? It had this black splatter over the orange. I loved that bike so much. I rode it so much that I took the brakes off. It was a freewheel, no brakes, it was just clean. I remember that was one of my first bikes and for sure the most fun. Got me more into biking as a kid."
AC: So you were into building and tinkering with bikes even in elementary school, right? How did that start?
LEO: "Hahaha, because they were always failing! Stuff would break, so I'd customize it and make it work. I still love tinkering."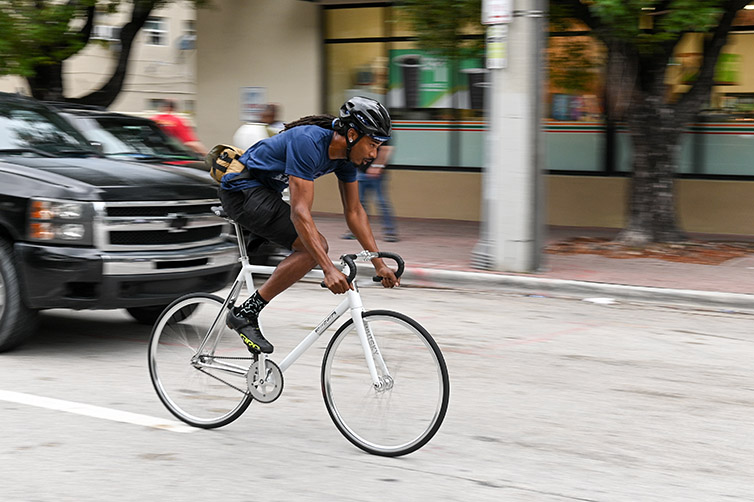 AC: How did you get back into cycling after the motorcycle accident?
LEO: "I rode my Redline Monocog, my first bike I ever bought with my own money, 'cause I had that. I bought shoes and a cleat, got clipped in, and it was game on. And then I wanted something a little different, so I got a Cannondale mountain bike. I kinda enjoy having gears and suspension and stuff like that so I can go a little faster. When I was a cab driver I would always keep that bike in the car, and whenever I didn't have any calls, I'd pull it out and just go ride somewhere."
AC: Can you tell us about your training regimen for the track?
LEO: "Training for the track, I do a lot of intervals, just sitting on the trainer. I used to think I should do more than that, but really, I'm just getting on the trainer and spinning it, trying to get that cadence up and learning how to push a big gear. Then, the other half of it is all the other riding I do. Commuting, riding in the street. That keeps me going, motivated, in shape, and wanting to push harder. Right now I'm doing sprint intervals. So I've been working on that. I do that in the street too, I do a loop. A 20-minute run of just lettin' it all out, maybe three times a week."
AC: How's it looking for your goal of competing in the 2020 Paralympics in Tokyo?
LEO: "I mean, I'm feeling pretty good. I'm working on my schedule, so once I know the schedules and dates for trials, I'll be ready. I don't have details yet, so I'm just waiting to hear back from people. In the meantime, I focus on my training and go down to the Miami Velodrome, Brian Piccolo, every once in a while."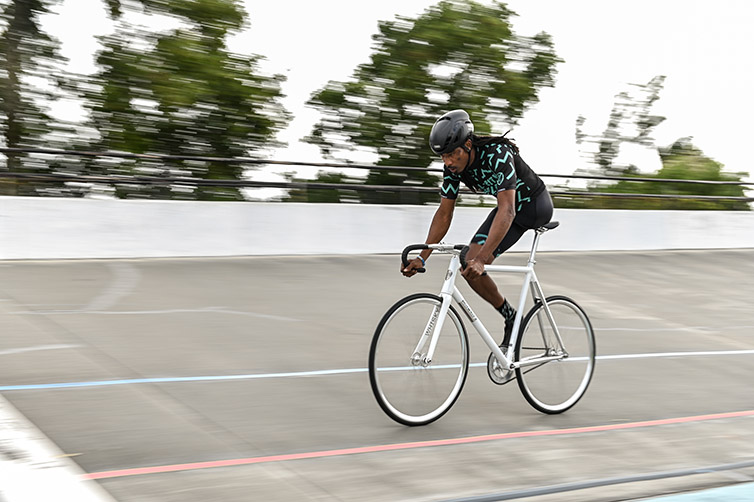 AC: What draws you to All-City bikes, Leo?
LEO: "Definitely the looks, their style. The colors are always really pretty. Simple and clean, and definitely they're lightweight. I love their race geometry, and that you can use 'em as an all-arounder. I've been riding them a few years: I've got a rack on the front of my Gorilla Monsoon. Gears, big tires, I can do a little bit of everything with that bike, so I ride it a lot. And I just made a tall bike. It's two Big Blocks stacked on top of each other, and it's the fuckin shit. It is so frickin' fun. And we've got like 32 knobbies on it. So it's like a tracklocross tall bike. With omniums. And a front rack. And it's light as hell."
AC: And how 'bout that Thunderdome? Get it out for a ride yet?
LEO: "Yeah, every Wednesday I host a fixed-gear ride — the Wolfpack Ride. Everybody was like like, 'DAMN. WOW. WHAT. IS. THAT.' It's gorgeous, it's really gorgeous. The gear-ratio surprised me — it's an interesting ratio. I'm used to running heavier gears, but the gear that comes with it is nice. I like it."
AC: Where'd ya ride it?
LEO: "We did a toy ride right before Christmas. We rode out to Walmart, bought like $50 worth of Hot Wheels, and we donated them to this Toy Tower. Each year the radio station puts up a Toy Tower for donations, and one of the hosts stays up there for eight days. I've been donating for three years now… We had maybe ten people on the ride, but it was a fast ten. Made the ride even more fun. We did maybe ten miles, a nice little Ybor run."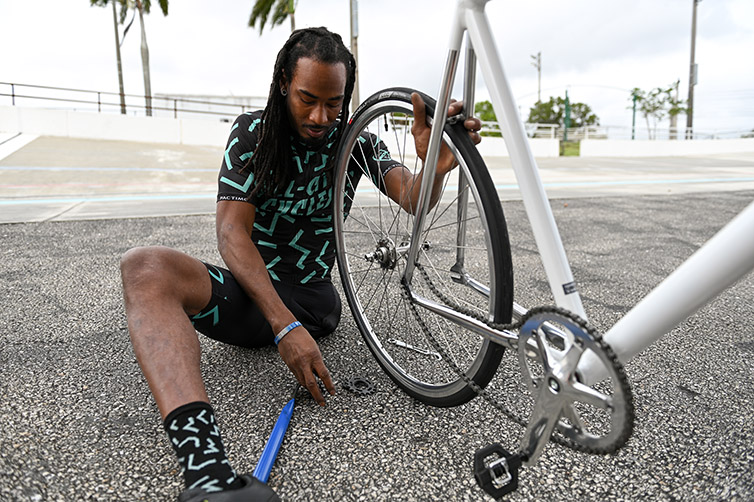 AC: Any plans to modify or change anything on the Thunderdome?
LEO: "I'm gonna do a Thomson stem and seatpost. A Brooks saddle. Little bit more narrow bars. Might keep the wheelset like it is and change the chainring — do a 51 in the front with the pursuits. Swap the chain out and go from there! But I don't need to do too much out of the box. It's good in my book!"
AC: Thanks for all your time, Leo! Send us some pics from your next ride, won't ya?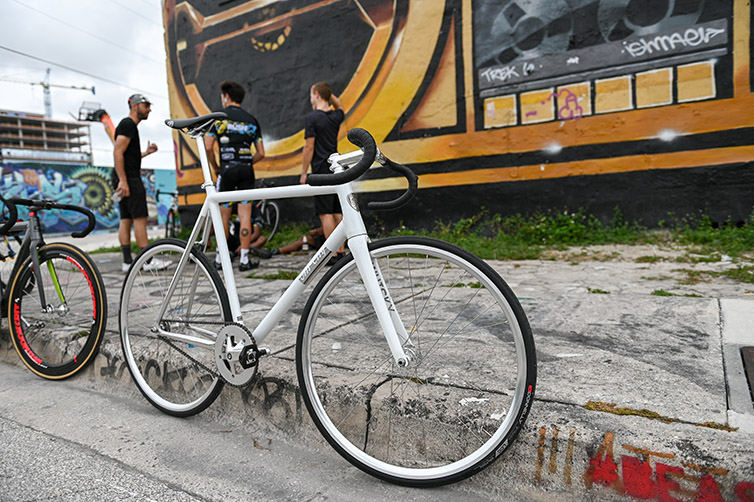 For more about the new All-City Thuderdome, available soon at your local AC dealer, visit AllCityCycles.com.