The Ultimate Trail Hardtail
Built for hardcore trail riding and flying off all the dirt jumps you've dreamed about, the Electric Queen cranks the Fun dial to MAXIMUM.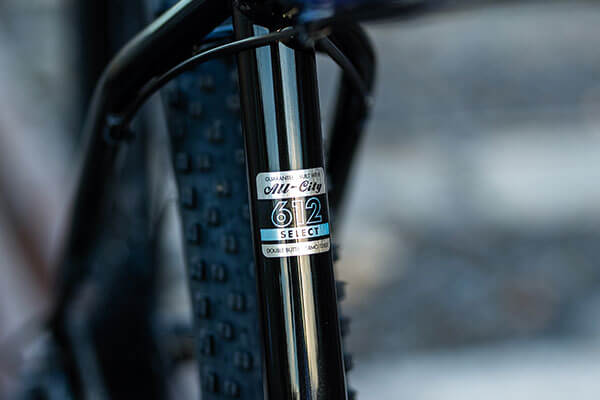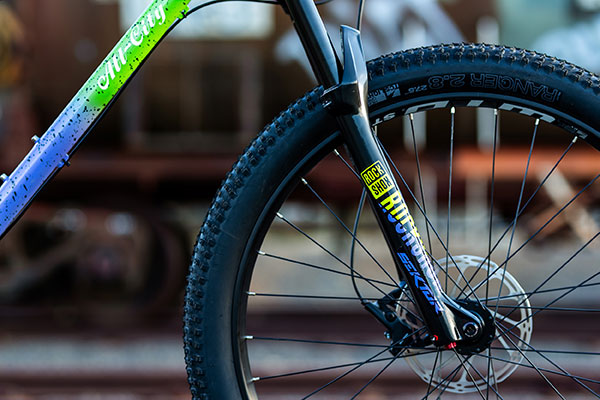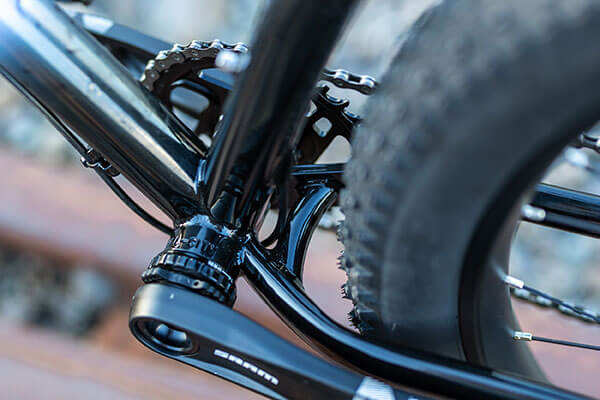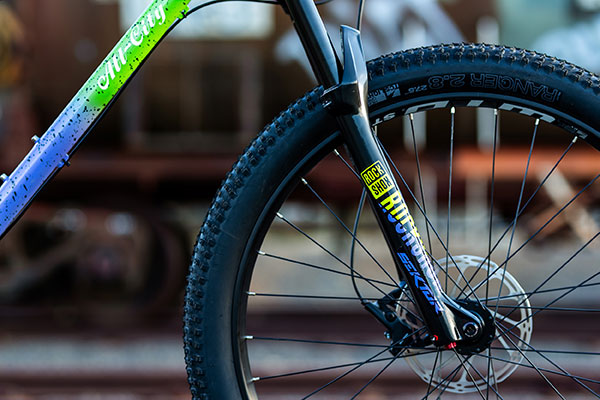 Signature Details
Our mission is to bring beauty back to production bicycles. This means investing in custom touches that elevate the whole. We devote time and resources to signature details that turn heads and signify high-quality craftsmanship. These elements tell a cohesive visual story and form a distinct silhouette so that even if your unique bike were stripped down to bare metal, it would still be instantly identifiable as an All-City bicycle.
Learn more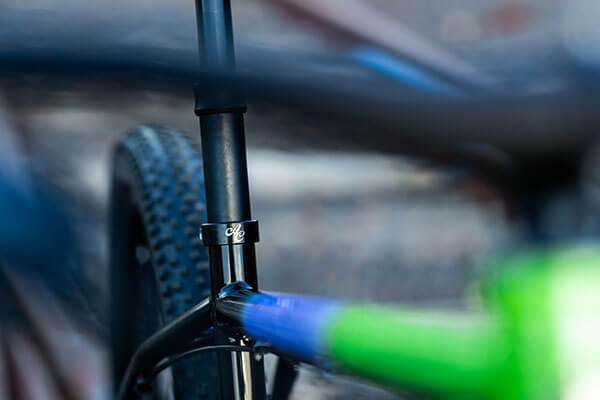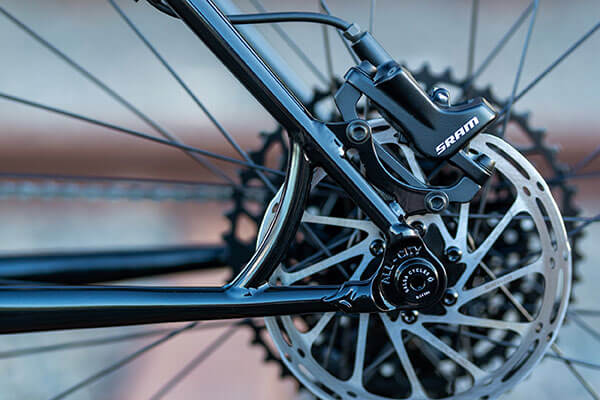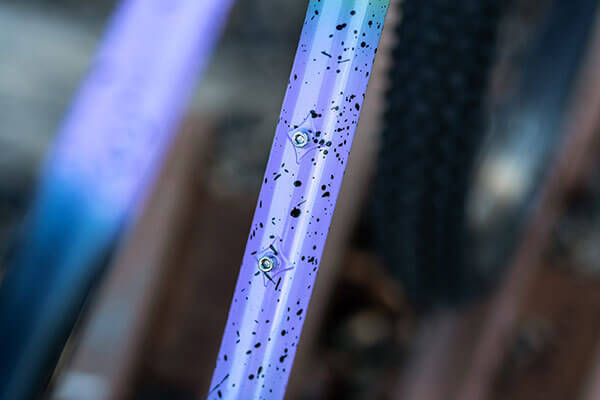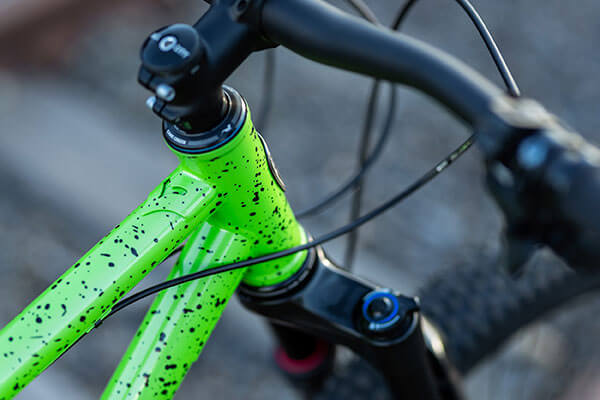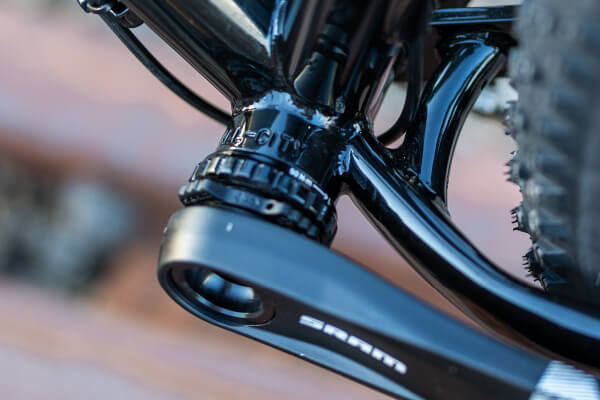 Accolades
"Feeling the terrain, picking faster lines, seeking airtime — this bike reminds me why I fell in love with mountain biking in the first place."
"I've shredded the trails above Los Angeles, the mountains outside of Park City, Utah, and the Cascades outside of Seattle, Washington. The bike is an absolute ripper!"
"The Queen is the raddest midwestern trail slayer around. You CAN'T beat that crazy splatterpaint, and P.S. this bike is built to wheelie."
Audio: (dog barking) Video: "All-City Presents" text is overlaid as we see various decorations in a living room. Audio: (pained groaning) Video: A man wakes up from a nap on the couch. Audio: (fuzzy guitar music) Video: "Quest for the Electric Queen" text overlaid as the man gets up and heads to the bathroom. Audio: (pills shaking) Video: The man takes medication stored in the bathroom cabinet, which we see is expired. Audio: (psychedelic music) Video: He then proceeds to see distorted visions of himself in the mirror before grabbing his helmet and heading out for a bike ride. Audio: (fuzzy guitar music) Video: To his surprise, he finds a new bike in his backyard. Audio: Electric Queen, "Greetings, warrior. I am the Electric Queen. You have been chosen. But first you must prove you are worthy. Find the sage in the park with the powdered horn. Only the raddest riders may take their place in my council. Your destiny awaits." Video: As he stares at the bike, he sees a vision of the Electric Queen. Audio: (hardcore rock music) Video: "Meet the Sage" text is overlaid on blank background. Audio: (tires skidding) Video: The man rides his bike throughout the city, jumping and whipping the bike around as he goes, and stops abruptly as he arrives at a pavilion where the sage is sitting. Audio: (new age music) Video: We see the sage in a meditative state. Then the sage abruptly addresses the man. Audio: Sage, "Voyager! I can see by your sick moves that you must be a member of the Fellowship of Fat Tire. Tell me, whom do you serve?" Man, "I desire to serve the mother of shred, the deity of dirt, the sovereign of single track, the Electric Queen!" Sage, "Then through the trails of bandits you must ride. Find the Keeper of Stoke. Be warned, the journey is fraught with peril." Audio: (hardcore rock music) Video: "Find the Keeper of Stoke" text is overlaid on blank background. Audio: (mysterious music) Video: The man bikes through a set of wooded trails, playfully maneuvering the bike, before arriving at an opening overlooking a river where another man sits. Audio: (gong ringing) Video: The man is revealed to be smoking a hookah pipe and wearing a hotdog costume. Audio: Man, "Are you the keeper of stoke?" Unknown man, "Nah, dog. I'm just a grown-ass man in a hot dog suit sitting on a rock ledge. Why, do I look stoked?" Man, "Well…" Unknown man (now Keeper of Stoke), "Just kidding, I'm incredibly stoked, for these trails are sick and highly shreddable. Your shredding seems strong and you mastered these bootleg trails but the bombs are through your final challenge. You will need this to pass the gatekeeper." Video: After revealing his identity, the Keeper of Stoke pulls out a chocolate donut on a necklace. Audio: (chimes shimmering) (mysterious music) Video: The necklace is bestowed upon the man's neck. Audio: (hardcore rock music) Video: "Pass the Gatekeeper" text is overlaid on a blank background. Audio: (tires skidding) Video: The man rounds a corner and quickly stops. Audio: (dramatic music) Video: He sees the Gatekeeper, dressed in a cape and carrying a sword. Audio: Gatekeeper, "I am the gatekeeper, none shall pass!" Man, "But I must pass. I seek the Electric Queen." Gatekeeper, "First you must defeat me in a trial by combat. Wait, is that a chocolate donut?" Video: The Gatekeeper confronts the man and raises her sword, but her demeanor changes when she sees his donut. Audio: (chimes shimmering) Video: The man hands over the donut. Audio: Gatekeeper, "Okay then, have fun." Video: The Gatekeeper stands by, looking lovingly at the donut, as the man passes. Audio: (hardcore rock music) Video: "Prove You Are Worthy" text is overlaid on a blank background. Audio: (screaming) Video: The man continues riding aggressively through a wooded track, passing a "Drop" warning sign before making a big jump through the air. The screen goes dark. Audio: (bicycle tire spinning) Video: We see the man sprawled out on the ground, with his bike tire still spinning. Audio: Electric Queen, "The secrets of true success reveal themselves in failure. Your body may be broken, but your heart remains unbowed. Even in despair, the Electric Queen will not abandon her loyal followers. Tomorrow we ride again." (maniacally laughing) Video: While we watch the man laying down from above, we see a vision of the Electric Queen. Audio: (dog barking) Video: We are back in the living room we started in, with the man again waking up on the couch. Audio: (light rock music) Video: This time, two friends are sitting at his table, who we recognize as the Keeper of Stoke and the Gatekeeper. Audio: Keeper of Stoke (now Friend 1), "Morning, little buddy. How you feeling? You were on one last night." Man, "Yeah, man. I had the craziest dream last night." Gatekeeper (now Friend 2), "You want a chocolate donut?" Sage (now Friend 3), "Sup, brother?" Video: Conversation ensues with the two friends at the table. The man gets up, hands off his dog, who is wearing a hot dog costume, to Friend 1 and heads into the kitchen, where we see that another friend, who was the Sage, is doing dishes. Audio: (wind blowing) Video: Man steps outside and grins as he looks into his backyard where he saw the bike in his "dream." Audio: (hardcore rock music) Video: The bike he rode in his "dream" is still there! Sparks fly off it as he marvels. "The Electric Queen, The Ultimate Shred-Anything Hard Tail, Find it at your local All-City dealer, 27.5+ and loving it" is overlaid on a blank background. Credits share "Seth Peterson – Himself, Saisha Harris – The Electric Queen, Al Morris – The Sage, Benjamin 'SK' Davies – The Keeper of Stoke, Lilah Guertin – The Gate Keeper, Baroo – Hot Dog, Brendan Lauer – Filming & Editing, Ethan Houser – Original Composition & Sound Design, Saisha Harris – Creative Director, Jeff Frane – Script, Kristen Blekum – Project Manager; All-City does not condone taking expired meds. The actors in this film are not professionals. The rider in the video is a professional. Do not try to mimic his epic skills. The End."
FIND A RETAILER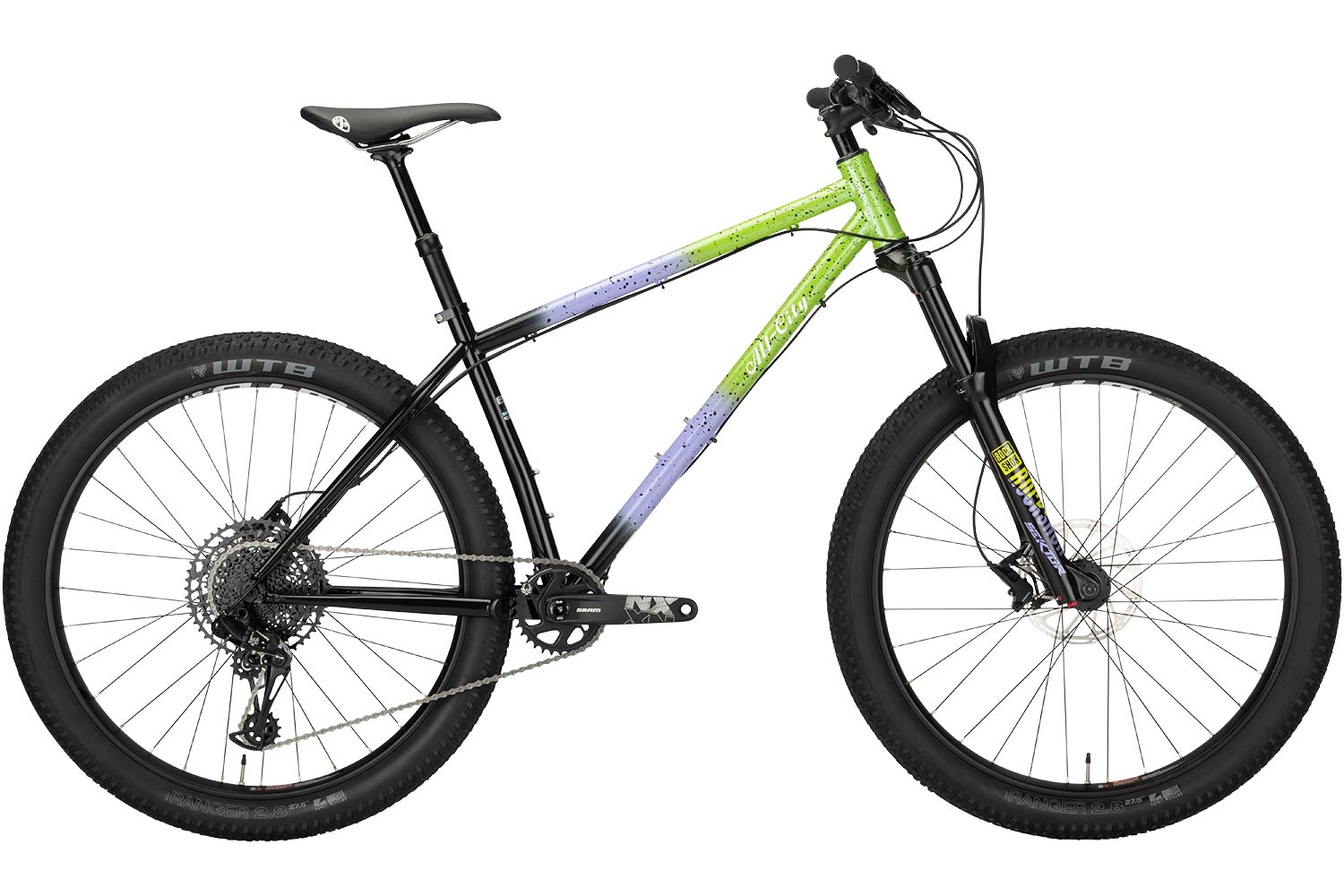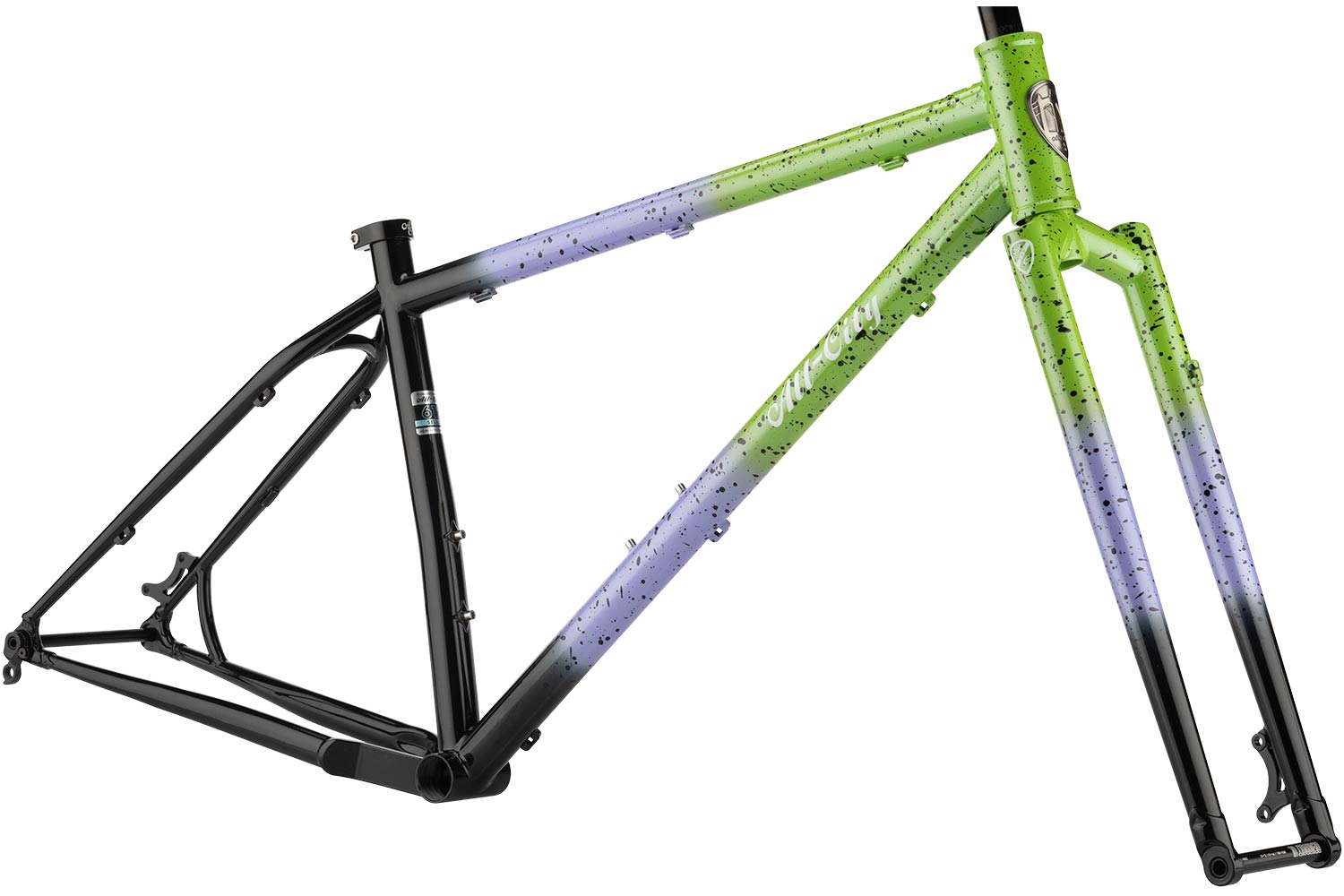 COMPLETE MSRP $2399 | FRAMESET MSRP $999
SPECS & GEO
Fork

+

RockShox SEKTOR 120mm 29er Boost

Headset

+

Cane Creek 40 Series

Stem

+

Promax 3D Forged Stem, 60mm

Handlebar

+

Salsa Rustler, 700mm/750mm/800mm

Grips

+

Locking Grip, Black

Shifter

+

SRAM NX-Eagle

Front Derailleur

+

N/A

Rear Derailleur

+

SRAM NX-Eagle

Brakeset

+

SRAM Level, 180mm/160mm Centerline Rotors

Crankset

+

SRAM NX-Eagle 32t, DUB, Boost

Bottom Bracket

+

SRAM DUB

Seatpost

+

TranzX YSP12 Dropper, 100mm travel, underbar thumb lever

Saddle

+

All-City Gonzo

Cassette

+

SRAM PG1230 Eagle 11-50

Chain

+

SRAM NX-Eagle

Hubs

+

WTB Boost 110/148, 32h

Rims

+

WTB ST i40, 27.5, 32h

Tires

+

WTB Ranger 27.5 x 2.8", TCS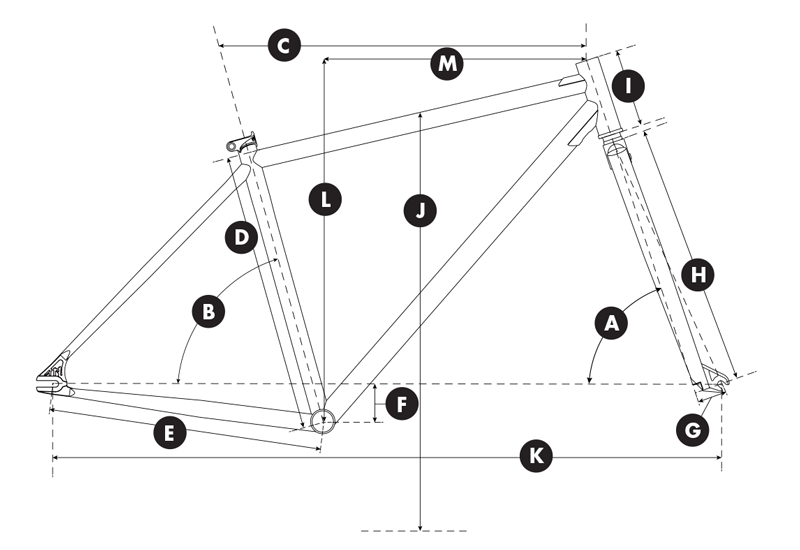 | Size | X-Small | Small | Medium | Large | X-Large |
| --- | --- | --- | --- | --- | --- |
| Head Tube Angle | 67.6 | 67.7 | 67.7 | 67.7 | 67.7 |
| Seat Tube Angle) | 71.4 | 71.5 | 71.5 | 71.5 | 71.5 |
| Top Tube Length) | 562.5 | 602.5 | 632.6 | 662.6 | 682.7 |
| Seat Tube Length | 356 | 400 | 445 | 483 | 525 |
| Chainstay Length | 425 | 425 | 425 | 425 | 425 |
| Bottom Bracket Drop | 39.3 | 39.5 | 39.7 | 39.8 | 39.9 |
| Fork Offset | 51 | 51 | 51 | 51 | 51 |
| Total Fork Length | 501 | 501 | 501 | 501 | 501 |
| Head Tube Length | 110 | 120 | 130 | 140 | 150 |
| Standover | 701.5 | 738.5 | 772.4 | 805.7 | 836.8 |
| Wheelbase | 1069.5 | 1110.2 | 1140.9 | 1171.6 | 1192.3 |
| Stack | 594.1 | 603.7 | 613.2 | 622.7 | 632.1 |
| Reach | 362.9 | 400.1 | 427.2 | 454.3 | 471.3 |
| Handlebar Width | 700mm | 700mm | 750mm | 800mm | 800mm |
| Stem Length | 60mm | 60mm | 60mm | 60mm | 60mm |
| Crank Arm Length | 170mm | 170mm | 175mm | 175mm | 175mm |
Frame

+

612 Select CroMoly steel. Double butted down, top, and seat tubes. Externally tapered, ovalized, and dimpled chain stays, tapered seat stays, replaceable derailleur hanger. Stealth dropper post routing.

Derailleur Hanger

+

Replaceable derailleur hanger; '687' (FS2339)

Fork

+

Frame corrected for 120mm Max Suspension fork (51mm Offset).

Rear Spacing

+

148 x 12 (Boost)

Brake Compatibility

+

Disc Only, 160mm Front & Rear Minimum Rotor Size

Seatpost Diameter

+

30.9mm

Steerer Tube / Headset

+

1 1/8"" - 1 1/2"" tappered, Upper: ZS44, Lower: EC44, Crown Race 40mm

Bottom Bracket

+

73mm English

Tire Clearance

+

27.5 x 3.0" or 29 x 2.4"

Extras

+

E.D. coated for durability and rust prevention

Download(s) »
Back to top
Electric Queen Gallery