Podium-Winning Cyclocross Crusher
The choice for steel lovers with a thirst for competition, the Macho King A.C.E. is designed to provide speed and agility between the tape while you break hearts and the laws of physics on the CX course.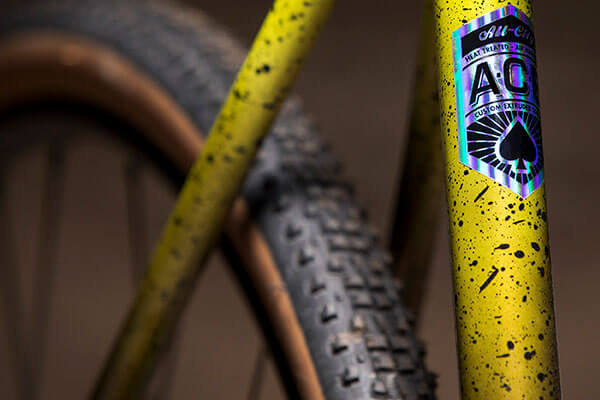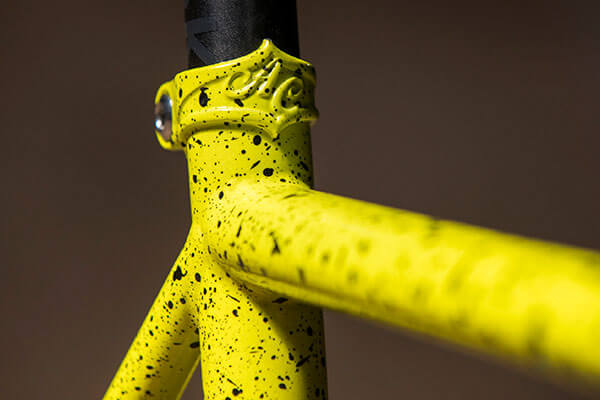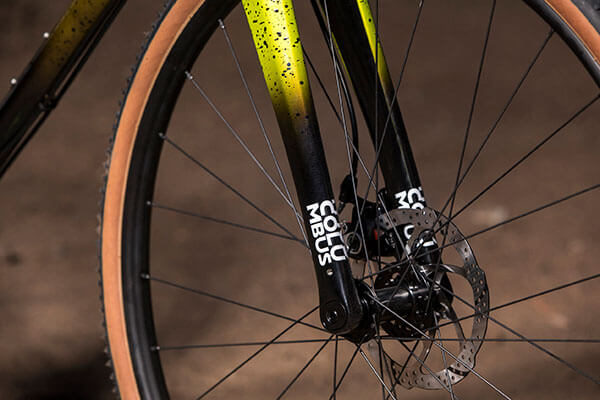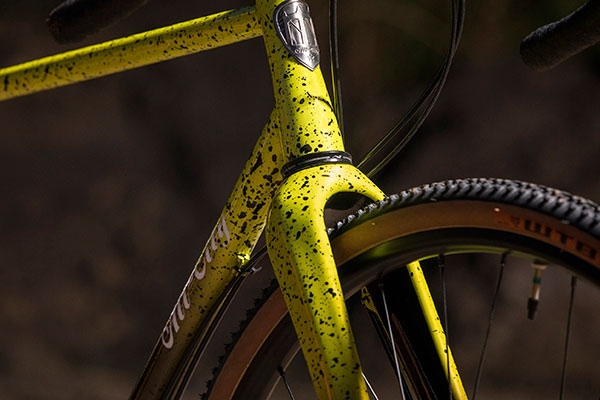 Signature Details
Our mission is to bring beauty back to production bicycles. This means investing in custom touches that elevate the whole. We devote time and resources to signature details that turn heads and signify high-quality craftsmanship. These elements tell a cohesive visual story and form a distinct silhouette so that even if your unique bike were stripped down to bare metal, it would still be instantly identifiable as an All-City bicycle.
Learn more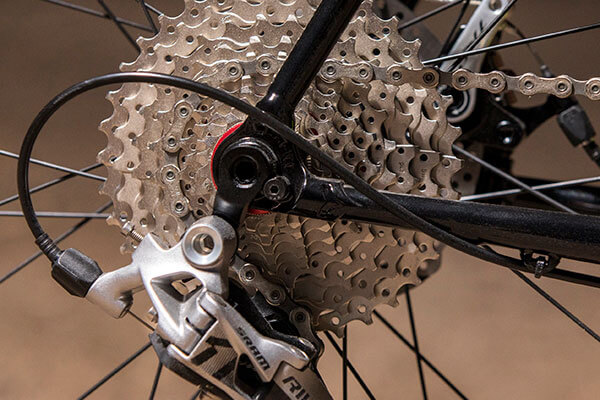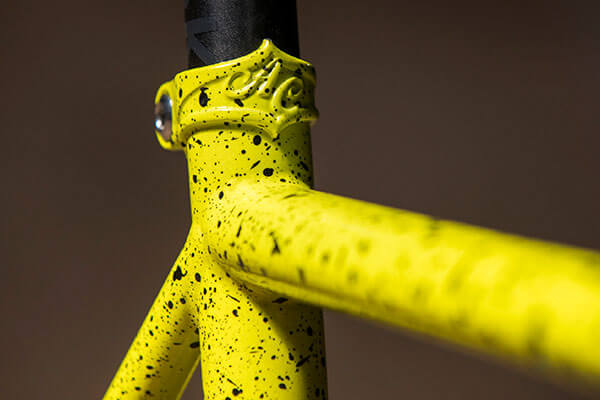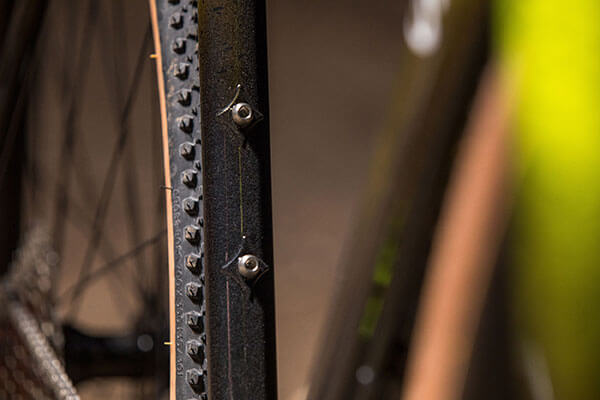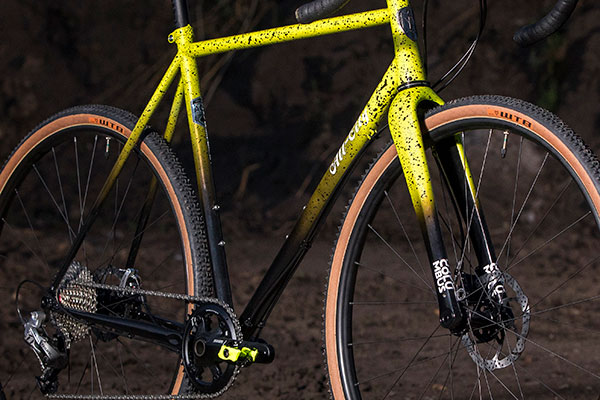 Accolades
"Mmm, tasty."
"Saturday well spent."
"Now we're cooking with radioactivity."
Audio: (upbeat 80s synth pop music) Video: A woman in a cycling kit kicks open a warehouse door and comes out carrying her bike. Text is overlaid describing the bike as a "Nature Boy A.C.E. Singlespeed Cross Slayer". Another woman wearing fur looks on through binoculars from the front door of her car. We return to a smoky warehouse, which is made to look like a lab, where a piece of "All-City A.C.E." tubing is held up and a speed dial is turned to the max. A new man, also in biking attire, is shown with a bike in hand and "Macho King A.C.E. Geared Cross Maniac" text tells us what it is. Audio: (upbeat 80s synth pop music continues) Video: The man begins athletic training in the warehouse, where an individual dressed in a lab coat monitors his progress and checks "Macho" off of a list multiple times. The Nature Boy riding woman cycles on a gravel path and grabs a La Croix beverage out of her trainer's hand while being timed with a stopwatch, and, in parallel, the Macho King riding man training in the warehouse grabs a water bottle and is timed on a high-tech treadmill. The fur-wearing spy woman uses her car to follow the cycling woman, but she veers off into the woods and successfully alludes the onlooker. Audio: (upbeat 80s synth pop music continues) Video: Both riders complete their training with excitement, one having climbed to the top of a hill, while the other gains enthusiastic approval from the lab workers, juxtaposing their choice of training grounds. As they celebrate their achievements, an All-City logo is overlaid.
FIND A RETAILER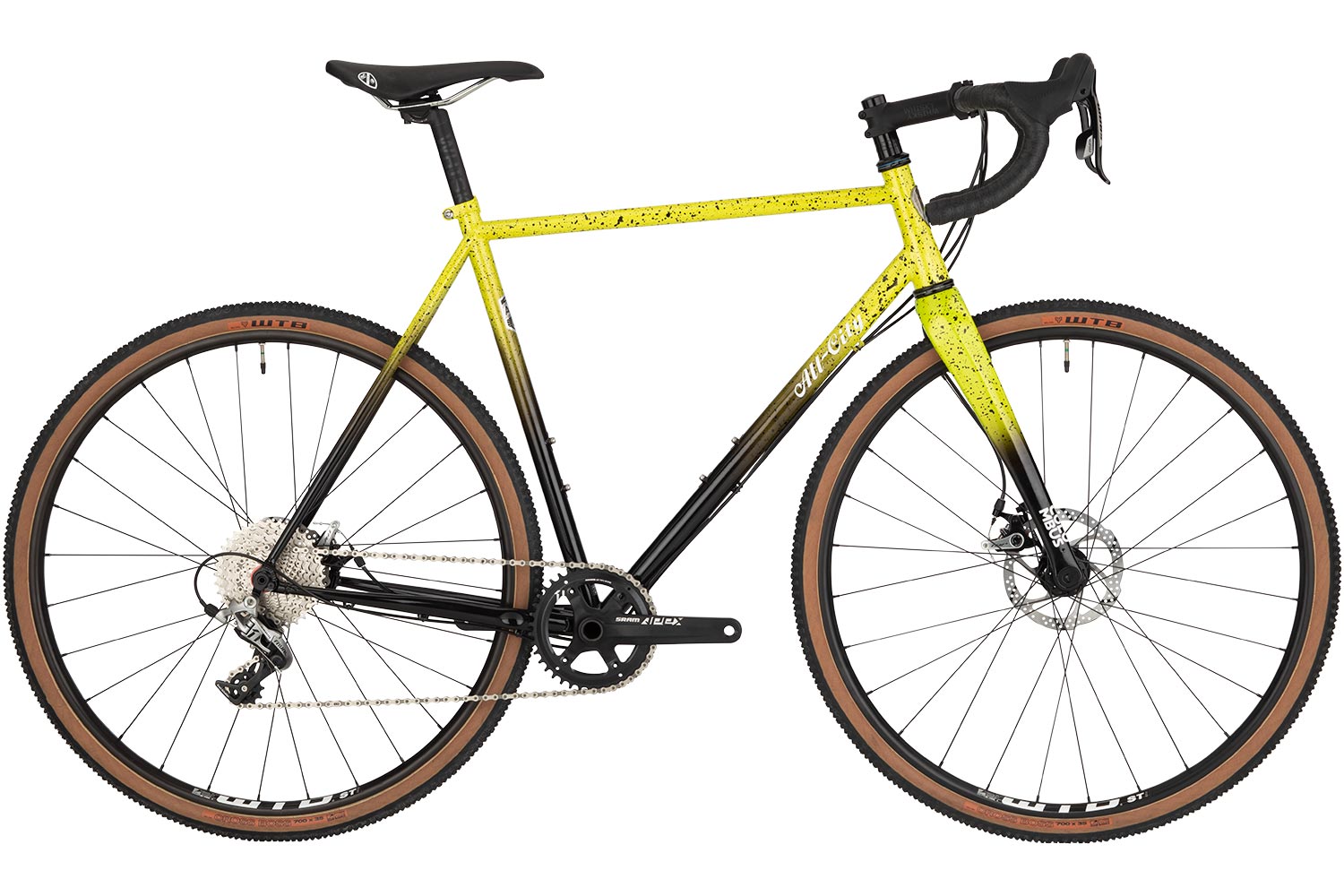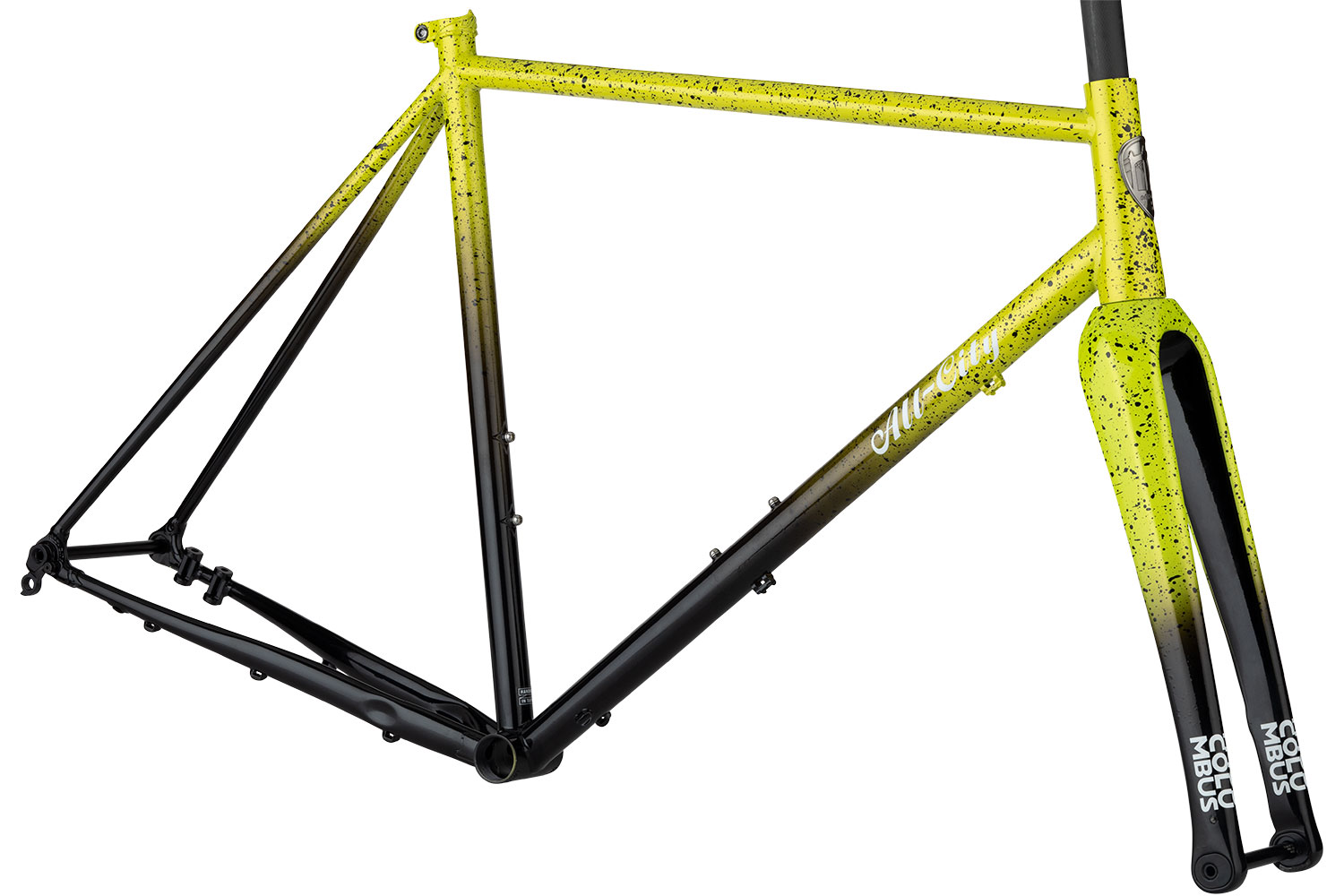 COMPLETE MSRP $2,399 | FRAMESET MSRP $1,299
SPECS & GEO
Fork

+

Columbus Futura Cross

Headset

+

Cane Creek 40 Series

Stem

+

Whisky No. 7

Handlebar

+

Whisky No. 7

Grips

+

All-City Super-Cush w/ Locking Alloy All-City End Plugs

Shifter/Brake Lever

+

SRAM Rival 1x11

Front Derailleur

+

N/A

Rear Derailleur

+

SRAM Rival 1, mid cage

Brakeset

+

TRP Spyre Flat Mount, 160/140 TRP rotors

Crankset

+

SRAM APEX 40t XSYNC

Bottom Bracket

+

SRAM GXP

Seatpost

+

Whisky No. 7

Saddle

+

All-City Gonzo

Cassette

+

SunRace 11speed 11-36

Chain

+

SRAM PC1130

Hubs

+

All-City Go-Devil 28h

Rims

+

WTB ST Light i23 28h

Spokes

+

WTB 14/15 black, Black Brass nipples

Tires

+

WBT Cross Boss 700 x 35c TAN Sidewall DNA Compound, Lightweight Tubeless Casing, UST Aramid Bead

Brake Housing

+

Jagwire SLICK black

Shift Housing

+

Jagwire LEX40 black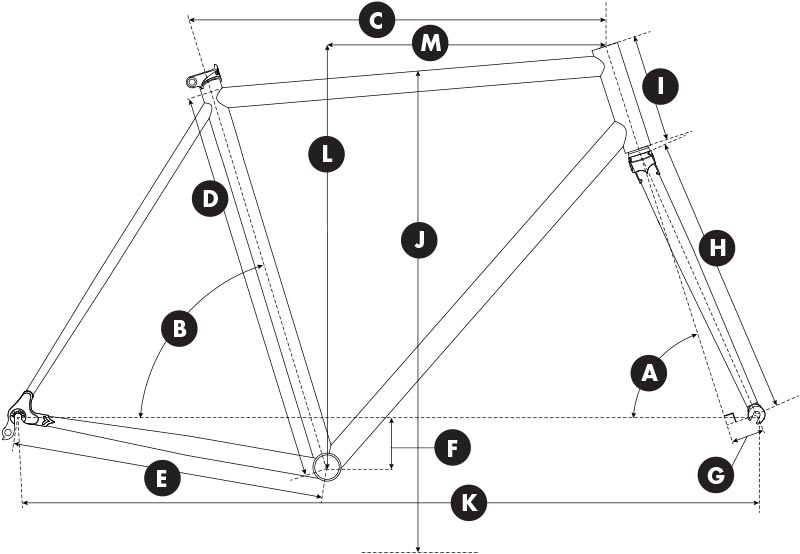 | Size | 46cm | 49cm | 52cm | 55cm | 58cm | 61cm |
| --- | --- | --- | --- | --- | --- | --- |
| Head Tube Angle | 70 | 71 | 72 | 72 | 72.5 | 72.5 |
| Seat Tube Angle) | 75.5 | 74 | 73.5 | 73 | 72.5 | 72.5 |
| Top Tube Length) | 515 | 535 | 550 | 565 | 585 | 610 |
| Seat Tube Length | 445 | 480 | 510 | 540 | 570 | 600 |
| Chainstay Length | 425 | 425 | 425 | 425 | 425 | 425 |
| Bottom Bracket Drop | 67.5 | 67.5 | 66.5 | 66.5 | 65.5 | 65.5 |
| Fork Offset | 47 | 47 | 47 | 47 | 47 | 47 |
| Total Fork Length | 395 | 395 | 395 | 395 | 395 | 395 |
| Head Tube Length | 110 | 120 | 135 | 155 | 180 | 200 |
| Standover | 752 | 779 | 805 | 830 | 858 | 883 |
| Wheelbase | 1017 | 1013 | 1014 | 1024 | 1034 | 1059 |
| Stack | 536 | 549 | 566 | 589 | 610 | 629 |
| Reach | 376 | 378 | 382 | 386 | 393 | 412 |
| Handlebar Width | 380 | 400 | 420 | 440 | 440 | 440 |
| Stem Length | 90 | 90 | 100 | 110 | 110 | 120 |
| Crank Arm Length | 165 | 170 | 172.5 | 175 | 175 | 175 |
Frame Material

+

All-City A.C.E. Air-Hardened, Custom, Extruded steel

Rear Hub Spacing (OLD)

+

142 x 12mm; thru-axle

Thru Axle Size

+

Ø12 x 167mm , TP=1.5, TL=12

Brake Mount Type

+

Flat Mount; 30mm mounting barrles

Rotor Size(s)

+

140mm to 160mm

Headtube Upper (SHIZ)

+

EC34

Headtube Lower (SHIZ)

+

EC44

Seatpost Diameter

+

27.2mm

Seat Collar

+

All-City Signature Brazed-On

Max Tire Size

+

700x42

Tire Size Range

+

700x30 to 42, optimized for 700x33

Front Derailleur Mount

+

28.6 Band Clamp

Crankset (Max Ring)

+

1x: 50t max

Bottom Bracket

+

68mm English

Derailleur Hanger

+

QBP Derailleur Hanger 687 black (FS2339)

Bottle Mounts

+

Two inside frame, all sizes

Extras

+

Custom tapered headtube with external headset, E.D. coated for durability and rust prevention

Fork Material

+

Carbon with carbon steerer

Front Hub Spacing (OLD)

+

100 x 12mm; thru-axle

Thru Axle Size

+

M12 x 132L, TP = 1.5, TL = 12

Brake Mount Type

+

Flat Mount

Rotor Sizes

+

140mm to 160mm

Stem Clamp (SHIZ)

+

Ø28.6mm

Crown Race (SHIZ)

+

Ø40mm

Axle to Crown

+

395mm

Fork Offset

+

47mm or 52mm

Max Tire Size

+

700x42

Tire Size Range

+

700x30 to 42, optimized for 700x33

Download(s) »
Back to top
Macho King A.C.E. Gallery