The Gravel / All-Road / Endurance thoroughbred!
The Cosmic Stallion, embodies all of our bicycle ideals in its execution. As is our passion, we've combined the classic artistry of a lovingly detailed, handbuilt steel frame with current technology. Creating a bike that is both timeless as well as thoroughly contemporary.
We designed it to be the ultimate for covering ground quickly over any road surface you may encounter. Whether you're traveling and can only bring one bike, crushing gravel classics such as the Dirty Kanza, or just want to know that whatever the heck you end up getting into for the day your bike can handle, The Cosmic Stallion is The One!
While it excels on smooth roads, when things start getting bumpy, the Stallion really shines. There is simply no other bike we've ridden that does a better job of soaking up road chatter, yet is so fast and efficient. It's also incredibly versatile in its feature set. You'll find three bottle mounts, as well as mounts for a rear rack and fenders. It also sports a full carbon Whisky No. 9 fork, our own A.C.E. tubeset, a tapered head tube, lovely shaped stays, thru-axles, Shimano Di2 compatibility and fits 700c x 41 tires or 650b x 47.
The A.C.E. tubeset found on the Cosmic Stallion was custom designed for all-road riding and racing. The tubing is seamless, heat treated, Air-hardened, and Custom Extruded to our exact specifications and needs. The use of full frame A.C.E. Tubing allows our engineer total control over the butting profiles and wall thickness' and has allowed us to build our lightest disc frame yet, a full 5oz lighter than our 853 Macho King, as well as achieving the ride characteristics we were after.
SPECS & GEO
Fork

+

Columbus Futura Cross

Headset

+

Cane Creek 40 Series

Stem

+

Whisky No. 7

Handlebar

+

Whisky No.7, 12° Flair

Grip

+

All-City Super-Cush with Locking Alloy All-City End Plugs

Shifter/Brake Lever

+

Shimano GRX 600

Front Derailleur

+

Shimano GRX 810

Rear Derailleur

+

Shimano GRX 810

Brakeset

+

Shimano GRX 600, 160 f/r Shimano RT26

Crankset

+

Shimano GRX 600, 46/30t

Bottom Bracket

+

Shimano R5500

Seatpost

+

Whisky No. 7

Saddle

+

All-City Gonzo

Cassette

+

Shimano 105, 11-32t

Chain

+

Shimano HG 601

Hubs

+

All-City Go-Devil 28h

Rims

+

WTB ST Light i23 28h

Spokes

+

Pillar 14/15g Black Stainless, Black Brass Nipples

Tires

+

Teravail Cannonball 700 x 38 60TPI Light and Supple - Tan Sidewalls

Brake Housing

+

Shimano Hydro

Shift Housing

+

Jagwire LEX40 black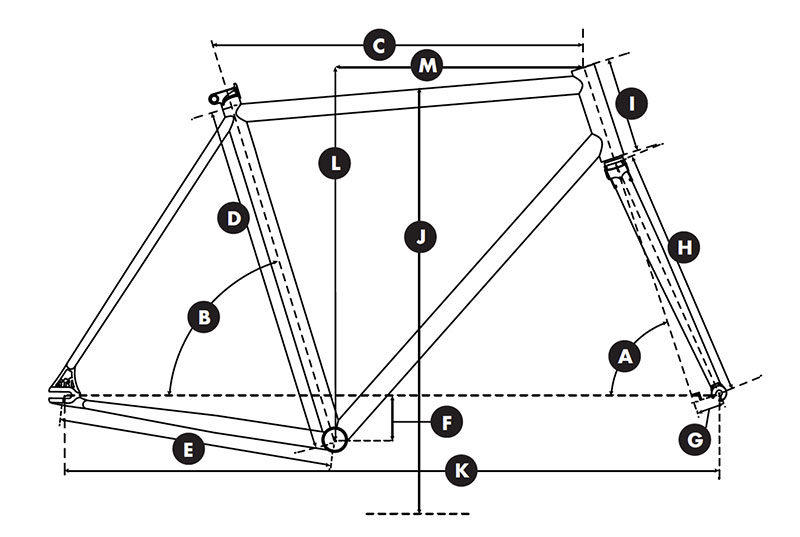 | Size | 46cm | 49cm | 52cm | 55cm | 58cm | 61cm |
| --- | --- | --- | --- | --- | --- | --- |
| Head Tube Angle | 70 | 71 | 71.5 | 72 | 72.2 | 72.2 |
| Seat Tube Angle) | 75 | 74.5 | 74 | 73.5 | 73.5 | 72.5 |
| Top Tube Length) | 510 | 530 | 545 | 560 | 580 | 610 |
| Seat Tube Length | 450 | 480 | 510 | 540 | 570 | 600 |
| Chainstay Length | 430 | 435 | 440 | 440 | 440 | 440 |
| Bottom Bracket Drop | 73.5 | 73.5 | 73.5 | 73.5 | 73 | 73 |
| Fork Offset | 47 | 47 | 47 | 47 | 47 | 47 |
| Total Fork Length | 395 | 395 | 395 | 395 | 395 | 395 |
| Head Tube Length | 95 | 110 | 124 | 149 | 173 | 198 |
| Standover | 743 | 766 | 790 | 818 | 844 | 870 |
| Wheelbase | 1008 | 1020 | 1030 | 1034 | 1049 | 1073 |
| Stack | 528 | 546 | 560 | 587 | 610 | 634 |
| Reach | 369 | 379 | 382 | 386 | 394 | 410 |
| Handlebar Width | 400 | 420 | 420 | 440 | 440 | 460 |
| Stem Length | 60 | 70 | 80 | 90 | 110 | 110 |
| Crank Arm Length | 165 | 170 | 172.5 | 172.5 | 175 | 175 |
Frame Material

+

All-City A.C.E. Air-Hardened, Custom, Extruded steel

Rear Hub Spacing (OLD)

+

142 x 12mm; thru-axle

Thru Axle Size

+

Ø12 x 167mm , TP=1.5, TL=12

Brake Mount Type

+

Flat Mount; 30mm mounting barrels

Rotor Size(s)

+

140mm to 160mm

Headtube Upper (SHIZ)

+

EC34

Headtube Lower (SHIZ)

+

EC44

Seatpost Diameter

+

27.2mm

Seat Collar

+

All-City Signature Brazed-On

Max Tire Size Frame

+

700 x 47mm w/o fenders, 700 x 43mm w/ fenders, 650bx42mm

Tire Size Range Frame

+

700 x 32~47mm, 650b x 38~42mm

Front Derailleur Mount

+

28.6 Band Clamp

Crankset (Max Ring)

+

1x: 52t max // 2x: 53/39t max // 3x: 52/39/30t max

Bottom Bracket

+

68mm English

Derailleur Hanger

+

QBP Derailleur Hanger 687 black (FS2339)

Bottle Mounts

+

Two inside frame, one under down tube, all sizes

Extras

+

Rear rack, Front and Rear fender mounts, E.D. coated for durability and rust prevention

Fork Material

+

Carbon with carbon steerer

Front Hub Spacing (OLD)

+

100 x 12mm; thru-axle

Thru Axle Size

+

M12 x 132L, TP = 1.5, TL = 12

Brake Mount Type

+

Flat Mount

Rotor Sizes

+

140mm to 160mm

Stem Clamp (SHIZ)

+

Ø28.6mm

Crown Race (SHIZ)

+

Ø40mm

Axle to Crown

+

395mm

Fork Offset

+

47mm or 52mm

Max Tire Size Fork

+

700 x 47mm w/o fenders, 700 x 43mm w/ fenders, 650bx42mm

Tire Size Range Fork

+

700 x 32~47mm, 650b x 38~42mm

Download(s) »
Back to top
Cosmic Stallion GRX Gallery