With our first roadie we set out to create a true heritage piece, a bike that the owner can love and cherish from here to infinity. A mount that in 15 years will have seen countless miles and will have grown substantially in character and value over its lifetime. To hell with disposable road bikes with a finite lifespan.
The Pink was influenced by our love of classic steel race bikes, our years spent paging though the old Bridgestone catalogs, and our dedication to exploiting new technology and advancements where ever applicable. Geometry wise, it's a no holds barred go fast machine, but we've made a few tweaks to the typical road race equation that allow it to be so much more than just a nice weather show pony.
It's got clearance for 32's (28's w fenders) since some of us love mixed terrain rides and streets only seem to be getting worse, hidden fender mounts, an ED coat for rust prevention, internal top tube cable routing, a Press Fit 30 bottom bracket and Columbus Zona tubing.
The Press Fit 30 BB allows for a stiffer pedaling platform and overall lighter build than a standard English shell, plus it has the advantage of being backwards compatible with most tradtional cranksets. Not to mention that it sprints like hell. The Columbus Zona tubing choice was another easy one, as weight is important to a bike of this style, and after a lifetime of drooling over SLX framesets we understand that there's magic in those Italian tubes.
This isn't some flexy traditional 28.6 downtube road bike, it is a fire breathing aluminum killer, and perfectly represents our opinion of what a road bike should be: fast, responsive, aggressive, adaptable, and timeless. The Mr. Pink.
Features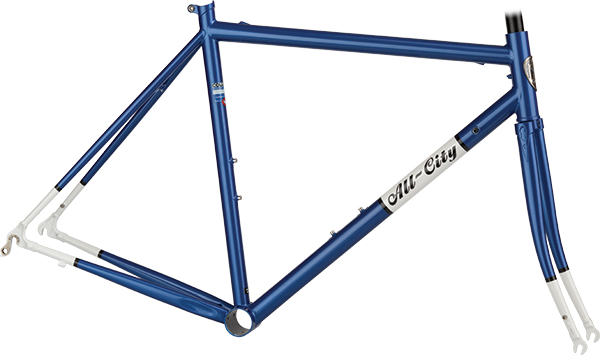 Frame
Columbus Zona double butted down, top, and seat tubes. Brazed on seat collar, reinforced water bottle bosses.
Fork
100% 4130 ChroMoly tapered fork blades, lugged crown and matching dropout. Designed to be interchangeable with most aftermarket carbon forks; standard cross offset and axle to crown.
E.D. Finish
The entire bike is E.D. coated inside and out. E.D. coating not only improves the quality and durability of the paint, but is the best rustrust preventative that we know of.
Internal Cable Routing
Aesthetically beautiful, a thoughtful touch that others overlook
Tire clearance
Room for 32c's and 28's w fenders
Fenders
Hidden mounts
Bottom Bracket
Press Fit 30, stiffer bottom bracket, lighter crankset, backwards compatible through the use of adaptors
Steel tubing
Steel remains the preferred material for those who appreciate ride quality. It is the benchmark that all other frame materials are compared to for good reason, nothing matches its ride or fatigue life.
Build Specs
Frame | Mr. Pink
Columbus Zona tubeset. Press Fit 30 bottom bracket,130 rear spacing, mid reach brakes, 27.2 seatpost. 4.5 lbs (55cm)
Fork | Mr. Pink
100% 4130 ChroMoly tapered fork blades, lugged crown and matching dropout. Fork Weight 2.1lbs
Headset | Cane Creek S-10
Black
Stem | Salsa Promoto 3
Black, four bolt, 1 1/8th threadless, 31.8 clamp
Handlebar | Salsa Pro Road Medium 3
Black, 31.8
Tape | Velo Cork
Black
Shift / Brake Lever | Shimano 105
Black
Front Derailleur | Shimano 105
Rear Derailleur | Shimano 105
Brake | Tektro R539
Black, Mid Reach
Crankset | FSA Gossamer
Black, Press Fit 30, 50-34t
Bottom Bracket | FSA
Press Fit 30
Seatpost | FSA SL 280
Black, 27.2mm
Saddle | All-City Gonzo
Black
Cassette | Shimano Tiagra
11-25t, ten speed
Chain | KMC X10
Silver
Hubs | Shimano 105
Black, 32h
Rims | Mavic CXP 22
Black, 32 hole
Tires | Continental Ultra Sport
700X28c
Tubes | Cheng Shin
700X25 Presta Valve
Geometry pt 2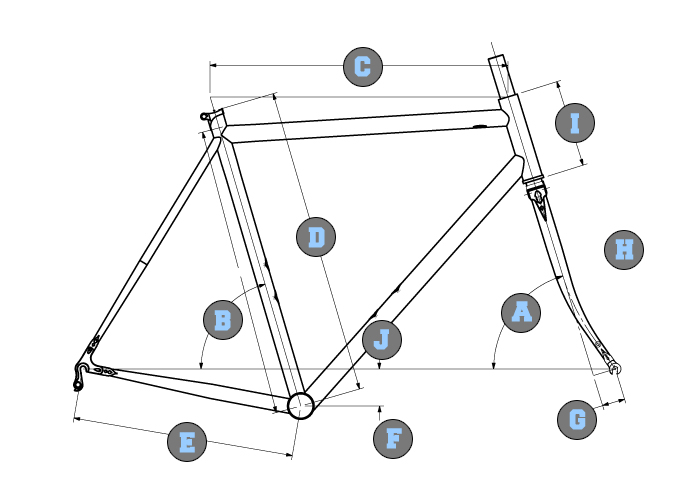 | | Size | 46 cm | 49 cm | 52 cm | 55 cm | 58 cm | 61 cm |
| --- | --- | --- | --- | --- | --- | --- | --- |
| | Head Tube Angle | 71° | 71.5° | 72.5° | 73° | 73° | 73° |
| | Seat Tube Angle | 74.5° | 74.2° | 74° | 73.7° | 73.5° | 73.2° |
| | Top Tube Length | 520 mm | 530 mm | 545 mm | 560 mm | 580 mm | 605 mm |
| | Seat Tube Length | 490 mm | 520 mm | 550 mm | 580 mm | 620 mm | 650 mm |
| | Chainstay Length | 415 mm | 415 mm | 415 mm | 415 mm | 420 mm | 420 mm |
| | Bottom Bracket Drop | 70 mm | 70 mm | 70 mm | 70 mm | 70 mm | 70 mm |
| | Fork Offset | 47 mm | 43 mm | 43 mm | 43 mm | 43 mm | 43 mm |
| | Total Fork Length | 375 mm | 375 mm | 375 mm | 375 mm | 375 mm | 375 mm |
| | Head Tube Length | 110 mm | 125 mm | 145 mm | 165 mm | 190 mm | 215 mm |
| | Wheelbase | 987.1 mm | 991.0 mm | 992.0 mm | 999.9 mm | 1023.1 mm | 1044.9 mm |
| | Standover | TBD | 760 mm | 790 mm | 813 mm | 837 mm | TBD |
| | Stack | 522.3 mm | 540.0 mm | 562.6 mm | 583.4 mm | 607.3 mm | 631.2 mm |
| | Reach | 375.2 mm | 377.2 mm | 383.7 mm | 389.4 mm | 400.1 mm | 414.4 mm |
| | Handlebar Width | 40cm | 40cm | 42cm | 42cm | 44cm | 44cm |
| | Crankarm Length | 170 mm | 170 mm | 175 mm | 175 mm | 175 mm | 175 mm |
Part Numbers
| Part Number | Size | Color | Description |
| --- | --- | --- | --- |
| FM1328 | 46cm | Camaro Blue | Mr. Pink Frameset 46cm |
| FM1329 | 49cm | Camaro Blue | Mr. Pink Frameset 49cm |
| FM1330 | 52cm | Camaro Blue | Mr. Pink Frameset 52cm |
| FM1331 | 55cm | Camaro Blue | Mr. Pink Frameset 55cm |
| FM1332 | 58cm | Camaro Blue | Mr. Pink Frameset 58cm |
| FM1333 | 61cm | Camaro Blue | Mr. Pink Frameset 61cm |
| BK1328 | 46cm | Camaro Blue | Mr. Pink Complete 46cm |
| BK1329 | 49cm | Camaro Blue | Mr. Pink Complete 49cm |
| BK1330 | 52cm | Camaro Blue | Mr. Pink Complete 52cm |
| BK1331 | 55cm | Camaro Blue | Mr. Pink Complete 55cm |
| BK1332 | 58cm | Camaro Blue | Mr. Pink Complete 58cm |
| BK1333 | 61cm | Camaro Blue | Mr. Pink Complete 61cm |